NASCAR superstar Jeff Gordon came out of retirement to drive this year's Rolex 24, trading his iconic but cheerful Rainbow Warrior for the sinister-looking Cadillac DPi-V.R of the Wayne Taylor Racing team. Here's a closer look at everything that makes the new-for-2017 Cadillac work.

The No. 10 Wayne Taylor Racing car as dark and menacing as its team is welcoming, perfectly happy to joke around off-track but will happily kick your ass when it's time to race. They have two prior drivers' championships to their name, all while being the kind of team who makes sports car racing a friendlier place.
For them, Gordon's been a perfect fit, with teammates Jordan and Ricky Taylor having nothing but nice things to say about how surprisingly humble the guy is. He's been a tremendous help, offering advice to the team based on his years of experience driving Daytona's big NASCAR oval.

Because all eyes are on them, the car has to be a serious piece of kit. None of these jokers mess around on track, and all of the technology that goes into making this car go fast is fascinating, to say the least.

G/O Media may get a commission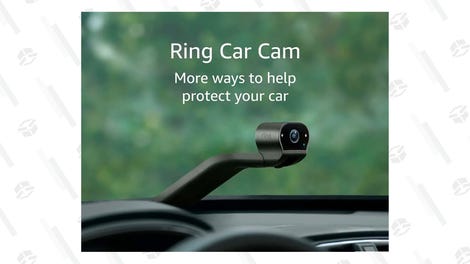 Ricky believed they had done the most testing out of all the teams with the new car, which is crucial for a year when all the cars in its class are brand new. Much is riding on the team's shoulders, as for Cadillac, it's not a return to prototype racing after 14 years so much as a redefinition of what Cadillac is.

The car is completely different than anything anyone on the team is really used to. It's lighter, more powerful, stiffer, more aerodynamic and more nimble than the team's old Daytona Prototype. All of the glittering carbon fiber everywhere on this car should be a hint.

The 2016 DP was more like a big, GT car, and the new Cadillac is far more of a purpose-built race car. It's changed the way they drive, too. Jordan says that it the new more like a go-cart, and that he's had to trust the aero on the car more to get it to rotate in for a turn.

Curiously, one of the things that's been the hardest for the team to adjust to has been the smaller opening for the door, which made early driver change practices a butt-bruising affair. The visibility once you're inside is good, but getting in there as quickly as possible is a real challenge.

"[Jeff's] butt looks like it's been hit by a mortar," said Jordan, gleefully offering members of the press more information than we probably needed to know.

The big, naturally aspirated 6.2-liter V8 with ample torque on-demand, though. The exhaust was tuned specifically for a broad power range. To save the engine from unnecessary wear and tear and make it last longer, Jordan said he's been driving it in one gear higher than he would otherwise, yet it still has enough power when he needs it to lay down some very fast laps. The team's car qualified fourth for the Rolex 24, and another team's Cadillac DPi-V.R took pole position.

The V8 is the same production LT V8 block used in production Cadillacs like the CTS-V—which makes use of a General Motors' small block design that goes all the way back to 1955, according to members of the ECR Engines team who prepped the LT for race use. It uses the same bore, same stroke and same deck height as the regular production LT. The cylinder pairings in the exhaust are the same as those used on production Cadillacs. Mostly, the LT was chosen for the Cadillac DPi-V.R because it was efficient but powerful, relatively simple, and easy to package.

It's a good thing that GM had that LT V8 design on hand, too, as the timeline for putting the engine together was relatively short. Images were first loaded into a CAD program for the new DPi-V.R's engine on January 11, 2016—barely over a year ago. Its first tests weren't until Labor Day.

Swapping the engine out is relatively simple. The oil and water expansion tanks are mounted to the engine, all as one piece. It's very self-contained, with more rigid lines than you'd see in your usual hose-heavy production car engine bay. Only four water lines connect to points outside the engine. The oil system is self-contained, with two custom oil filters specifically made for the race car.

Curiously, the engine lacks many of the colorful connectors that racing engines tend to have, and those that remain aren't in prominent locations. The design team didn't just put a pretty cover on the engine with the Cadillac logo—Cadillac actually worked with vendors to color-coordinate these teeny tiny items with their brand image, full of matte black and greys, silver and red.

The engine is an integral, stressed piece of the car's structure, too, absorbing 50 percent of the chassis loads. A huge, meaty bracket up front connects it to the car, and everything is kept as stiff and light as possible to hold up on track.
Is there anything more American than a big American V8 running in the top class of America's only pro 24-hour endurance race? It's basically a bald eagle in engine form.

It's going to be fun to watch it race against cars with completely different powertrains, like the four-cylinder turbocharged Mazda RT24-P. All of the different car designs are equalized by the series through air restrictor size or a minimum wing angle, among other tricks.

Thus, the powerful Caddy's wing is angled at least 5 degrees more than the team would set it for maximum speed. Without that extra angle, Jordan was confident that the car would easily see 215 mph on the big banking. More downforce hinders top speeds, and the team only tried a medium-downforce setup when they broke the 200 mph barrier in testing. (Someone needs to try a low-downforce setup on the Bonneville Salt Flats—badly.)
Either way, we can't wait to see how it will hold up over the next full day of continuous racing. Will this tuned, 600-horsepower racing V8 be as stout as the LT in your buddy's Camaro that just won't die? We'll see.