Good Morning! Welcome to The Morning Shift, your roundup of the auto news you crave, all in one place every weekday morning. Here are the important stories you need to know.
1st Gear: The Good News...
Is that once again, thanks to cheap gas, continual economic recovery, widely available credit and a lack of foresight that those things might ever change, Americans bought a bazillion Jeeps again in September. Ram trucks did pretty well too. Via Automotive News:
Jeep deliveries advanced 40 percent to 77,201 vehicles, Fiat Chrysler said today. Sales increased 4 percent at the Ram brand, 3 percent at Dodge and 1 percent at Fiat. It was the first gain in monthly volume at Dodge since January. Deliveries slipped 5 percent at the Chrysler brand on weaker minivan demand.

Fiat Chrysler's U.S. sales have now climbed 66 consecutive months year over year. The company's light truck volume surged 18 percent while car deliveries were flat.
2nd Gear: The Bad News...
Is that Fiat Chrysler's unionized hourly workers overwhelmingly have rejected the contract proposed by the automaker, even though it was championed by United Auto Workers leadership. As the Wall Street Journal reports, this is the first time in 30 years that a tentative national labor contract has been rejected by UAW members.
Hourly workers cited several problems with the proposed pact, including frustration with a lack of clarity when a two-tier pay structure would be eliminated. Concerns about health-care benefits and a lack of U.S. investment commitments also weighed on workers.

"We built 5,111 vehicles last year in Toledo and we got a catered meal of hot dogs and hamburgers as our thanks," said Phil Reiter, 44, who has been working at the Toledo, Ohio manufacturing plant for two years. "This is our time now. The UAW has given back and given back, making concessions after concessions. I think Sergio may have a hard lesson to learn here but we are ready for that."
G/O Media may get a commission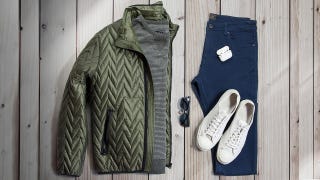 60% off
Jachs NY Fall Sale 60% Off
The two-tier wage issue, which creates a stark divide in pay between veteran workers and newer hires, continues to be a sticking point because, well, it's pretty much bullshit:
"Let's face it, if you and I work on the line and you get $28 and I get $16 and we do the same job, there is nothing fair about that," said Mr. Greenwood whose local represents workers at the Kokomo, Ind. transmission plant. "I wanted to see the second tier have a road map to get to traditional wages and I don't mean over eight to 10 years, but in this contract."
Back to square one!
3rd Gear: Car Sales Are So Robust Right Now
SO ROBUST. To touch on what we had in 1st Gear, it's looking like September will be another record sales month for a lot of brands and maybe for the industry overall. SAAR is now 18.3 million vehicles for 2015, which is amazing.
Sales data is still trickling in but here's some preliminary numbers from Automotive News:
Ford Sept. U.S. sales rise 23%, Lincoln gains 20%; Nissan up 18%, Infiniti surges 30%;

GM's U.S. sales rise 13% in Sept.; Volume up 5% at Buick, 7.8% at Cadillac, 11% at Chevrolet and 24% at GMC
Except for Volkswagen, which due to the stop-sale on TDI diesel models is expected to take a hit to their sales figures. Unless a fix happens soon, October cold be even worse.
4th Gear: VW Could Use Some Cash Right Now
Speaking of Volkswagen, between the recalls, the fines, the lawsuits, the reshuffling of managers, the loss in sales and lawyering up for the inevitable criminal cases, they could use a little extra cash at the moment. Here's Reuters:
The German carmaker's supervisory board has discussed ways of strengthening its finances, but has not talked about selling assets or brands, two sources close to the board told Reuters.

One said raising money by selling shares would become likely if the cash costs of the scandal exceeded a "critical level", without elaborating.

Volkswagen declined to comment.
Could the VW Group unload one or more of their brands to pay for the scandal? If so, Jalopnik would be interested in purchasing Skoda. Have your people call our people, VW.
5th Gear: BMW Swears They Didn't Cheat
At a conference in Berlin, BMW development chief Klaus Froehlich says his company has systems in place to make sure emissions cheating doesn't happen. But who the hell really knows? Via Reuters:
"Should one be cheating or not? A defeat device is a no-go," he said in a speech. "At BMW, a system of continuous checks is in operation. Manipulation does not happen with us. I can flatly rule that out."
I bet they're so pissed at VW right now.
Reverse: And It Did Alright
Neutral: Did You Buy A New Car In September?
If so, what was it and what kind of deal did you get?
---
Contact the author at patrick@jalopnik.com.