Formula One made its mid-season stop at the rain-soaked Nürburgring. With eight races down and eight to go, the German GP was yet again a battle between Brawn and Red Bull. Spoilers ahead!
Since their upgrade prior to the British Grand Prix three weeks ago and contrary to the utter Brawn domination until then, Red Bull had the upper hand now. After 129 races incresingly dotted by podium finishes, it was Australia's Mark Webber who took victory—his first ever since debuting in Formula One at his home race in 2002.
The Brawns have shown their Achilles heel yet again: the white-and-fluoro-green battleship is simply too aerodymanic to properly warm its tires on a wet and damp track like the Nürburgring or Silverstone. Adrian Newey's lithe Red Bulls blazed to victory, with their third all-podium finish in the past three races, two of them 1–2's.
Last year's champion Lewis Hamilton had a dismal Sunday after a fine qualifying at 5th: he ran wide at the very first corner, punctured a tire and limped home last.
Webber was obviously overjoyed—but Brawn's Rubens Barrichello provided a counterpoint. The 37-year-old Brazilian, second in the championship before the race, has fallen back to fourth place after finishing sixth, leapfrogged by both Red Bull drivers. His response was less than diplomatic:
I guess the strategy in the pit lane… it was a good show from the team on how to lose a race today. I'm terribly upset with the way things have gone. I did all I had to do. I went first on the first corner and that's all I did and then they made me lose the race. If it is really what's going on, we're going to end up losing both championships. I feel sorry for myself, the team. To be very honest, I wish I could get on the plane and go home. I don't want to talk to anyone in the team. It will be all 'bla bla bla' and I don't want to hear that.
G/O Media may get a commission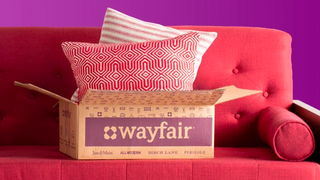 Big deals
Wayfair Surplus Sale
His boss with the giant extraterrestrial brain responded with the brutal facts:
Rubens had the 11th fastest time in the race today. You cannot win a race, whatever strategy you have, if your best lap time is the 11th quickest.
And while Ross Brawn may have dismissed his driver's outburst as the words of a frustrated racing driver in the heat of the moment, Barrichello may well remember this interview with Brawn back in 2001.
Formula One is coming to Hungary in two weeks to race at the slow and dusty cauldron of the Hungaroring. With the Budapest midsummer approaching 100 degrees Fahrenheit, it should be Brawn territory—and it is the scene of Jenson Button's only win outside this season, at a wet and wacky 2006 race.
After nine races, Jenson Button still leads the championship with 68 points, followed by Sebastian Vettel with 47 and Mark Webber with 45.5. Rubens Barrichello is fourth with 44. These same men have buoyed the points of their constructors: Brawn's 112 and Red Bull's 92.5 are clear ahead of Toyota at third place with 34.5.
Kimi Räikkönen
Ferrari's world champion Finn is pretty damn far from a good season this year, not even finishing the German Grand Prix, but have you seen a photo this close and visceral since Juan Manuel Fangio in his Mercedes-Benz W196?
Photo Credit: TORSTEN SILZ/AFP/Getty Images
Sebastian Vettel
It will probably be possible to take utterly boyish portraits of Red Bull's ultra-fast young German well into the next decade.
Photo Credit: Mark Thompson/Getty Images
Christian Horner (Red Bull's team principal) and Mark Webber. Photo Credit: Mark Thompson/Getty Images
Men would kill for Webber's jawline. Women, too.
Photo Credit: Mark Thompson/Getty Images
The start of the race
And they're off! Lewis Hamilton on the right in his silver McLaren is milliseconds from fucking it all up after a fine qualifying at fifth.
Photo Credit: FRED DUFOUR/AFP/Getty Images
If you're a Finnish voter, you may know this man as a retired member of the European Parliament, having served from 1999 to 2009. If you're a petrolhead, you'll know his as a rally god and the star of Climb Dance, that ten-minute epic about the Pikes Peak International Hill Climb. He may follow in Max Mosley's footsteps this fall as the embattled president of FIA prepares to step down.
Photo Credit: SASCHA SCHUERMANN/AFP/Getty Images
Kimi Räikkönen
Yes, he is dozing through the season but he drives a red car. Isn't it just splendid to look at?
Photo Credit: GUILLAUME BAPTISTE/AFP/Getty Images
Webber, Räikkönen and Adrian Sutil
Later in the race, ice-cream-man Räikkönen would bump into Force India's Sutil, seen here emitting a cloud of smoke, and take him out of the race. What a shame.
Photo Credit: FRED DUFOUR/AFP/Getty Images
Mark Webber
Two weeks after hanging out with motorcyclists, Mark Webber is driving his flat-nosed Red Bull home to his first grand prix victory. Fancy job, mate.
Photo Credit: Clive Mason/Getty Images
Mark Webber after the race
Overcome with the magnificence of it all, Webber stands after his win in front of thick Eifel Mountains rainclouds after becoming only the 102nd man on Earth to win a Formula One grand prix. The first one was Nino Farina at the 1950 British Grand Prix.
Photo Credit: Mark Thompson/Getty Images
Mark Webber
This week, the obligatory misuse of architectural imaging equipment sees our Aussie hero of the week taking a corner.
Photo Credit: FRED DUFOUR/AFP/Getty Images
Lewis Hamilton
Slow car, pretty picture.
Photo Credit: FRED DUFOUR/AFP/Getty Images
"Hey, Slavica, are you there?"

"What do you want, Bernie? We're divorced."

"I know, love, but I need your advice on how to look very evil."

"Easy peasy, just skip on the hairspray on your right side."

"That all?"

"Yes, Bernie. Then find a spot of wind and wink into it."

"Fabulous. Honey, fancy a meet next week on my powerboa—"

BEEP…BEEP…BEEP
Photo Credit: Mark Thompson/Getty Images