It's the start of the new year, and it's time for change. Time to look our biggest mistakes in the face, and to make a promise to ourselves that we'll never do it again. And as my first race of 2019—the famous 24 Hours of Daytona, at which I will be camping—approaches, this seemed like an ideal opportunity to look back on all those horrible, horrible things I've put into my body for the sake of "a good time."

This list is half a condemnation of my own terrible decisions and half a warning:
This Could Be YOU At Races.
10. IPA Beermosas
Where: Road America
When: June 2017, IndyCar
Why: Mimosas have been a race weekend tradition in the group of gals I attend races with ever since we snuck a bottle of champagne into the Red Bull Ring in 2015. Since then, we've always made it our mission to consume at least one mimosa on race day. Except at Road America, we only remembered to bring IPAs and orange juice—the champagne was still somewhere at home. I am not an IPA fan. I thought "maybe this juice will temper the bitterness". It did not. I drank three of them anyway.
What I Regretted Most: Topping a bratwurst omelet breakfast with one of the most disgusting things I've ever drank, then wandering around Road America for eight hours with a tummy ache.
9. An Entire Bag of Franzia in One Single Go 
Where: Indianapolis Motor Speedway
When: May 2017, IndyCar
Why: I watched my longtime favorite driver Conor Daly crash out of the Indy 500 freaking again. Then went Zach Veach. And then went Fernando Alonso! My poor heart couldn't take it. Nobody needed that shitty box of Franzia more than me, and I killed it.
G/O Media may get a commission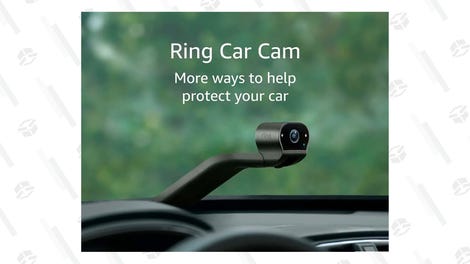 What I Regretted Most: Spending the last half of the race in a fugue state and trying unsuccessfully to navigate stairwells on our way home. And possibly also the fact that I made one of my first appearances on Jalopnik alongside dudes in American flag t-shirts and diapers. Big yikes.
8. A Triple-Shot Margarita
Where: Texas Motor Speedway
When: June 2018, IndyCar
Why: There is nothing I love more on a hot day in Texas than a delicious frozen margaritas. There is nothing I love more than the frozen margaritas at Torchy's Tacos. And, considering the fact that there is now a Torchy's Tacos inside of Texas Motor Speedway, it was a done deal.
But it's a race weekend. I asked the kind woman at the bar if she could pour me a double shot. She did, sort of, before muttering, "oh, shit." She held the cup out to me—three-quarters full of tequila. "That's like a triple shot," she told me, "is that fine?"
I live on the edge. I told her it was totally fine.
It was not fine.
What I Regretted Most: My body acclimated to the jarring taste of pure alcohol tempered by the slightest of lime hints, but it was not pleased when I decided to go for a stroll down the pit lane in 100-plus degree weather. Taking a nap in the grandstand was the only way to redeem myself.
7. Mimosas with Orange Squash
Where: Silverstone, England
When: July 2015, Formula One
Why: In an attempt to make Sunday morning mimosas a thing, my friend and I walked from our campsite to the store in Silverstone to purchase supplies. "Make sure you don't get orange squash," she told me—which is also known as a cordial, or a really highly concentrated fruit syrup that's supposed to be used in small amounts with a mixer, like carbonated water and then alcohol.
Guess who picked up the squash. A really sweet, disgusting, off-brand kind. The Sunny D of orange squash, if you will.
What I Regretted Most: Tempering the pungent, sickly sweet orange-concentrate-and-champagne mix with water. Ugh.
6. Twenty-Year-Old Podium Champagne
Where: Watkins Glen International
When: June 2018, IMSA
Why: When you're handed a bottle of champagne that apparently was one of the podium drinks for an ARCA race that took place while you were still a toddler, you don't say no—no matter how warm it is, how old it is, or how many people took a swig off that bad boy before you did. It was not good champagne. It tasted its age. I proceeded to drink far too much of it anyway, because that's what you do when you're camping with the folks aptly known as Camp Hooligan.
What I Regretted Most: Drinking enough of it that a full bladder ruined a very romantic star-watching moment I was having with a cute fella at the campsite. He's my fiancé now, so I guess it worked out okay.
The champagne was still bad, though.
5. Pedialyte and Vodka
Where: Pocono Raceway
When: August 2018, IndyCar
Why: I'd been suggesting to people that Pedialyte cocktails would be the ideal drink because you'd basically be rehydrating yourself while also getting lit, thus negating any negative side effects before morning hits. It was late, I was already buzzed, and I decided, fuck it. Let's see what this is all about. Pedialyte, vodka, done.
I thought I was discovering the world's greatest drinking hack. I did not.
What I Regretted Most: The taste lingered in my mouth for hours, even after I spit it out and tried to wash away the flavor with (hard) cider. It was the only flavored thing we had that wasn't more Pedialyte. Later tried toothpaste.
4. Somewhere Between Seven and Ten Shots of Fireball
Where: Indianapolis Motor Speedway
When: May 2018, IndyCar
Why: I am readily susceptible to peer pressure, a habit that gets worse when I am a few drinks in. It is easy to convince me to have a shot of fireball or two at the track. It is easier to then convince me to head to a bar and consume many more.
What I Regretted Most: Being thrown into the trunk of my friend's car because I wouldn't stop talking.
3. Campari Mixed Into a Bottle of Light Beer
Where: Red Bull Ring, Austria
When: June 2015, Formula One
Why: I was nineteen years old and very new to the whole drinking thing. We had made friends with some British folk across from our campsite and some Austrian folk a few camps down. In a moment where I was unsupervised, I had a genius idea: I don't really like this beer and I don't really like this Campari. Maybe if I mix them together, they'll still taste bad but will get me more effectively drunk!
What I Regretted Most: The taste of that monstrosity still haunts my dreams.
2. Homemade Austrian Liquor
Where: Red Bull Ring, Austria
When: June 2015, Formula One
Why: Oh, Austria, how I miss thee. A group of four anglophone women made friends with a group of old Austrian men who built their own bar in their campsite. They offered us all a swig of something unlabeled on their shelf, a brown liquor that smelled pungent as hell. I was eventually persuaded into drinking some. It was one of the most offensive straight liquors I've ever consumed, if I'm honest.
What I Regretted Most: It was eventually translated that this alcohol was homemade, but us English-speakers couldn't figure out what it was made of or how it was made. It was the paranoia of wondering if I'd just been poisoned by strange Austrian men that made the experience very questionable. Especially because the guys who pawned it off on us kept giggling about something.
1. Gin Shots Transferred From a Mop Bucket to my Mouth via a Turkey Baster
Where: Indianapolis Motor Speedway
When: May 2016, IndyCar
Why: Folks familiar with the Indy 500 might have heard of the Coke Lot, a campground near the track known for its debauchery. People die in the Coke Lot. Which just so happened to be where I was camping for my first ever Indy 500 experience.
I decided to take a stroll, just to drink things in (yes, that pun was intended). There were couches on truck beds being jumped over dirt hills. There were frat boys cat-calling every woman who walked by. There were piles of beer cans taller than me. And there was a group of dudes who talked me and my friend into doing shots of some homemade gin concoction they'd brewed up.
I agreed before I saw what that entailed – some random person sucking up a turkey-baster full of a strange drink out of a freakin' mop bucket and pouring it into my mouth.
What I Regretted Most: Everything. That whole experience. It was all bad.