With hands burned and blistered by a red-hot steering wheel and a head still reeling from a long night of sex and champagne, former cabaret dancer Hellé Nice won the first all-female Grand Prix at Montlhéry, France in 1929. Thus began a short but victory-filled career wrought with tragedy and controversy in between blissful moments of success.
Hellé Nice, born Mariette Hélène Delangle, didn't set out to be a racing driver when she left her quiet home in a cozy French village at age 16. She only knew that she wanted to get to Paris to do something other than be the beautiful daughter of a postman, a career she was sure to inherit in time. She wanted life to be fast.

Nice is one of the more fascinating figured from early racing, but there's not a ton out there about her. Her sole biography, The Bugatti Queen: In Search of a Motor-Racing Legend by Miranda Seymour, is a good read, and a source of much of what you're about to learn as well.
Nice's life was indeed fast, and complicated. Her charm and good looks found her gaining popularity in Parisian dance halls under her stage name Hellé Nice, eventually going on to perform in cabarets around Europe. Back then, that was a pretty successful gig for a young woman; Nice could afford her own house, a yacht, and plenty of adrenaline-filled vacations.
In 1929, Nice was forced to trade in her dancing shoes after sustaining a knee injury while skiing away from an avalanche. But instead of giving up, she decided to pick up the tools of her next trade instead: driving gloves.
G/O Media may get a commission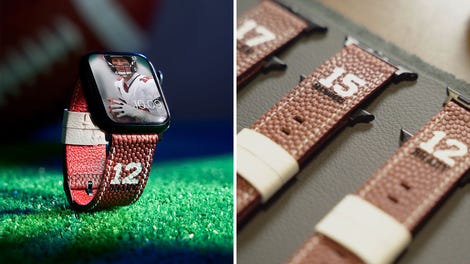 Official NFL PRODUCTS
Official NFL Apple Watch Bands
It was at the Grand Prix Féminin that proved this was the right choice. She wrestled her bright blue French-produced Oméga-Six around the bone-rattling wood-banked curves of the Autodrome de Linas-Montlhéry. After applying a fresh coat of lipstick and fixing her beret, Nice declared her love for this "great roaring racecar in [her] hands that wants only to go faster." At the time, she set the land speed record for women.
From there, she was an unstoppable driver. Nice headed off to America to race the Miller cars that had become world-renowned for their performance at the Indy 500 and returned to Europe to begin an affair with Philippe de Rothschild, a Grand Prix driver behind the wheel of a Bugatti who introduced her to Ettore Bugatti himself.
In 1931, she became the female face representing Automobiles Ettore Bugatti and entered five Grands Prix in France in her unforgettable blue Type 35C that has a long-lived legendary status of its own. Nice's car was just one of thirty-five versions of the car that Ettore developed and one of 300 that actually left the factory. For racing, a supercharger was added to the 2.0-liter engine and made it competitive from the moment it rolled out of the shop.
Nice became the poster girl for the Bugatti brand and the only woman in her field, trailblazing a path through fields of men in Grands Prix, hillclimbs, rallies (including the Monte Carlo rally), and exhibitions across the globe and setting records in her wake. She never actually won, but she was consistently competitive driver, known for her safety behind the wheel more than for her speed as well as for the fact that it didn't stop her from outshining some of the top male drivers of the day.
And she made sure everyone knew she was a woman. Donning lipstick, short-sleeved shirts decked out with bows, and, yes, even a swimsuit, Nice wasn't afraid of a little attention.
But Nice's glamour quickly lost its shine.
Having switched from Bugattis to Alfa Romeos, Nice flew out to Brazil in 1936 to compete in two Grands Prix. She was in second place when, trying to avoid spectators who had crowded onto the street track, Nice plowed into a hay bale. The impact sent her Alfa Romeo careening into the crowd, and Nice herself was thrown from it. Six people died that day, including the soldier who cushioned Nice's fall, making it the worst disaster in South American motor racing history. Her reputation never recovered.
After two months in the hospital, Nice was ready to get back behind the wheel and prove herself at the Mille Miglia and the Tripoli Grand Prix, but her reputation had preceded her. Where she had once been the face of Esso gasoline and Lucky Strike cigarettes, now Nice could only find enough financial support to try her hand at the Yacco endurance trials at Montlhéry instead. There, alternating with four other women, Nice drove for 10 days and 10 nights straight, breaking 10 records that still stand today in her desperate attempt to prove that she could compete at the top level.
But things only got worse from there. After two unsuccessful years of trying to get back into a Bugatti, Nice's friend Jean Bugatti was killed while testing one of the vehicles and World War II effectively ended racing in Europe. Nice moved to the French Riviera to wait out the war.
Her plush lifestyle during the war didn't go unnoticed. At the party celebrating the first postwar Monte Carlo Rally in 1949, fellow driver Louis Chiron accused Nice of being a Gestapo agent in order to maintain her fast lifestyle with little impact from the ravages that overtook Paris. As we wrote in a story about Chiron, the driver "provided no proof, and Nice attempted to contact the rally's organizer to refute the accusation, but the rally organizer was a friend of Chiron's and provided no help. He claimed to be out of the country and unavailable."
Seymour's book posits the accusation may have come a result of Nice's liaison with a German driver, or that she potentially gave information to stay on good terms with German occupiers. While no definitive evidence has ever been found one way or the other, accusations of being a Nazi collaborator aren't something to take lightly—and rightly so. As a result Nice became unemployable and her name was scrubbed out of the history books.
We don't really know what happened to Hellé Nice after that. We know that she had long been estranged from her family, and that the accusations forced her to live under a false name. She died, penniless, with her funeral paid for by charity, in 1984, her name still leaving a bad taste in the mouths of those who knew her at her prime. Other details have been lost to time, and those allegations Chiron made remain unproven. Her name does not even appear on the family gravestone. A New York Times story recounts that when she died she had "no possessions but a shabby leopard-skin coat, a few trophies and a sheaf of yellowed press clippings."
However horrific the end of her story may be—to say nothing of those allegations—Nice fully embodied the mythos of the early race car driver: fast, glamorous, willing to chase speed at the expense of all else.
We'll probably never know the full story of Hellé Nice. But we can definitely look back on the path she paved for female racing drivers and wonder what more could have come from the postmaster's daughter who craved speed.