Good Morning! Welcome to The Morning Shift, your roundup of the auto news you crave, all in one place every weekday morning. Here are the important stories you need to know.

1st Gear: Everybody Loves The Mustang Turbo!
The 2015 Ford Mustang is a bona-fide hit, and for the first time in more than half a decade it's outselling the aging, soon to be replaced Chevrolet Camaro. Sales are up 40 percent year-over-year for Ford's pony car.
Much of that success, analysts say, can be attributed to the 310 horsepower 2.3-liter turbo EcoBoost four-cylinder engine. And while Ford frustratingly doesn't break out sales figures for each Mustang model, analysts say the EcoBoost is "is responsible for nearly all of its sales growth," according to the Detroit News:
"The newness certainly helps vehicles in this segment," Matt DeLorenzo, managing editor at Kelley Blue Book, said in an interview.
The deciding factor in the pony car segment — both this year and in the future — may not be the purists who crave V-8 engines and buckets of horsepower in cars that only leave the garage on weekends. More important are millennials — buyers through their early 30s — who prefer four-cylinders and improved fuel economy in a sleek, everyday driver.
G/O Media may get a commission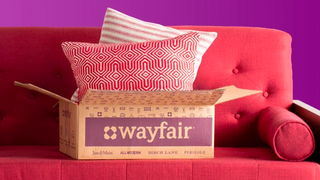 Big deals
Wayfair Surplus Sale
The 2016 Camaro is going with a turbo four too, but it's positioned at the bottom of the range rather than as the frugal performance option. We'll see which company's approach wins out.
2nd Gear: Hyundai Takes The NFL
Exciting news in the world of sports games! Hyundai just replaced General Motors as their official sponsor. GM previously paid $25 million for that honor, Hyundai paid $50 million for it.
Does that mean the Super Bowl winner will drive off in a fancy Sonata instead of a Colorado with technology and stuff? According to ESPN, not yet. Hyundai is not getting Super Bowl car or truck exclusivity.
That's even more impressive considering that, unlike the GM deal, which was exclusive, the NFL can still sell the truck category and the rights to give away that vehicle to the Super Bowl MVP.

The Hyundai deal is for the next four seasons.
3rd Gear: GM Dodges At Least One Lawsuit
And speaking of GM, they claimed one small victory in the ongoing ignition switch mess. A Delaware judge on Monday threw out a lawsuit filed against directors by its pension funds, Bloomberg reports:
General Motors Co. directors don't have to face investors' allegations that lax supervision allowed the company to make cars with faulty ignition systems blamed for more than 100 people their lives.

GM's board had adequate risk-assessment systems in place even though the carmaker produced Chevrolet Cobalts and Saturn Ions with defective ignition switches, Delaware Chancery Court Judge Sam Glasscock said Monday in throwing out a lawsuit filed by pension funds.

The funds weren't able to show the "existence of red flags that the board consciously ignored," Glasscock ruled. Disgruntled shareholders also couldn't produce evidence of bad faith on the part of the board, he said.
4th Gear: Recalls!
Specifically, Jeep recalls. From Reuters:
FCA said it had advised around 65 U.S. owners of new Grand Cherokee and Dodge Durango SUVs to stop driving their vehicles, and that around 7,690 additional vehicles are also subject to recall. A handful of those 7,690 vehicles are with owners in Canada, FCA said.
5th Gear: Changing Of The Guard At Suzuki
Eighty-five-year-old Osamu Suzuki is one of the oldest and oldest-serving executives in the auto industry. So his choice of his 56-year-old son Toshihiro to be chief operating officer signals that the torch is soon to be passed at the automaker. From The Wall Street Journal:
Osamu Suzuki, who married into the auto maker's founding family and become president in 1978, remains chief executive officer, the company said.

Speculation has simmered for years that the elder Mr. Suzuki would name his son as his successor. Osamu Suzuki is one of Japan's oldest active chief executives, frequently attending corporate events and traveling to India.

In recent years, Osamu has been grooming his son Toshihiro, 56 years old, to take over the reins of the company. Trained as an engineer, Toshihiro has been vice president for four years and has been overseeing Suzuki's global marketing operations including those in India.
Maybe he can bring them back to America. I miss the Samurai.
Reverse: It's Now The Same Age As Most Of Its Owners
On this day in 1953, the first production Corvette is built at the General Motors facility in Flint, Michigan. Tony Kleiber, a worker on the assembly line, is given the privilege of driving the now-historic car off the line.
Neutral: Is A Performance Turbo Four The Key To Winning The Muscle Car War?
Or will Mustang get passed by Camaro once again?
---
Contact the author at patrick@jalopnik.com.