You might think that with the unusual circumstance of having a McLaren 650S in my garage, I would have no time for a humble hatchback that costs about a tenth its price. Not so, when the hatchback in question is the Ford Focus ST. Need a fun normal car for when you're not in your supercar? Here's a great choice.
(Full disclosure: I asked Ford if I could borrow a 2015 Focus ST because I hadn't driven one in a while, so they dropped one off at my house with a full tank of gas for a week. It was a good week.)
G/O Media may get a commission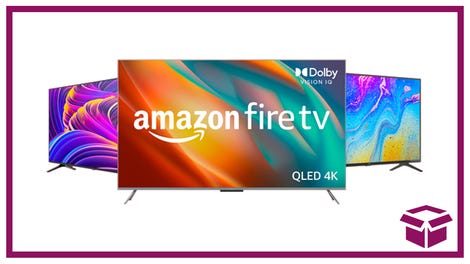 Ooh. stunning.
New Amazon Fire TVs
The Focus ST practically feels like an old friend at this point. It's been on the market since 2012 and remains one of the top contenders in the hot hatchback world. In those three years, it's proven itself to be a solid pick for enthusiasts. I see these cars everywhere, and I know a lot of Jalops who own them and enjoy them daily.
It's also not a bad-looking car at all. Tangerine Scream is definitely its color, I think.
Ford's bigger ST gets a few tweaks for the 2015 model year. None of it's too drastic, though. The front fascia has been redesigned. The headlamps get LEDs. There's a few new wheels and a new exterior color. The gauge cluster has been tweaked. There's a new flat-bottomed steering wheel that's way better than the old four-spoke unit. And most notably, the ST has new front springs and better shock absorber tuning front and rear to improve handling.
Frankly, Ford didn't need to change a lot on the Focus ST because it was already pretty damn good. Power from the 2.0-liter EcoBoost® (sorry) turbo engine remains unchanged at 252 horsepower and 270 pound-feet of torque.
That's a lot of grunt to send through the front wheels, so the big question if you're considering a Focus ST becomes this: How much torque steer are you willing to put up with?
Make no mistake that the Focus ST is pretty quick. Ford doesn't put out official zero to 60 mph times, and ones I've seen in magazines are all over the place, but you should be able to hit it in well under six seconds.
More than any quoted time will tell you, the ST just always feels eager to behave badly. It is very, very easy to drive like an asshole in this car, to give in to your darker impulses on the road, to deliver divine passing justice to anyone fool enough to hog the left lane. It may be just a small four-banger, but the turbo gives you more than enough thrust for real-world situations as well as your track days.
Here's what I like about the Focus ST: unlike that McLaren, or a Hellcat, you can actually wring this thing out on a public road and not die or crash or risk arrest, probably. It's fast but its power is always manageable. It's easy to work with.
You don't ever have to hold it back — quite the opposite, in fact. The ST wants you to go nuts. It's best when it's being thrashed. Overpowered cars are wonderful, but there's something to be said for that kind of accessibility, too.
Handling-wise, it's an interesting car. There's that torque steer, sure, but in a straight line I really didn't mind it at all. The way I see it, torque steer on a powerful front-wheel drive car is just part of the experience, like rear wheelspin on a Hellcat. It's just the machine's character.
In the corners, the ST is kind of unique in this class for its ability to controllably rotate its rear end when you lift off the throttle. The steering is improved so it delivers more feel and accuracy, though like a lot of electric units it's a bit numb. All that torque steer can make it a little unpredictable shooting out of corners, too — there were times when I was never really sure what it would do. It's good at keeping things lively, that's for sure.
A six-speed manual remains the only gearbox option for the Focus ST. Good. As wonderful and lightning-quick as modern paddle shift transmissions are, nothing can beat the involvement of doing it yourself with your left foot and your hand. And the gearbox in the ST is a pretty good one, with light, easy, mostly accurate throws, even if they're a bit on the long side. The clutch is a delight to use as well.
I got into the Focus ST immediately after driving the 2015 Golf Sportwagen, so the interior was an abject letdown compared to that, but I stopped caring after a while. It's heavy on cheap plastics, but it gets the job done. The new wheel is a big improvement too. Ford has finally gotten Sync to the point where it's not a crippling pain in the ass anymore; it paired with my phone immediately and worked very well the entire time I had it.
As for the rest of the interior, it's roomy and practical, ideal for the single enthusiast who needs something more than a sports car or the mom or dad with a small, young family who isn't ready to dump the fun car for a huge SUV or minivan quite yet. It's a great do-everything car.
Let's talk about the Recaros for a second, though. Eventually I got used to them, but I still think they're too aggressively bolstered, and that the ass part of the seat is angled upward in this awkward way that made working my left foot kind of uncomfortable at first. Sure, bolstering is good. But like birthday cake, or cocaine, you can have too much of a good thing.
I'm gonna get slammed by the ST lovers and the forum bros for this, but I still don't think the ST's Recaros are worth springing for. I know the fans swear by them, though. I can't tell if they mean that or if they're just unwilling to admit that they know the seats suck. (It's okay, folks. This is a safe place, free of judgment.) It's also possible I'm spoiled after driving a supercar that has actual good seats, but that car cost $311,225 so I need to get over it.
Besides that, the only other major gripe I had about the ST was the sound. There's not enough of it. You get some growly engine noise piped in through a symposer, but it's kind of anonymous and not nearly loud enough. There's also no notable exhaust note from within the car, either. I'd like a little more grunt in the aural department, and if this were my car, an aftermarket exhaust would be the first order of business.
So in the end, the Focus ST was a delight to have around for a week. When I didn't feel like pulling the supercar out of the garage (which totally makes it sound like I get those all the time even though I don't), when I wanted to drive something normal and practical that didn't attract a ton of attention, this was still a lot of satisfying fun.
I just don't think it's the hot hatch I'd buy, to be honest, and that's more of a personal preference than anything deficient about the Focus. As I push into my 30s — as my knees give out and I have to pee three times a night and I can't even tell you what's on fleek these days — the bright orange hot hatch with the insane seats holds a little less appeal to me than others in its class. I'd rather have a new Volkswagen GTI, or even the revised Subaru WRX.
But 22-year-old "I just got my first real job and all my money goes toward car parts and paying speeding tickets" P.G. would have loved it immensely. It wouldn't have broken his bank either with a starting price of $24,370. It's not even bad at $30,070 as equipped here with navigation, the Sony sound system, dual zone climate control and Xenon HID headlamps, painted wheels and the fancy orange paint.
Actually, scratch that — 22-year-old P.G. would have preferred the Ford Fiesta ST, as does grown-ass 29-year-old P.G. The Fiesta ST may not have the Focus ST's raw power, but it's smaller, more tossable, cheaper, also very practical and just plain more fun to drive. Given America's lack of really tiny hot hatches, it just feels more special, too. It's the way I'd go at any age.
But if you decide you really need that extra room, extra power, and you think torque steer is just God's way of keeping you awake when you're driving, then you probably won't regret the purchase of a Focus ST.
It's something you'll want to drive, even if your other car is a McLaren.
---
Contact the author at patrick@jalopnik.com.