I don't think any car in 2016—as in, a car that you can actually buy, unlike certain others that shall remain nameless—debuted with as much hype as the new Ford Focus RS. It's not every day America gets the kind of forbidden turbocharged Euro-hatch hotness that would have been unthinkable just a couple years ago. I have driven one now, and I can tell you that not only does it live up to the hype, it's also the best and cheapest M car you can buy new.

Wait, what?
(Full disclosure: Some dudes from Ford came down to Austin for the F1 race [yes, I know that was a while ago, I've been busy planning all the cool stuff we're doing in 2017] with some Focus RS-es and asked if I wanted to join them for a road trip. I said yes. They also bought me lunch, which was kind of them.)  
Let me explain what I mean by an M car, first of all. Yes, it's the letter BMW uses for its performance models, as has been the case for decades now. And nearly every brand has copied or co-opted that idea by giving a car a fancy letter and a bunch of performance upgrades to justify an inflated price tag: brakes, power, suspension, all that wonderful stuff.
But they don't all take that idea far enough, or to its fullest extent. An M car, a proper and real M car, is supposed to be a double-duty car. The badge stands for Motorsport, which it doesn't really mean anymore since they don't truly use motorsport-derived engines, but it's supposed to be a car that's comfortable and usable as a daily driver and a ferocious track monster when you need to be that.
G/O Media may get a commission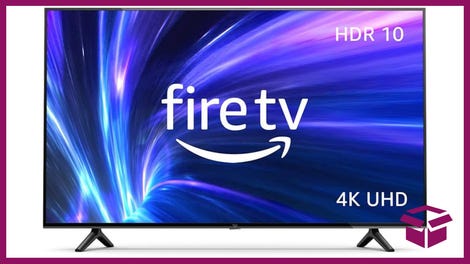 42% Off
Amazon Fire TV 50" 4K Smart TV
A real M car is something that's not so hardcore that you can't live with it every day. A real M car is also something that won't fall on its ass when you need to drive it hard, or on the track. Not every performance car can pull off both qualities. Most M3s can do this. An ATS-V can do it. The R-Spec Hyundais can't because they fall down in the performance area; the European Honda Civic Type-R is awfully hardcore for a daily driver. You get the idea.

This brings me to the Ford Focus RS, which, coincidentally, has a badge with historical ties to BMW's own M division. It's possible M wouldn't exist without RS, in fact. Read up on their shared history, it's fascinating stuff.
Americans may not be super familiar with the RS badge, something that has over the decades adorned all manner of Capris and Escorts and Sierras, but our big introduction is this bright blue 350 horsepower turbocharged all-wheel drive stick-shift only monster hatch—and Drift Mode, no less. And the best thing about the Focus RS is that it can definitely pull that double-duty between track weapon and ordinary everyday car.

I got to spend most of the day driving one of these a while back, from Austin to the start of the Twisted Sisters way the hell out near Leakey, a road famous among motorcyclists. I can tell you it works well for hot hatches too. Eight hours later, while not a full test, I can report the following things back to you.
First, it's fast. No shit, right? Isn't that the point? Yes, but, the 2.3-liter turbocharged four, same as the Ford Mustang EcoBoost but cranked up to 350 HP and 350 lb-ft of torque, is a fantastic motor.
The zero to 60 mph time is said to be in the upper four-second range, but I'll tell you you will hit 100 mph much quicker—and much more frequently—than you'd expect. You'll find these sudden, unexplained excuses to justify triple-digit speed when you can swing it, for some odd reason. Power in the Focus RS is dangerously addictive, completely linear and reliably without lag. And yet it's never overwhelming or uncontrolled. It's always on the upper end of manageable, balanced enough to make it quite usable.
I have driven the less powerful, less expensive, less all-wheel drive-y Focus ST enough times that it feels like an old friend at the point. And it is very good. I wasn't expecting the gap between the two of them to be as wide as it is. The Focus RS is a lot of car.
Inside, the Focus RS is a Focus! The same humble Focus you buy for your kid to take to college for $17,000. The RS is quite a bit more than that—the one I tested came in around $40,000—but you have to make cuts somewhere. It still has some "upscale" nice appointments, like soft touch materials on the dash and a cluster of gauges above the center screen, but overall, the cabin's fine. It gets the job done.
The drive is what you'll care about and that's where all the money and emphasis and engineering went on the Focus RS. The driver benefits from the implementation of a beefy, crisp six-speed manual with short throws and those famously well-bolstered Recaro seats (which people seem to love, but here as in the ST, I found uncomfortable after a long drive.) And the big Brembo brakes never faded in eight hours of hard work.
But what impressed me most were the driving modes and their adjustable dampers. Sometimes driving modes in cars mean a little more throttle response or quicker shifts, or a little extra noise if you're lucky. Here the modes change the character of the RS, and in at the touch of the left hand indicator stalk button to switch the dampers' to their firmest Sport setting, you noticeably get a harder ride and a more direct feeling of control.
Then you change it back to Normal and the character is entirely different. In that setting, on our long highway drive back home, it was smooth. It was easy to drive. It was a Focus, just one with a shit-ton of highway passing power. It's the do-it-all nature of this car that impressed me the most.
Drift Mode? I didn't get to try it. Not this time. I was on some back roads and the highway, not an empty parking lot where I could explore its limits. But doing that has moved near the top of my to-do list for next year.
My time in this car may have been limited but I am confident enough to say that despite the occasional economy car underpinning grumbles, and those Recaro seats that I'll never learn to love, the Focus RS is very possibly the best performance car in the $40,000 and under range.
It boasts a more comfortable ride than the Subaru WRX STI and is much more hardcore than the Volkswagen Golf R. I like both of those vehicles very much, but this splits the difference between the two with better technology and emerges as the superior choice.
And when you don't want or need a performance car anymore, it's a Ford Focus hatchback that will do all the things a Ford Focus hatchback will do, like carry your groceries and your pets. I can't think of a better way to execute the M car ideal than that, and for a lot cheaper—even if its blue and white badge isn't the one everybody is used to.
We'll have more on this car soon, from a more extensive test to a jaunt at the Team O'Neill Rally School, complete with video. In the meantime, do yourself a favor and try and talk your way into one of these things.