What a day this has been. When the leaders wrecked out on the final lap of the rain-postponed Monster Energy NASCAR Cup Series' Advance Auto Parts Clash at Daytona International Speedway on Sunday, NASCAR let the other cars race to the line rather than ending under caution. Watch the wild finish below.

This wasn't exactly the start of the NASCAR season, considering that the Clash doesn't count for points and is simply an exhibition race for bragging rights and television time. But its lack of value in the bigger picture didn't mean the race was boring—actually, the ending was quite the opposite.

When the field took the white flag that signals the final lap of the race, the No. 11 car of Denny Hamlin had a solid lead. With so few cars in the field, it seemed like he had a good chance of keeping it through the checkered flag. But contact with Brad Keselowski sent Hamlin wrecking into the wall and into the path of other race cars, and the No. 22 of Joey Logano took the lead and held onto it for the win.
G/O Media may get a commission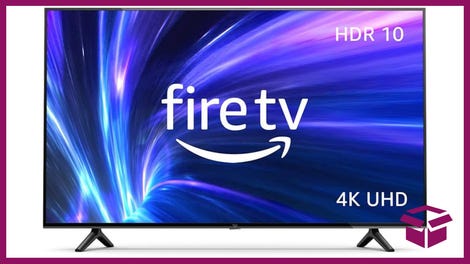 42% Off
Amazon Fire TV 50" 4K Smart TV
To an onlooker, that may not seem like much. You may be thinking, "Well, the yellow car still beat the rest of the field by a ton, so it really wasn't that great." But what is so great here, and what makes this the best finish that could have come out of this situation, is that officials let the cars race back to the line.
NASCAR typically tries not to throw a caution on the last lap of a race if the wreckage or debris doesn't directly impact the field, but it happens all too often. And once drivers have seen the white flag, the next flag ends the race, which means that the thing ends under caution and you're left to comprehend the unbelievable sadness of watching a dud of a finish.
But NASCAR didn't do that this time. The leaders of the field went spinning, and the officials let the rest of the drivers run to the finish while everyone sat back, wondering if and when the caution would come out while Kyle Busch and Alex Bowman fiercely battled for the second spot. That just added extra excitement to it all.
While we can't quite know what to expect about the completely overhauled and headache-inducing rules for the upcoming NASCAR season, this Clash sure was a good show.