At the 2005 Detroit Auto Show, Hyundai introduced its fifth-generation Hyundai Sonata, a vehicle whose looks were not just leagues nicer than its predecessor's, but which have withstood the test of time and are still lovely 13 years later.
Technologically, the car was actually fairly decent, too. It sat on a new "NF" platform and was powered by two completely new engines—the first members of their respective engine families. First, there was the 2.4-liter all-aluminum 162 horsepower "Theta" inline-four with "Continuously Variable Valve Timing," a "silent" timing chain, a stainless steel exhaust manifold and hydraulic engine mounts.
The higher trims got a new 3.3-liter, 237 horsepower all-aluminum V6, Hyundai's first member in its "Lambda" family, which offered four valves per cylinder, "Continuously Variable Valve Timing," a Variable Intake System and hydraulic motor mounts. At the time, this 3.3-liter was actually quite competitive in the mid-size sedan class.

Fuel economy wasn't bad, either. The base Sonata with the five-speed manual got 21 city, 31 highway and 25 combined, with the four-speed automatic four-banger losing one MPG highway and one overall. These numbers represent two MPG improvements over the weaker 138-horsepower 2.4-liter four-banger in the outgoing Sonata.
G/O Media may get a commission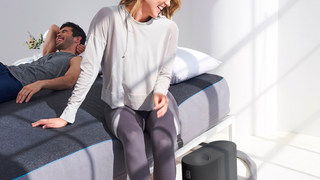 Eight Sleep Pod Cover
The powerful V6, which was bolted to a five-speed automatic, faired okay on the EPA emissions rolls as well, scoring 18 city, 27 highway and 21 combined, or about one MPG better than the anemic 170-pony outgoing 2.7-liter V6 car.
Just as impressive as the powertrain options were the safety features, which—at around this time—Hyundai was beginning to take quite a bit of pride in. The new Sonata—the very first Hyundai built in the U.S. (at Hyundai's then-new plant in Montgomery, Alabama) got two front airbags, two seat mounted side-impact airbags, and also side curtain airbags for the front and rear passengers. On top of that, the car got electronic stability control and front seats with whiplash-resistant active head restraints. And this was all standard.

As for handling, the car weighted a bit much, at between 3,200 and 3,500 pounds, and even though the front suspension was a double-wishbone design and the rear was a five-link setup, contemporary reviews said the Sonata wasn't exactly nimble.

The Sonata—which started at $17,895 for the "GL" four-banger manual and topped out at $22,895 for the V6 "LX" model—undercut the competition in price by thousands.
But really, none of this matters. What matters is that the 2006 to 2010 Hyundai Sonata was downright handsome. It was the very first Hyundai that I remember seeing as a teenager and saying "Geez, Hyundai is stepping its game up."

And indeed, the company's game has since become fully stepped up. It went from nonchalantly slapping Mercedes-style lights on its mid-size sedan:
To actually designing a clean, handsome machine. And the brand has only improved since.

And yeah, Road & Track might have called the fifth-gen Sonata's styling "Derivative," and said things like:
Hyundai can't seem to find its own style. The Sonata appears to have a lot of copied bits; taillights from a Honda Accord, headlights from a Lexus IS 300, air vents from an Audi, but what's wrong with that?

But you know what? I don't care. The fifth-gen Sonata was remains
a sexy machine, and I'm not ashamed to say so.
All images by Hyundai