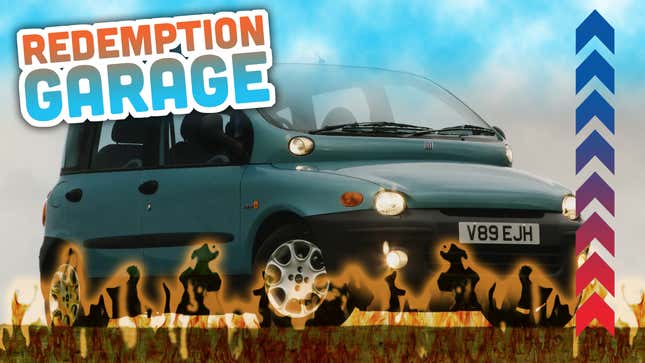 Welcome back to Redemption Garage, and let me start off by saying I don't really think you're ugly at all. I think you're beautiful, but that just sounded good in the headline. What I also don't think is ugly is the 1998 to 2003 Fiat Multipla, an innovative, bold, and deeply clever car that gets shit on constantly just because it doesn't quite look like what people expect. Let's redeem this unfairly maligned workhorse.
We're Driving the 2024 Integra Type S, What Do You Want to Know?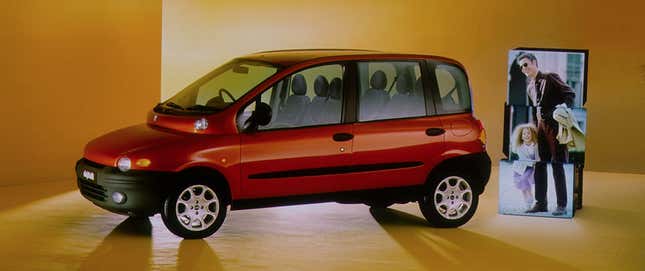 First of all, if anyone was somehow surprised by the unusual look and design of the Multipla, it's their own damn fault, because the name "Multipla" has been associated since 1955 with unusual and clever, if maybe a little bit strange, automobile design.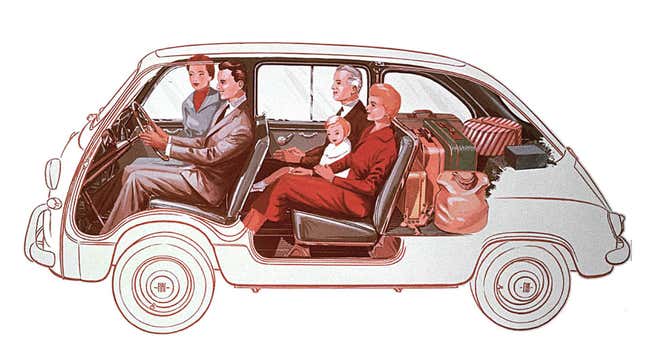 The original Fiat 600 Multipla was based on the rear-engined Fiat 600 and was an early take on the minivan or MPV. It looked odd, sure, but odd for the very specific purpose of maximizing interior volume in as small a footprint as possible.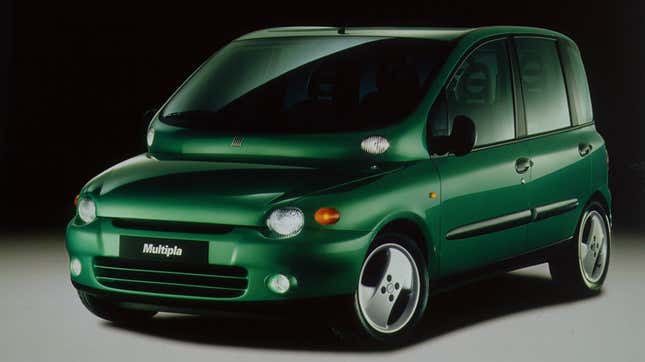 The re-born Multipla of 1998 is following this exact same formula, just using modern underpinnings and design vocabulary. The goal of the car is to be useful and flexible, to carry a lot of people and stuff, and the Multipla sure as hell managed that. Three individual seats front and rear, a large luggage area, plenty of headroom, lots of seat folding options to make center tables front and rear or more cargo room—this thing did its job extraordinarily well.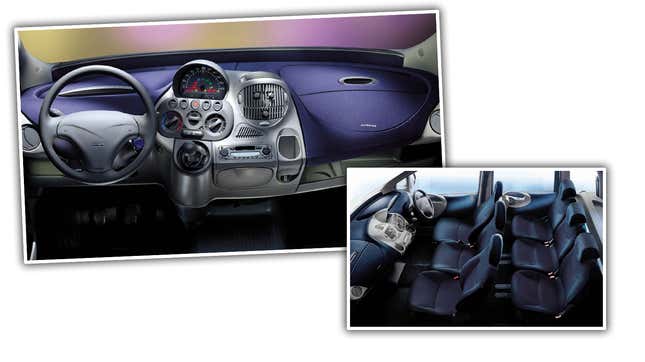 The exterior design was the result of enveloping a flexible interior, and while it was never intended or needed to be particularly sleek, I think the end result, penned by Roberto Giolito, is a great example of a design solution that's not constrained by limiting ideas of what everyone thinks a car should look like, for whatever arbitrary reasons.
The Multipla was widely mocked and called ugly by car reviewers and other small-minded people afraid of anything a little different. A particular focus of derision was the front lighting setup that positioned one set of headlamps up high, right below the A-pillars of the car.
Sure, it was unusual, but is it really that terrible? Plus, what if you find yourself in a situation like this: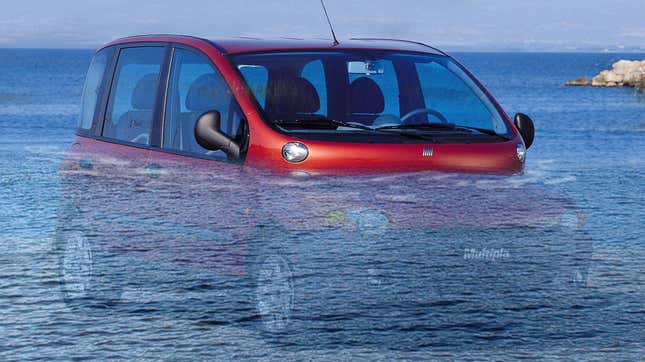 See? In times of high flooding, you'd be the only one with lights above the waterline! Who'd be laughing, then?
Even outside of flood contexts, the Multipla design I feel had actual merit. Sure, maybe it was strange, but there was something about it that worked, in its own way, and by its own rules. It felt futuristic in an innocent, unselfconscious way, like it was from some future era where people were more accepting and understanding, and judged people and machines equally based on the content of their character and not how they looked in the reflection on the doors of some skyscraper.
Sure, it was strange, but it wasn't actually awkward and unpleasant like, say, the clumsy behemoth we call a SsangYong Rodius: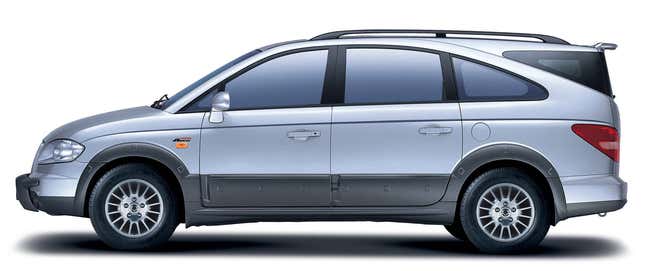 And, look, if we really, really want to try and be objective, can you tell me that the Multipla is really so much worse than a similarly-sized modern SUV with mainstream styling, like, say, a Ford EcoSport?

If we just look at them as objects, and do our best to try and forget all of the usual automotive associations and arbitrary rules and conventions, is it really uglier than the EcoSport? I just don't believe it is.
This is a car that was doomed because it looked weird, and, fundamentally, I think that's unfair. Weird isn't necessarily ugly, and, even more so, this was a car that wasn't weird just for its own sake, but was weird-looking because it prioritized interior volume and utility. It was weird for a reason, and, it embraced its own weirdness without shame.
At least, for a while. If you want to see something that actually is a design failure, you only have to look at the Multipla's 2004 re-design: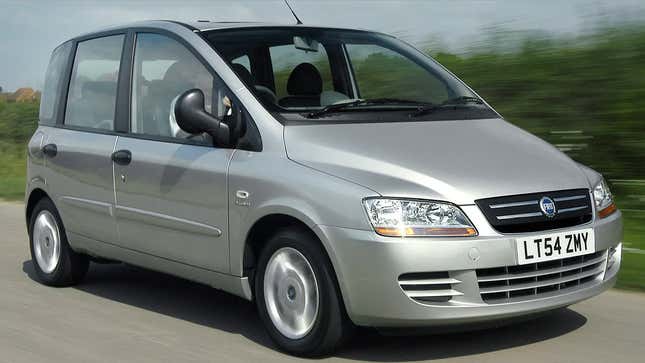 This is a terrible design, because it's a design that's spawned from shame and fear. When the original Multipla design proved too polarizing, Fiat did its best to make it more conventional-looking, with boring headlights and a mostly-fake grille and removing the upper lights and the divide of the hood at the beltline—all of the details that made the Multipla interesting.
They were stuck with the proportions, which, now that the car had a face like anything else, suddenly looked wrong. It was still a useful and flexible car, but now it was designed from the perspective of someone who's given up the good fight.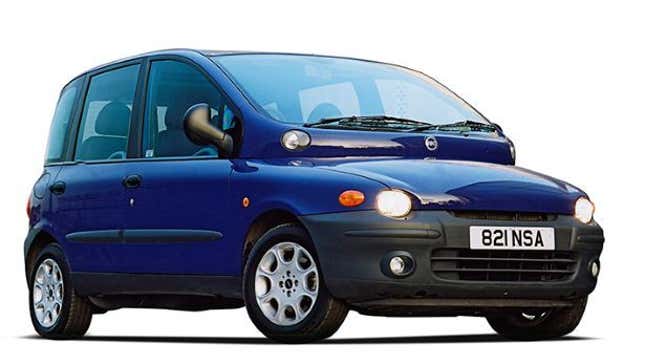 It's like if you had a friend who was a musician or artist for years, then finally had some sort of breakdown and got a haircut and a suit and a shitty cubicle job. This updated Multipla is the automotive equivalent of that sad, sinking feeling you'd get when you saw your formerly interesting friend glumly slouching in an office chair, bathed in fluorescent lights.

I know the Multipla is okay in my book, and I'd happily and proudly drive one. Let's hear what David thinks:
David Tracy's Take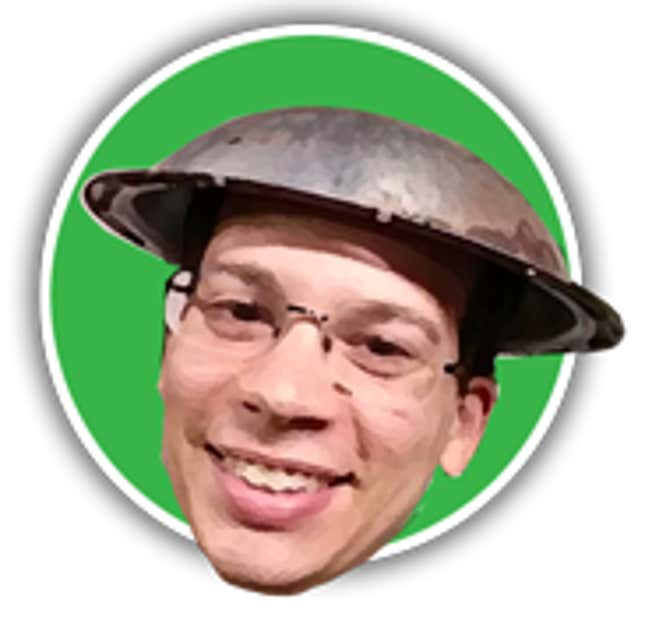 This was a car that I used to see driving around Europe when I did my last stint there between 2000 and 2003. At the time, the cars were fairly new, and I was young. And as much as I like to look back and say that my taste in cars has always been good (my favorite cars were the Audi TT and Opel Speedster, and I had a lot of respect for the Ferrari 360 Spider—all of these cars are still cool today), the reality is that my taste in quirky cars needed work. I do recall being a fan of the Smart ForTwo, which is a fun little car, but the fact that I found the Multipla simply "ugly" without any accompanying thoughts about its uniqueness shows that I lacked depths in some areas of my life.
Today I look upon the Multipla as a work of art—a car that dared to venture beyond the typical norm of automotive design. Have a look at a photo of a Multipla, and place your hand over its top section, and you'll see what looks like the bottom of a standard small car—it kind of looks similar to a Geo Metro. It'd probably look perfectly normal if it had a standard small car lid on it, but instead, it has an enormous, almost van-sized top plopped in place, with the top having its own "front end" with lights and everything. It's wacky and weird, but inside it's roomy.
And also quirky. Aside from the boring steering wheel, there's a lot of fun stuff to look at in the Multipla, like the odd door handles, huge vent, giant round gauge cluster surround—the whole car is just "out there," but it's the daring designs like this one that at least make us take notice. If a refreshed Multipla, with its more tame front end, drove my way, I probably wouldn't pay it any attention unless I saw the back side (since the rear of the refreshed one is still seriously weird—it looks to get wider towards the top?). And where's the fun in not noticing cars?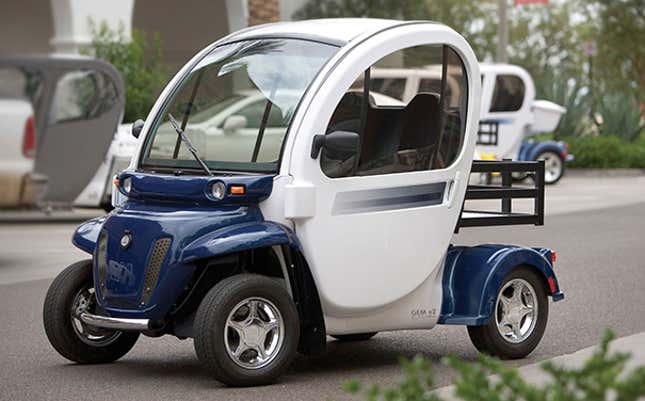 So I'm a fan, and wish we'd see more of this kind of design outside the space of electric carts used by security at the zoo.