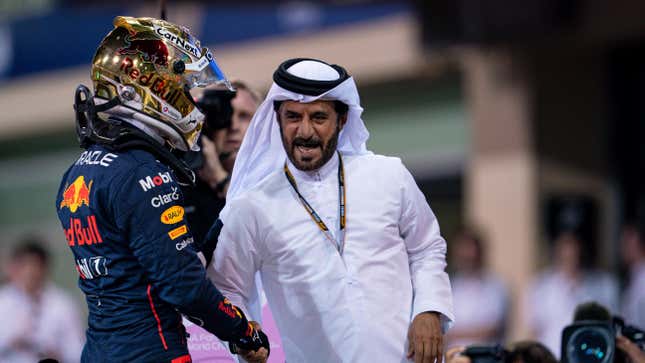 It was in December 2021 when Mohammed ben Sulayem was elected president of the Fédération Internationale de l'Automobile, better known as the FIA, the governing body for Formula E, World Rally Championship, and several other racing series, in addition to something called Formula 1. The F1 part hasn't gone so smoothly, and on Monday, according to The Guardian, Ben Sulayem sent a letter to the 10 F1 teams saying that he would be stepping away from the day-to-day F1.
This NYC Garage Takes Vanlife To The Next Level | Jalopnik Visits
The news is not all that surprising insofar as Ben Sulayem's relationship with F1 has been uneven to say the least. There was that ridiculous ban on political statements. There was that ridiculous jewelry crackdown. There was that strange flap over porpoising.
Then, on January 23, there were the following tweets:
Those tweets apparently made F1 unhappy, because, as The Guardian says, one issue is that "there was no such bid."
Now, in any case, Ben Sulayem has told the teams he is stepping away from F1, with Nikolas Tombazis, whose current title is Single-Seater Director with the FIA, taking over the day-to-day. From The Guardian:
The 61-year-old Ben Sulayem said it had always been his aim to take a strategic role away from day to day management, telling the teams it was his "stated objective to be a non-executive president via the recruitment of a team of professional managers", a task he said has "now largely been completed".

This change was planned long ago, according to the FIA.
The FIA has stated Ben Sulayem's decision to step back was in line with what he had planned on taking the post, as indicated by the appointment of Natalie Rincon as the new chief executive officer.

"The President's manifesto clearly set out this plan before he was elected," an FIA spokesperson said. "It pledged 'the appointment of an FIA CEO to provide an integrated and aligned operation,' as well as to 'introduce a revised governance framework' under 'a leadership team focused on transparency, democracy, and growth. These goals, as well as the announcement of the new structure of the Single-Seater Department, have been planned since the beginning of this Presidency."
Possibly it is giving Ben Sulayem too much credit in saying that he read the room here, especially if it really was planned, though in the end F1 teams not dealing with Ben Sulayem and Ben Sulayem not dealing with F1 teams seems for the best.