Now that the 2009 Corvette ZR1 has set a lap time of 7:26.4, we've been trying to wrap our heads around just how fast that really is. Sure, it's faster than the GT-R, but we're wondering if there's anything that can make the ZR1 look slow. With the caveat that lap times vary depending on track conditions and driver skill, let's take a look at some of the fastest lap times around the the Nürburgring Nordschleife, and see what's what.
7:29.03 - Nissan R35 GT-R


The calling card of the new Nissan GT-R is technology witchcraft. On paper, you wouldn't expect much from a 3800lb car with a V6. But on the track, the grip of the trick AWD system channeling 480 HP from the twin-turbocharged engine is pure magic.
7:26.40 - Chevrolet Corvette ZR1


G/O Media may get a commission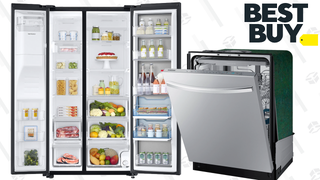 Up to 50% off
Best Buy - Samsung Major Appliance Sale
The instant legend. Keep in mind, there was reportedly a strong headwind on the main straight, which could have actually slowed things down a bit. Could the ZR1 possibly set an even faster time in the future?
6:55 - Radical SR8


With only about 360 HP, the Radical is not about raw power. Its strengths instead are a race-style chassis, complete with real downforce-generating spoilers. Or course, since the car only weighs about 1430 lbs, the Radical has an incredible power-to-weight ratio. A slightly less powerful 320 HP Radical SR3 Turbo has even run a 7:19 lap. Though we doubt you'll find one being valet-parked at the country club, the Radical is technically streetable. As such, it is the fastest road-going car around the Nordschleife.
6:11.13 - Porsche 956


If the ZR1 is fast, then this is warp speed. it's the fastest official lap time ever recorded on this configuration of the track. What makes it even more amazing is that this was 25 years ago, back in 1983.