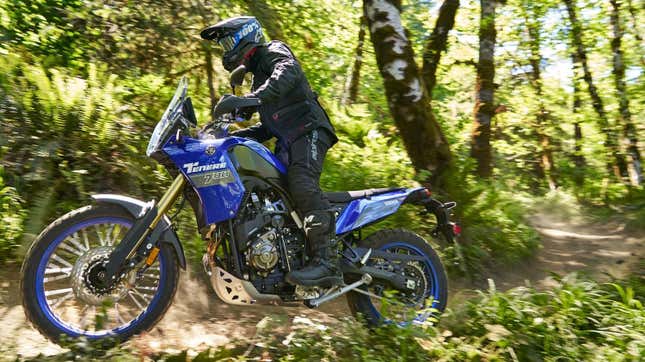 Since its launch, the Yamaha Ténéré 700 has been a standard in the middleweight adventure scene. It's lightweight (for an adventure bike), reliable, and simple — all qualities you want in a bike that'll take you around the world. For 2024, though, the T7 is getting injected with more modern technology: TFT display, ABS modes, cell phone connectivity. If you're a purist, you're likely getting scared. But should you be?
Probably not. The T7's new tech appears to be incorporated with two important considerations: It's focused and ignorable. The new features largely address specific pain points with the prior Ténéré, but they don't seem to be obtrusive — they won't get in the way of your adventure-riding experience.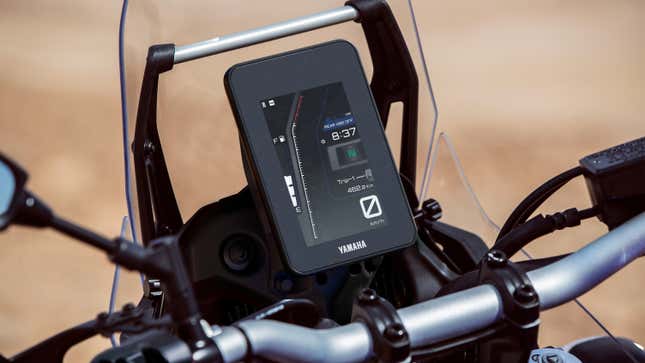 The most noticeable change coming to the T7 is the gauge cluster. The old LCD is gone, replaced with a modern TFT unit in much the same layout. Still tall and narrow, for placement next to a GPS unit; still arranged with a vertical bar tachometer. But now, that's all displayed in full color, with the availability of additional information.
The new dash can pair with a smartphone, allowing notifications from the latter to pop up on the former. It's a quality-of-life feature, useful for those text from your boss while you're on the commute — personally, I'd turn them off for the dirt side of ADV.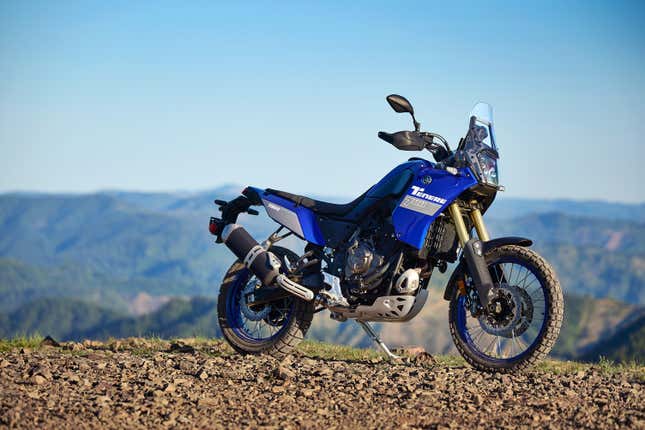 The updated T7 also adds some tech to the brakes: Three ABS modes, up from the prior model's two (assuming you count "on" and "off" as modes). The new addition, an in-between mode that only disables ABS on the rear wheel, is a Goldilocks compromise for off-roading. On dirt, rear-end lockups are normal but front-end slides can be terrifying. Now, there's a way to have your cake and eat it too.
Finally, and perhaps most importantly, the 2024 T7 finally abandons the enormous amber turn signals that are common to so many other Yamaha models. They're LEDs now. Good riddance.
For all these changes, the Ténéré hasn't moved much in price. The 2024 model retails for $10,799 — a price you may actually find, now that dealers are beginning to sell these bikes for MSRP.