Earlier this year the Environmental Protection Agency put forth a 629-page proposal to curtail vehicle emissions. Buried deep in it was language that seemed to indicate turning road cars into regular cars would become illegal. After an outpouring of rabbling from the automotive community, the EPA is clarifying its position.

Or rather, its unclarifying as far as the Agency is concerned. A new statement from the EPA asserts that the paper in question; Phase 2 Greenhouse Gas Emissions Standards and Fuel Efficiency Standards for Medium- and Heavy-Duty Engines and Vehicles, "will not contain clarifying language regarding modification for racing purposes."
Their statement exactly:

"...EPA supports motorsports and its contributions to the American economy and communities all across the country. EPA's focus is not on vehicles built or used exclusively for racing, but on companies that don't play by the rules and that make and sell products that disable pollution controls on motor vehicles used on public roads. These unlawful defeat devices pump dangerous and illegal pollution into the air we breathe."

"The proposed language in the July 2015 proposal was never intended to represent any change in the law or in EPA's policies or practices towards dedicated competition vehicles. Since our attempt to clarify led to confusion, EPA has decided to eliminate the proposed language from the final rule."

"The Agency will continue to engage with the racing industry and others about ways to ensure that EPA supports racing and while maintaining the Agency's focus where it has always been: reducing pollution from the cars and trucks that travel along America's roadways and through our neighborhoods."
G/O Media may get a commission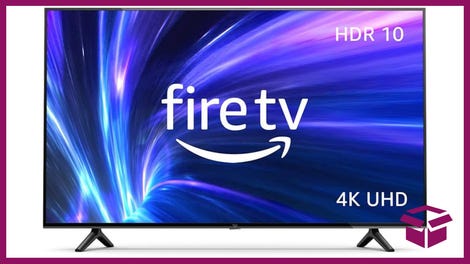 42% Off
Amazon Fire TV 50" 4K Smart TV
The "proposed language" they're referring to, which we analyzed back in February, was essentially:
"Certified motor vehicles and motor vehicle engines and their emission control devices must remain in their certified configuration even if they are used solely for competition or if they become non-road vehicles or engines; anyone modifying a certified motor vehicle or motor vehicle engine for any reason is subject to the tampering and defeat device prohibitions of paragraph (a)(3) of this section and 42 U.S.C."
Which, as our Editor-In-Chief Patrick George pointed out months ago, "seems as though any tampering with emissions controls would be outlawed, even if the vehicle isn't a street-legal one used only for competition."
Over the last few months automotive aftermarket groups, enthusiasts and even some congressmen made noise about the EPA's proposal which brought it to the attention of car owners everywhere.
Republican Congressman and Chief Deputy Whip Patrick McHenry went so far as to introduce a bill, the "RPM Act," to specifically block what many interpreted as the EPA's attempt to halt car modifications and effectively the racing industry.
The Speciality Equipment Manufacturers Association, aka SEMA, which represents many outfits that sell parts to help turn your car into a racing vehicle, has been pushing hard on public awareness of the potentially limiting EPA language.
"Vehicles used on the street and track are restricted by environmental regulations," Steve McDonald, SEMA's vice president for government affairs told Jalopnik. "We contend that if you convert a vehicle into a race car, and it only gets tracked, that is excluded." But, as we pointed out back in February, the EPA claimed that had always been the case and the agency was "simply clarifying the rule."
Now the EPA has promised to rescind language that might have been interpreted as explictly anti-race car. But SEMA President and CEO Chris Kersting is not letting up on his mission of keeping performance parts on the market. He's pushing for specific legislation that will guarantee companies will retain the right to sell car upgrades that are not necessarily street legal, and released the following statement on April 15:
"We want to thank Congress for pushing EPA to withdraw an ill-conceived proposal. However, confusion reigns: the agency continues to assert new-found authority under the Clean Air Act to regulate modification of vehicles for use in competition. This means that those converting and racing competition vehicles, and the parts and services industries that support them, do so under new EPA policy that considers the activity illegal. Only clarifying legislation, such as that offered under the RPM Act, will confirm that such activity is legal and beyond the reach of future EPA regulations. The racing industry and public need a long-term solution to eliminate any uncertainty regarding how the Clean Air Act is interpreted."
The bottom line– if you want to legally drive any car on the street it's going to be subject to federal and state emissions regulations as it always has. If you dedicate a car to track use and never drive it on the road, you're not going to have to pass regulatory scrutiny with it anyway.
As for the companies making go-fast parts "for track use only" that people can buy out of a catalogue and slap on their street car, I'm afraid environmentalists and their like-minded legislators are fundamentally and indefinitely going to be at odds with you.
But for now, it sounds like nobody has to worry about Uncle Sam taking their race car or right to buy a fart can muffler away.
Hat tip to Auto News!