Good morning! Welcome to The Morning Shift, your roundup of the auto news you crave, all in one place every weekday morning. Here are the important stories you need to know.
1st Gear: General Motors Brings The Diesel
I've always rather liked the Chevrolet Cruze. It was a competent, reasonably good looking sedan that held its own against the competition from abroad, and there aren't a lot of small General Motors cars historically that you can say that about. The new one looks to be improved in most every way, including the fact that we Americans get the hatchback version too.
Even crazier is the fact that we somehow get the diesel hatchback version too! And while EPA fuel economy figures aren't out for it yet, the 2018 Cruze with the 1.6-liter turbodiesel four could be "the first nonhybrid car this century to achieve 50 MPG on the highway," Automotive News reports:
Several European magazines have tested the Astra diesel and achieved 55 mpg with a six-speed manual transmission. The coming nine-speed automatic might be enough to push the car to 50 mpg, giving GM the title of most fuel efficient nonhybrid car and helping the company in its quest to win over VW's former diesel customers.

AutoPacific analyst Dave Sullivan thinks GM would be happy with 47 or 48 mpg.

"If the Cruze diesel can hit 47 or 48 mpg, it should be a success in closing the gap with hybrids for highway driving efficiency," Sullivan said. "Keep in mind that the Malibu Hybrid gets 46 mpg on the highway."

In a test drive of gasoline powered Cruze hatchbacks from Ann Arbor, Mich., to Detroit Tuesday during a GM media event, one car, equipped with a six-speed manual transmission, achieved 41.7 mpg in mostly highway driving, while another with a six-speed automatic, turned in 42.3 mpg, according to the car's fuel economy data.
G/O Media may get a commission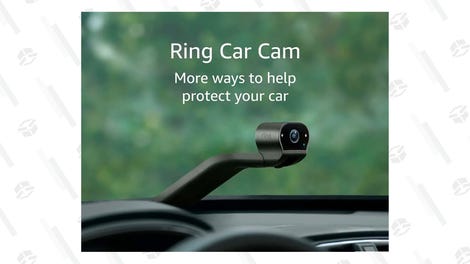 That's monumentally great fuel economy. Problem is, Americans aren't exactly lining up in droves to buy diesels or small cars right now. Will we see any of these on the road or is this just a fuel economy average booster?
2nd Gear: Here's What People Are Buying, Though
SUVs! So many that GM has to add 650 jobs to its Spring Hill, Tennessee plant, where they used to make Saturns (RIP) but they now make vastly more profitable crossovers instead. Via Reuters:
General Motors said it would add a third shift and 650 jobs at its factory in Spring Hill, Tennessee to meet higher demand for its recently launched Cadillac XT5 and GMC Acadia crossover SUVs.

GM is finalizing details to fill positions in the current quarter, while the additional shift will be introduced in January 2017, the company said on Tuesday.

There were about 3,265 hourly and salaried employees at the 6.9 million square-foot factory as of Sept. 1.
The all-new XT5 is already a huge hit for Cadillac; it's the brand's top-selling model globally.
3rd Gear: Samsung-Fiat Talks On Hold Because Of The Exploding Phones
By now you have surely heard about the Samsung Galaxy Note 7, the exploding death-phone capable of leveling an entire city block if you look at it wrong. What does that have to do with cars, besides potentially blowing them up?
Well, as Bloomberg explains (in story from an email newsletter I can't find online yet), Samsung and Fiat Chrysler were in talks to form a partnership with the latter's parts company Magneti Marelli, but that has been scuttled temporarily because the Korean tech giant is in crisis.
Fiat and Samsung also haven't agreed yet on the valuation of Magneti Marelli and the structure of a deal, said the people, who asked not to be identified because the negotiations are private. While the discussions haven't been dropped, it's unlikely that an accord will be signed by the end of the year as planned because Samsung's priority now is managing the Note 7 phone issue rather than pursuing large deals, they said, adding that the two companies are still interested in exploring a partnership.

South Korea's largest company on Wednesday cut its third-quarter operating profit outlook by $2.3 billion after ending production of its fire-prone Galaxy Note 7 smartphones. Fiat declined to comment on the status of talks with Samsung, while the latter said in an e-mailed statement it doesn't comment on rumors or speculation.
Last year Fiat Chrysler's Sergio Marchionne was all about merging or partnering with automakers, but lately he has turned his eye to tech companies. A proposed partnership with Samsung, announced in August, would have had Samsung buy some or all of Magneti Marelli, a deal estimated at being worth more than $3 billion.
4th Gear: Preposterous!
What a great adjective! It's how one Toyota official describes the proposed restrictions on testing self-driving cars in California. The National Highway Traffic Safety Administration has proposed safety guidelines, but California may force compliance before the cars can be tested. Naturally, automakers see this as a roadblock. Via Reuters:
Hilary Cain, director of technology and innovation policy at Toyota Motor North America, criticized California's proposal to require automakers to submit the U.S. National Highway Traffic Safety Administration's (NHTSA) 15-point safety check list before testing vehicles.

"If we don't do what's being asked of us voluntarily by NHTSA, we cannot test an automated system in the state of California. That is preposterous and that means testing that is happening today could be halted and that means testing that is about to be started could be delayed," she said at a Capitol Hill forum.

On September 30, California unveiled revised rules that carmakers will have to certify that they complied with the 15-point NHTSA assessment instead of self-driving cars being required to be tested by a third-party, as in the original proposal.

California would allow for the absence of a human driver and a steering wheel in advanced self-driving cars, provided there is two-way communication with the vehicle and NHTSA approval. California will hold a public hearing on the proposal October 19.
5th Gear: Zero Bike Deaths Too?
Did you read about BMW's bike of the future yesterday? Besides the Tron-like looks, the big imagined advancements on this bike from 2116 are in the areas of safety. As our own Andrew Collins pointed out, while there have been incredible advancements in motorcycle safety tech and traction control, the audacious goal here is to eliminate a need for safety gear because the bike cannot crash.
In showing off the new BMW Motorrad Vision motorcycle, the point was to show how the rider will take advantage of emerging technology. Special glasses allow riders to see critical information without having to look down. And no helmet or any other protective gear should be needed, BMW contends, because the bike is intelligent enough to avoid accidents and hazards.
We talk a lot about the future of cars. Is this the future of bikes?
Reverse: The Suitcase Of Death
Neutral: What Is The Future Of Motorcycling?
The last refuge of those who demand human control over fast machines, or something else with all the risks ironed out by technology?