Good morning! Welcome to The Morning Shift, your roundup of the auto news you crave, all in one place every weekday morning. Here are the important stories you need to know.

1st Gear: The Detroit Auto Show Is Still Very Much Alive
As the auto industry has shifted towards electrification and autonomous vehicles, it seems that more eyes than ever have been on "mobility" companies and tech startups at the Consumer Electronics Show in Las Vegas. Between CES ("the 800 pound gorilla for Detroit," according to Autoline's John McElroy) and automakers staging their own private events and using social media more than ever for debuts, the Detroit Auto Show has lost a bit of luster over the years. But it's not down for the count, even as it's focused on more than just cars these days.
The Detroit News posted an article yesterday describing the many challenges NAIAS faces in the modern age, from competing shows and just changes in how companies get the word out. But ultimately the newspaper concludes that the Detroit Auto Show "stays on its feet."
G/O Media may get a commission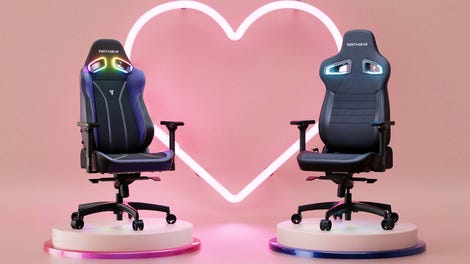 Up to $150 off
Vertagear Gaming Chairs
(Admittedly, there's some rooting for the home team at work here, as I doubt the automakers and dealers who advertise in the News would love it if the paper said the show's a dud, but it raises good points. The show is a solid driver of tourism for Detroit too, even in January.)
The auto show's Executive Director Rod Alberts says part of the reason why Detroit is still relevant is that it's singularly focused on cars, telling the news site:
I like competition. But I look at it as a competition with ourselves to grow and target more audiences. CES is a great show, but by definition they have to be a blend because electronics cover so many markets.

We're a purist show.

Stephanie Brinley, an analyst at auto-industry consultant IHS echos that statement, saying:
CES and Detroit are fundamentally different shows... Because CES is a trade show, it's a great way for manufacturers and suppliers to show off what they have in store. But if you have a vehicle that's coming to market in the next six months, then an auto show is where you need to be.
Translation: people are still buying cars, even if sales are expected to taper off a bit in 2018. And they want to see what's new and out there.
We just compiled our list of cars that are expected to/rumored to show up at Detroit, and it's damn exciting. Big guns like the Ford Ranger, Ram 1500, Silverado and Mercedes G-Class are expected to show face. Plus, who knows there may even be a GT500 and a mid-engine Corvette there.
2nd Gear: Renault, Nissan and Mitsubishi Will Invest Up To $1 Billion In Tech Startups

Automotive News reported last week that Renault and Nissan were partnering up with Mitsubishi to build 15 vehicles "with autonomous features" by 2022, and that the companies were on the hunt for a tech company to help develop autonomous taxis.
Yesterday at CES, the three brands agreed to start a venture capital fund called Alliance Ventures, which the automakers said in a press release would "act as main interface for start-ups, investors and the venture capital ecosystem."
The release goes on, promising an initial investment of $200 million (paid 40 percent by Renault, 40 percent by Nissan and 20 percent by Mitsubishi, like when you go easy on your broke friend when splitting brunch) in the first year to help the automakers stay on the cutting edge of rapidly changing auto tech:
In its first year, the fund expects to invest up to $200 million in start-ups and open innovation partnerships with technology entrepreneurs focused on new mobility, including vehicle electrification, autonomous systems, connectivity and artificial intelligence.

The first investment that the fund will make will be in American company Ionic Materials, which is developing cobalt-free solid-state batteries. The auto industry is changing, and carmakers worried about falling behind are partnering up.
3rd Gear: Automotive Supplier Giant Continental May Split Up
In the automotive world, supplier Continental is a giant. Its devisions engineer everything from tires to 48-volt hybrid devices to electronic stability control systems to infotainment units. But now that enormous supplier could be considering an enormous overhaul, or even a split, Bloomberg reports.
Here's how it would work, according to the news site's sources familiar with the matter:
Under scenarios being considered, the manufacturer could create a holding company for its divisions and then sell shares in the more profitable units, such as the tire business, or combine some operations with rivals, said the people, who asked not to be identified because the matter is private.
Bloomberg mentions that other automotive suppliers have been changing their organizational setups as the industry shifts more towards EVs. And while Continental is still in the "early stages" of discussions about changes to organizational structure, untangling business units without much crossover could help the company become more competitive in emerging tech:
The company would gain "more degrees of freedom" with a holding structure as it would facilitate expansion and possible acquisitions in fields like electric mobility and autonomous driving, Landesbank Baden-Wuerttemberg analyst Frank Biller said by phone. 

Continental's biggest shareholder, the Schaeffler family, will have to approve any change in the way the company is set up, so we'll have to wait and see if anything happens. Still, a major auto supplier considering reorganization is just one of many indicators of truly how quickly the auto industry is changing.
4th Gear: 601,000 Toyotas Have Been Added To The Massive Takata Recall
The list of cars that have been recalled due to airbag supplier Takata's shrapnel-prone inflators continues to grow. Toyota announced that 601,300 additional vehicles would be called in for recalls, including:
2009 – 2010 and 2013 Model Year Scion xB

2009 - 2010 and 2013 Model Year Toyota Corolla

2009 – 2010 and 2013 Model Year Toyota Corolla Matrix

2009 – 2010 Model Year Toyota Yaris

2010 and 2013 Model Year Toyota 4Runner

2013 Model Year Toyota Sienna

2009 – 2010 and 2013 Model Year Lexus IS250/350

2010 and 2013 Model Year Lexus IS250C/350C

2009 – 2010 and 2013 Model Year Lexus IS-F

2009 – 2010 Model Year Lexus ES350

2010 and 2013 Model Year Lexus GX460
This comes after Takata announced recently that it would recall another 3.3 million inflators that used ammonium nitrate propellant, which had a tendency to degrade in humid conditions, and then violently explode when triggered by a crash—potentially sending shrapnel into occupants.
Those 3.3 million inflators can be found in not just Toyotas, but also Hondas, BMWs, Daimler products, GM products, Tatas, Jaguars, Land Rovers and Subarus.
Reuters reports that, according to NHTSA's figures from November, 19 automakers had recalled 46 million inflators in 34 million vehicles in the U.S. due to the faulty inflators, and that the figure will grow to 70 million inflators by 2019.
Now if only people would actually get their airbags fixed.
5th Gear: GM Is Cranking Up The Crew Cab Output For Its Next-Gen Trucks

Americans these days have such a strong thirst for expensive pickup trucks that GM's output of crew-cab pickups is "constrained," Automotive News quotes GM's executive VP of global product development Mark Reuss as having stated at the Consumer Electronics Show this week.
Reuss says The General has plans to fix this with the next generation of Silverado, expected to make its full debut at the Detroit Auto Show in a few days.
The news site points out that the share of GM's large trucks with crew cabs has risen from "more than 50 percent" to "more than 60 percent" according to someone from Chevy. Plus, Automotive News points out that Silverado sales were up 1.9 percent last year in a market that grew 5.6 percent in that same span.
In other words, you can expect to see a lot of new four-door Silverados and GMC Sierras rolling out of GM's Silao, Mexico and Flint, Michigan plants, which build the light-duty and heavy-duty crew cabs, respectively.
Reverse: The World's Cheapest Car Is Born

Via History:
On this day in 2008, at the New Delhi Auto Expo in India, Tata Motors debuts the Nano, billing it as the world's cheapest car: The anticipated price tag is around $2,500.
Neutral: Is The Detroit Auto Show Still Relevant To You?
As a car enthusiast, does the Detroit Auto Show still matter to you? Has CES taken anything away from its importance?