For the last 32 years, the most glamorous front-line aircraft in the USCG has been sleek HU-25 Guardian. Based on the French built Dassault Falcon 20 airframe, the Guardian evolved greatly over the years and its capabilities will only be partially replaced by the turboprop powered CASA-235 derived HC-144 Ocean Sentry and the HC-27J Spartan
The one thing the HU-25 has always had on its side is speed, with about double the kinetic performance when compared to its turboprop replacements. This means the Guardian can get on target much sooner, a key factor in the search and rescue role, and keep up with jet powered aircraft in the anti-drug interdiction and homeland security role. Additionally, its ability to quickly deploy and cover large distances in short periods of time was a major factor in choosing it to map the oil wells set ablaze by Saddam Hussein's forces during Operation Desert Storm in 1991.
On of the major areas where the Guardians differ from their replacements is in the cargo hauling role. The Ocean Sentry and the Spartans can haul out-sized cargo, stretchers and personnel via their rear ramps and spacious interiors. Different sensor systems' consoles can also be rolled on and rolled off as the HC-144's and the Spartan's as their missions evolve. Yet the USCG already has the HC-130 Hercules for the cargo hauling mission and over 30 new HC-144 and HC-27s (the C-27s Spartans acquired near brand new from the idiotic USAF who canned them almost immediately after entering service) will really stack the USCG with this capability while their high-speed capability will be totally lost with the Guardian's retirement.
The Falcon based Guardian jets, of which 41 were procured, really have evolved into spectacular sensor platforms over the years. As time went by, new sensors were added to different portions of the Guardian fleet, including side-looking airborne radar, the F-16's APG-66 multi-mode pulse-doppler radar, incremental upgrades to its FLIR turret, and finally, the 360' scanning AN/APS-143BV3 inverse synthetic aperture radar (ISAR) in its ultimate HU-25D configuration.
G/O Media may get a commission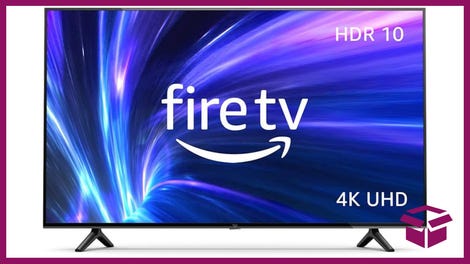 42% Off
Amazon Fire TV 50" 4K Smart TV
For all their capabilities and their outstanding service record, the HU-25s are not as cheap to operate as their younger turboprop successors, nor can they stay on station nearly as long or use as short of runways. As persistence and flexibility continues to be in higher demand than raw speed throughout military's information, surveillance and reconnaissance (ISR) aviation world, the HU-25's benefits could not outweigh their cost for those in charge of running a cash-strapped US Coast Guard.
With its last flight completed on September 23rd, 2014, the HU-25 was retired at USCGs Corpus Christi after 32 years of impeccable service. And with that the Coast Guard's only jet in its operational fleet (they have a pair of Gulfstream 5s/VC-37s and a Challenger 604/VC-143 that haul around the USCG and Homeland Security brass) is no more. Truly the end of an era.
NASA, the biggest adopter of orphaned US military aircraft, has acquired one of the Coast Guard's surplus HU-25s for scientific testing purposes, which have so far included monitoring the ice sheet in Greenland and evaluating emissions of jet engines running on bio-fuels at altitude. The NASA Guardian is based at NASA's Langley Research Center in Virginia.
So here's to you Guardian and her crews! Thank you for the 32 years of service and for all the lives you have helped saved in the process. Your raked wings and turbofan howl will surely be sorely missed...
Photos via DoD, Coast Guard Over Kuwait by George Schoenberger via USCG/DVIDS
Tyler Rogoway is a defense journalist and photographer who maintains the website Foxtrot Alpha for Jalopnik.com You can reach Tyler with story ideas or direct comments regarding this or any other defense topic via the email address Tyler@Jalopnik.com