The Vision SF50 from Cirrus Aircraft, which has been in development for the last decade, has renewed interest in the Very Light Jet market, thanks to its itty-bitty size and single engine. But beyond the aircraft's eye-catching V-tail and top-mounted jet engine, the Vision SF50 will have a very futuristic cockpit with no less than five (FIVE!) displays.
Having a jet engine on a plane is cool enough, but to bring a small jet into the next few decades, it needs to be easy to operate as well.
In that vein, Cirrus, which previously referred to the Vision SF50 project simply and somewhat ominously as "The Jet," partnered with the avionics experts at Garmin to create a highly functional cockpit of the future. They're calling it Cirrus Perspective Touch, and it makes advances over other modern cockpits with multifunction displays by finally offering pilots a touchscreen interface.

G/O Media may get a commission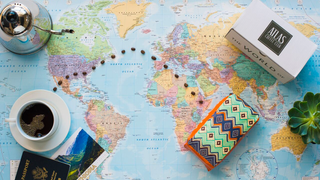 First Bag Free
Atlas Coffee Club - Free Coffee
Explore global coffee
With each bag, Atlas includes details on the coffee's tasting notes and a postcard about the region and its coffee history. And when you subscribe, you have options to tailor frequency, grind size, and roast preference of your beans, so you'll always be brewing the perfect cup.
An early mockup of the Vision SF50 cockpit showed a side-stick controller and hinted at the system's overall design, which is based on the Garmin G3000 system. But we now know a lot more about the benefits it will provide pilots. Future Vision SF50 pilots will be able to access many kinds of critical information on the two huge main displays, known as the Primary Flight Display (PFD) and Multifunction Display (MFD).

Pilots will be able to personalize how a wide range of information is laid out on these two touchscreens, such as automatic pressurization scheduling, weather radar data in real-time, text messaging and satellite phone integration, and even synthetic vision (more on this in a moment).
Instead of burying each selection in sub-menus, the Cirrus Perspective Touch has an icon-based graphical user interface, which simplifies a pilot's workload when searching for the desired information. The three smaller displays set below the big touchscreens provide other critical flight and systems information. Altogether, this layout looks very ergonomic and will likely be a key selling point for prospective owners.
A Cirrus Vision SF50 developmental aircraft performing a test flight.
Cirrus expects the Vision SF50 will be flown by its owners, and that most of these customers will need to earn a new type certification for their new Vision SF50. To facilitate this need, Cirrus will invite their clientele to visit the Cirrus headquarters in Duluth, Minnesota (hopefully not during the winter) for about two weeks.
Somewhat like a European delivery program for new cars such as Volvo and Porsche, this time will allow Cirrus to fine-tune the customer delivery experience. For new owners who have been waiting many years – some as many as nine – since putting down a deposit for a build position, it could go a long way towards assuaging fears that the thing would never actually be in their hands.

Most importantly, it will give Cirrus the opportunity to familiarize owners with their new aircraft, especially in helping them master the new Cirrus Perspective Touch system architecture. Ongoing pilot training will also be offered, allowing Cirrus to keep in contact with owners as well as owners keeping in touch with one another.
Forward-mounted infrared camera used on the Gulfstream Enhanced Vision System.
For general aviation pilots, one of the most fascinating developments on the horizon is synthetic vision technology. Larger private aircraft have had synthetic vision technology for a few years, like Gulfstream's Enhanced Vision System which pipes infrared images into the cockpit from a camera mounted in the nose. At its core, synthetic vision enhances situational awareness and improves safety, especially during inclement weather and low-visibility situations.
In addition to synthetic vision, we've also started to see Heads-Up Display technology aimed for the civilian market. There are huge implications for other augmented reality systems for private pilots, which could even be made backwards-compatible with legacy steam gauge cockpits. These also promise to improve safety and provide pilots with a spectrum of information never previously available.
Mockup of Cirrus Vision SF50 interior from 2012.
The rest of the Vision SF50's interior looks just as good as its advanced cockpit and gorgeous exterior. While it won't be nearly as spacious as larger business jets from manufacturers like Dassault, Gulfstream or Cessna, the Vision SF50 will offer seating for up to five adults and two children. When the jet is flying at 28,000 feet, the aircraft will be pressurized to simulate an 8,000 foot cabin environment.
The one visual detail that you can't ignore on the Vision SF50 is the jet engine affixed to the upper fuselage. This powerplant is a Williams International FJ-33 turbofan which produces around 1,800 pounds of thrust, enough to propel the Vision SF50 to a maximum cruise speed of 345 miles per hour. This engine is a scaled-down derivative of the Williams International FJ-44 turbofan, which has been used in a wide variety of aircraft over the years including the Hawker 200, Cessna CitationJet and even the Lockheed Martin Polecat.

With a single engine, the Vision SF50 is less expensive to own and operate than a twin-engine aircraft, as there are half as many hot surfaces to inspect and maintain. It will also use less fuel than twin-engine competitors, and have the added benefit of being quieter.

Another very cool feature of the Cirrus Vision SF50 is that the aircraft is constructed from a single piece of carbon fiber. Besides being a very lightweight, low-density material (especially compared to aerospace aluminum), carbon fiber is hugely attractive to aerospace engineers and designers because it resists fatigue and stretching. Engineers from Boeing pioneered carbon fiber composite construction in the recently-revealed Quiet Bird in the early 1960s, and have used it extensively in the 787 Dreamliner. The Airbus E-Fan all-electric concept aircraft also uses carbon fiber construction.
The use of carbon fiber prompted Cirrus to install a huge autoclave oven in their Grand Forks, North Dakota manufacturing facility. This enormous apparatus is used to create the carbon fiber main spar in the Cirrus SR-2X series, as well as the Vision SF50 personal jet. The autoclave oven works by pressurizing nitrogen gas up to 125 pounds per square inch, which has the effect of compressing the composite spars being cured. This enhances the airframe's strength, which influences how the aircraft handles. It also improves the airframe's durability, which means that owners will enjoy a longer service life.
On top of everything else, the Vision SF50 will feature the CAPS system (Cirrus Airframe Parachute System), which is a ballistic parachute that can be deployed in an emergency to (hopefully) save a stricken aircraft from making a hard collision with terrain or water. Cirrus claims this system has saved over 100 lives in their SR20 and SR22 aircraft.

With a backlog of 550 customer orders for the Vision SF50, and with an expected production rate of about 125 completed airframes per year (after the first year, in which they hope to manufacture about 90 complete aircraft) that amounts to about four years of work for the Vision SF50 production line.
Embraer Phenom 100
Cirrus isn't the only manufacturer offering aircraft in the Very Light Jet category. The Embraer Phenom 1o0 and Cessna Citation Mustang have both been on sale for a few years, although they feature twin engines instead of the single powerplant used on the Cirrus Vision SF50. And even though a gently-used Citation Mustang might be in the same price vicinity as a Vision SF50, the twin-engine Mustang is probably more airplane than many prospective Vision SF50 owners are looking for.
Cessna Citation Mustang
As of March 2014, Cirrus listed a price tag of $1.96 million for the little jet. While customer deliveries have been delayed for several years due to financing concerns, the first production SF50 is in assembly as of April 2015. As much as customers probably can't wait to start flying their new jets, we can't wait to start seeing them at airports around the world.
Photo credit: Top shot via Cirrus Aircraft/PR Newswire, Cirrus Perspective Touch cockpit - Cirrus Aircraft, Cirrus SF50 cockpit mockup - JetRequest.com/Wikicommons, Cirrus SF50 on test flight - Kentaro lemoto/Wikicommons, Gulfstream Enhanced Vision System IR camera - Spartan7W/Wikicommons, Cirrus SF50 interior - JetRequest.com/Wikicommons, Autoclave oven in Cirrus Grand Forks, ND facility - Cirrus Aircraft/PR Newswire, Embraer Phenom 100 - Renato Spilimbergo Carvalho/Wikicommons, Cessna Citation Mustang - Alan Lebeda/Wikicommons
Follow the author on Twitter: @collinkrum