A stunningly gorgeous design. A mid-mounted AMG V12 with four turbos. Zero to 100 mph in 6.2 seconds. It's hard not to think "what could have been" when it comes to the 2004 Chrysler ME-Four Twelve Concept, especially when it could have been an American Ferrari Enzo fighter.
(Welcome to Long Lost Concept Cars, a new semi-regular series we're trying out on Fridays where we highlight amazing concepts from years past that never made it to production — but maybe should have.)
Let's hop in the DeLorean and go back to 2004 for a moment. Chrysler was still a part of Daimler-Benz, and with Dieter Zetsche at the helm, this so-called "merger of equals" resulted in several collaborative efforts like the Crossfire roadster, Pacifica SUV and 300C sedan.
Some of these endeavors were more successful than others, but they did offer bold, uniquely American styling coupled with robust Mercedes components.
G/O Media may get a commission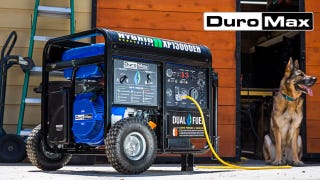 Black Friday Sale
DuroMax Generator Sale
Today that merger is looked upon by most as a failure, with Mercedes eventually forced to sell off Chrysler at a loss after having dumped billions into the brand.
In America, at least, blame is largely laid on Mercedes for their poor management of Chrysler, continual cuts and layoffs to their American subsidiary, and for failing to properly merge two clashing cultures. But for a while in the mid-2000s, things almost looked like they would be okay, with Chrysler posting profits in 2004 and 2005.
The ME Four-Twelve could then be considered the ultimate Daimler-Chrysler car. When it debuted at the 2004 Detroit Auto Show, it stunned audiences and sparked instant demand. Sadly, it was not to be.
But perhaps the craziest part of the ME Four-Twelve's bizarre story is that it almost was.
What was it? A two-seat, two-door, mid-engine supercar concept that debuted in 2004.
What were the specs? "ME Four-Twelve" stood for mid-engine, four turbochargers, and 12 cylinders. It was a serious engine. The concept's 6.0-liter AMG-derived V12 put out 850 hp at 5,750 rpm and 850 lb-ft of torque between 2,500 and 4,500 rpm.
Power was sent to the rear wheels via a 7-speed double wet-clutch transmission with paddle shifters. With a carbon-fiber and aluminum honeycomb chassis, and liberal use of carbon fiber throughout the rest of the vehicle, the ME Four-Twelve weighed in at just 2,888 pounds.
What else made it special? It was quite fast, for one thing. Chrysler said the car could rocket from zero to 60 mph in 2.9 seconds, zero to 100 mph in 6.2 seconds, and had a better power to weight ratio than the Bugatti Veyron, McLaren F1 and Ferrari Enzo. It also had a remarkably sophisticated suspension with dual-control-arms front and rear, stainless steel pushrods and adjustable shocks.
There's also its design. It's eye-catching, aggressive but elegant, and it is easily the best use of Chrysler's early-to-mid 2000s design scheme. It still looks incredible today.
What did it look like on the inside? Concept-y, but more functional that most. The flat-bottomed steering wheel, heavily bolstered seats, large shift paddles and realistic gauge cluster all made the car feel like it was for real instead of some far-flung thing that would never see the light of day outside of an auto show.
Did it actually run? It did, if you can believe it. The show car that was on display at Detroit supposedly couldn't do much, but the mad scientists at SRT threw a working prototype together in about four months. By August 2004, magazines like Motor Trend were testing a work-in-progress version, flinging it around Laguna Seca.
Was it ever planned for production? It certainly seemed that way, although it would have been quite expensive. From the Motor Trend story:
Chrysler has proven it probably could engineer and build a car to take on the European supercar superstars. So what? "We have a very clear and good definition of the technical specifications of the car," says Dieter Zetsche. "With that, we can do a calculation for [the cost of] building 10, 100, and 1000 cars and figure out the price points." If the numbers add up. If he can be convinced enough people are prepared to pay what's rumored to be somewhere between $250,000 and $750,000 for a 248-mph Chrysler, Zetsche says he will give the car the green light: "There's no doubt."
Sadly, the car was killed off in 2005. The Detroit News reported at the time that an internal study revealed the car would have cost hundreds of millions of dollars to develop at a time when Chrysler was still rebuilding, and those costs could not be justified. Chrysler aficionado site Allpar says that the car would have been much faster than the Mercedes SLR McLaren but more expensive to develop, which apparently rankled the higher-ups at Mercedes.
Should it have been built? I say hell yes, it should have been produced. I like to think of it as a genuine American luxury supercar, a kind of classier version of a Ford GT. But it's awfully hard to make a business case for it.
It's probably not ever coming back, sadly. It's hard to imagine the budget-conscious, post-bailout, Fiat-owned Chrysler of today making something so extreme, especially when the new SRT Viper barely squeezed through.
The ME Four-Twelve is incredible, but it's definitely the product of a different time.
Long Lost Concept Cars runs on Fridays. Got a favorite forgotten concept you'd like us to feature? Drop a suggestion in the comments.