The planned closure of General Motors' Australian facilities in 2017 came with an assumption that the Holden Commodore-based Chevrolet SS—manufactured in Elizabeth, South Australia—could die out as well. But it looks like that hunch was an incorrect one, at least for the next year or two.
Catching up with Camaro chief engineer Al Oppenheiser at the New York Auto Show, CarAdvice reported that a performance-sedan successor to the SS may be on its way. We should note that a majority of the entire interview seemed rather on the defensive upon reading, with many of the questions dodged and much of the attention redirected toward the upcoming 2017 Chevrolet SS model.
The SS remains on GM's rear-wheel drive Zeta platform, also used for the Holden Commodore and the previous-generation Camaro. Sales for the SS are far from spectacular—Autoblog reports that the manufacturer sold 2,895 in 2015, the car's best year since its introduction in 2013—and the closure of GM's Australia factories seemed like almost the perfect storm for its expiration.
But not so fast. Oppenheiser downplayed the lack of sales on the V8 sedan, and gave a clear response on an end date for the SS: as of right now, there isn't one. From CarAdvice:
"[The SS] sells what it's supposed to," he said. "And we haven't announced an end date to it, so we're just … we know that there are some decisions made on the Zeta [platform], that are imminent, and right now we're just focused on the new '17 model, which is great. It has the LS3 with the manual and the active exhausts, and it's a great car."
G/O Media may get a commission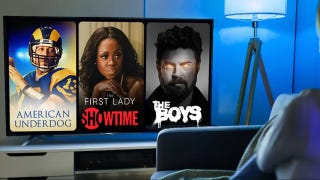 UNDER $1
99¢ Prime Video Channels
Oppenheiser went on to avoid further questions about the future of the SS, other than hinting that another global sedan could "maybe" fill the void when asked about a potential replacement model. Whether or not that car could house a V8 was another avoided item on the agenda.
"I don't know that either," Oppenheiser told CarAdvice. "I'm not at liberty [to say]. I'm going to leave you hanging."
Looks as if we'll have to just wait and see what happens with the Chevrolet SS, but it'll at least be around through the 2017 model year. Most of us can't stand cliffhangers, but keep in mind that what happens next is usually worth the wait.