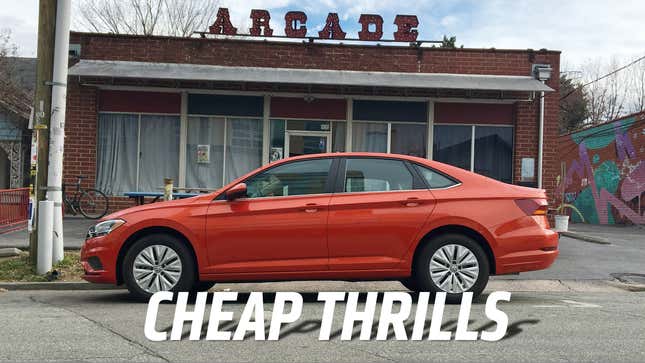 Not too long ago, I got to drive one of Volkswagen's new Jetta GLIs on the Tail of the Dragon, and, sure, it was a lot of fun. It's a good reminder of why sports sedans exist. But here's a filthy little secret for you: I also drove the base-spec, manual Jetta, the cheapest car Volkswagen will sell you in America, and, if I'm honest, I think I had even more fun in that.
Listen To The Lexus RC F Sing Through The California Mountains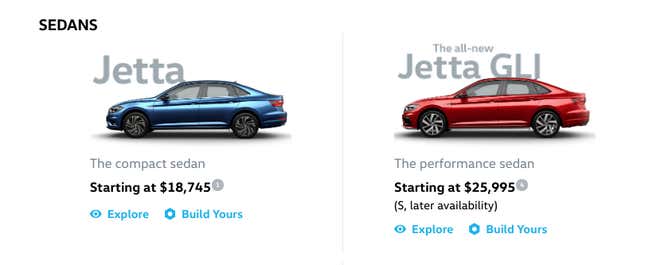 The base-spec Jetta starts at $18,745, and it's the cheapest car you can buy from Volkswagen, at least in the U.S. The Beetle is next, at $20,895, and the Golf starts at $21,845. The Jetta GLI sells you its extra power and refinement for over seven grand more, at $25,995.
You do get a good bit more for that extra seven grand, though, including a significant 81 more horses and 74 more twisty-force (the GLI's 2-liter turbocharged engine makes 228 horsepower and 258 pound-feet of torque, while the base car's 1.4-liter makes 147 horsepower and 184 pound-feet of torque) and, of course, higher-end interior materials, bigger and more colorful LCD screens, and all that crap.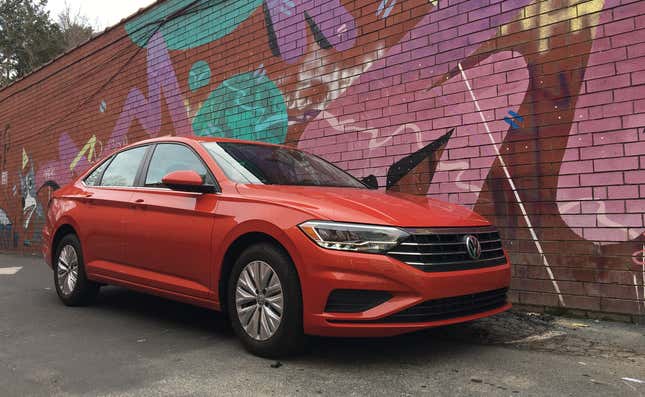 But the truth is that there's something about this base-model Jetta, the closest thing that passes for a stripper model in our gadget-gorged modern era, that exudes a powerful sense of no-bullshittery that I found wildly appealing.
The cheap-ass Jetta doesn't feel like a cheap car; it feels like a car that's been distilled down to just what you actually need. For example, the base Jetta doesn't have a proximity key; you put your key into a slot and turn it to start the car, instead of punching some button.
Since I sort of hate proximity keys, I'm totally fine with this. You should be, too, since if you have to physically turn a key, it's pretty much impossible to drive off without a key, which is actually a genuine issue. 
One issue I do have with the Jetta's key, though is that the key itself is oriented 90 degrees differently than all the other VW keys I'm used to, which led me to do this all the time: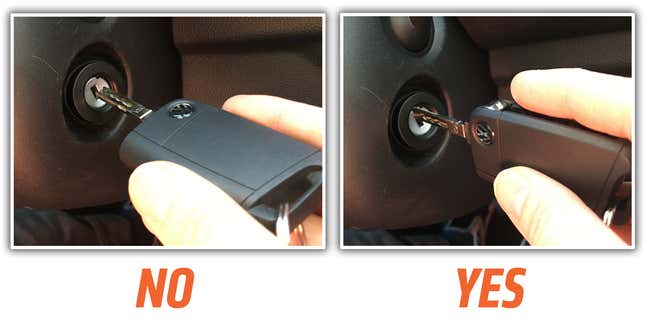 The base Jetta isn't fancy on the inside, but it doesn't feel like some austere hairshirt of an interior, either. It's totally fine. The seat material reminds me of some sort of athletic wetsuit material, and it breathes well and is plenty comfortable, and deals with temperature and the embarrassing adhesion properties of human skin better than leather.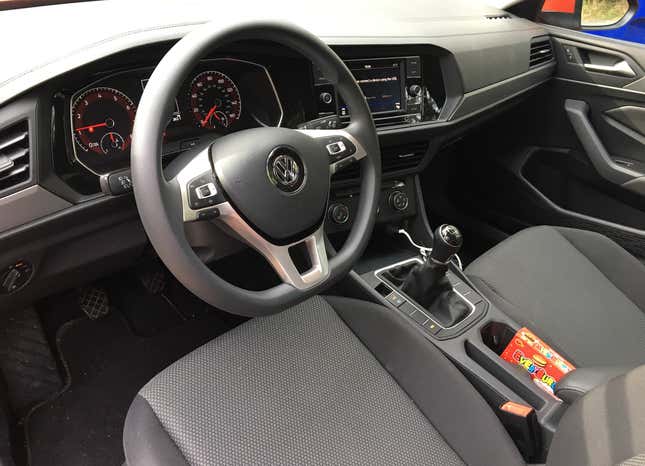 The center-stack infotainment screen isn't huge, but it's definitely big enough to be usable, and even though there's no nav or satellite radio, there's Apple CarPlay or Android Auto, so any navigating or music-appreciating you want to do you can just do how you're always doing it when you're not in a car. It's absolutely fine.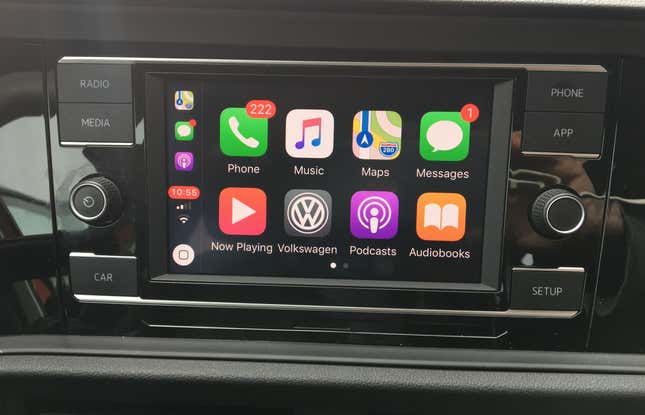 In fact, I sort of love how spare the instrument panel looks compared to many modern cars. Again, it feels like it has what you need and no extra bullshit, and that makes you feel free.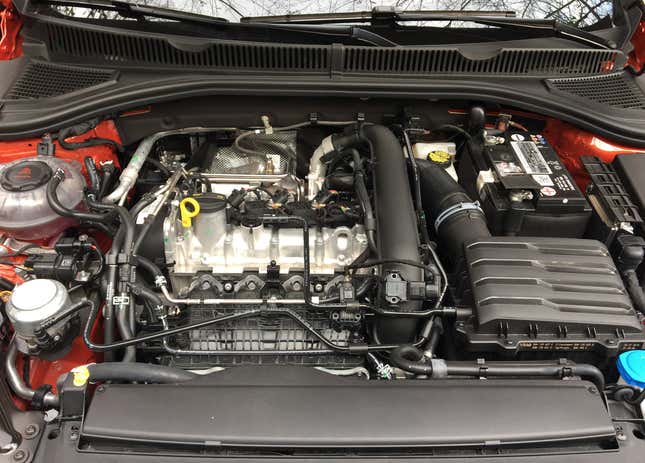 Look, they didn't even bother with some goofy engine cover with a fully embossed badge on it, because, let's be honest here, who gives a shit about that? For comparison, here's the two-liter TSI engine from the GLI: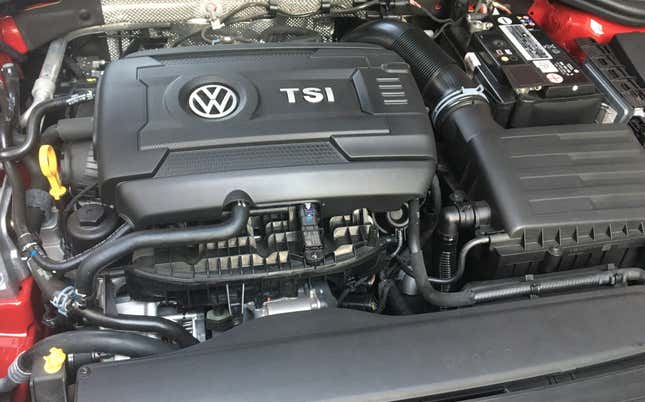 Maybe that engine cover is useful if you're making a breastplate for a cyborg halloween costume, but beyond that, you'll never miss it.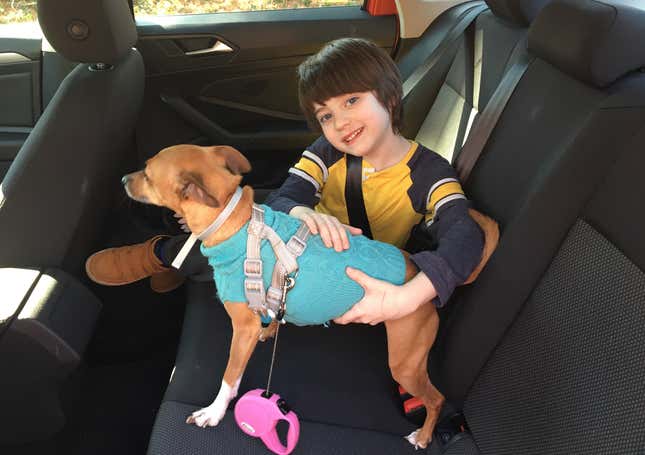 Remember, this car has the exact same body as the Jetta GLI, meaning it has as much trunk and rear-seat room, which is plenty for both.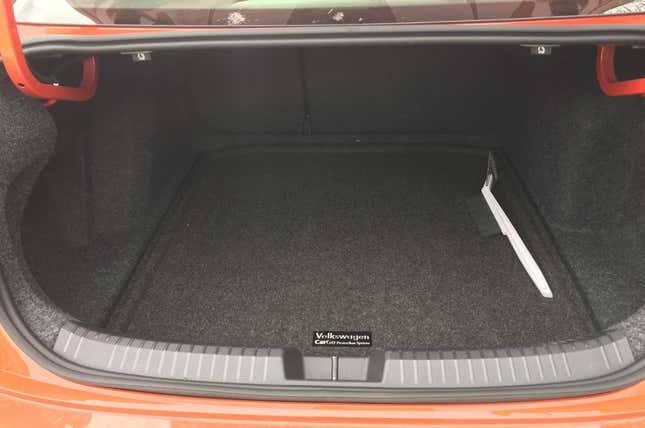 Even factoring in the GLI's better interior materials, I just can't bring myself to really care all that much, certainly not over $7,000 worth of caring.
But the most important thing here is that, at least with a manual transmission, the base-spec Jetta is actually more fun to drive than the GLI.
The choice of transmission here is crucial, because the joy from this Jetta comes from the immensely satisfying process of really wringing out a lower-horsepower car, and the manual allows you to do just that.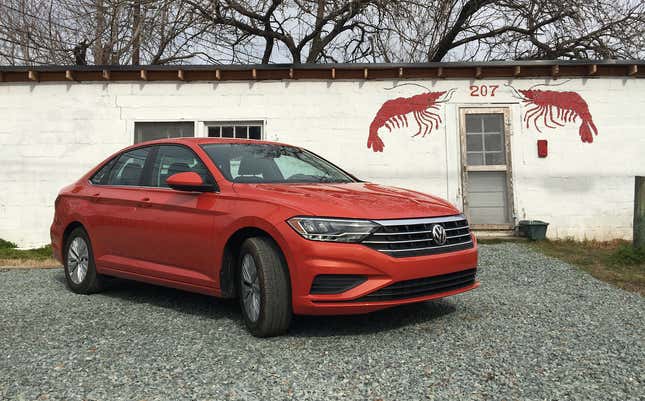 I drove these cars nearly back-to-back, and I just had a better time in that base Jetta. It's slower, no question, but it never really felt slower, partially because the nature of the engine encourages you to kick it around a bit, to wring it out nice and hard, to really just flog the crap out of it.
The GLI isn't really like that; the bump in power from 147 HP to 228 is enough that there's less need to wring, and if you really tried to, you'd end up in trouble of either the legal or lack of skill variety before you realized it.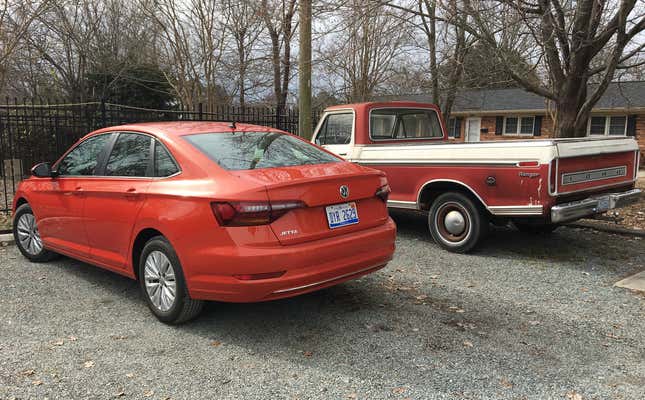 Something with under 150 HP, though, gives you plenty of room to have fun without becoming a wanted fugitive, but you still feel like a badass, and I believe that's what matters.
Sure, if you clocked acceleration or lap times or cornering speed or whatever, the GLI would win, every time. But you're not clocking yourself when you drive your car, at least not normally. And, when it comes to something you use every day that you can also manage to make enjoyable and satisfying, the humblest Jetta pulls it off better than its fancy big brother.
I just had fun in this car. Its simplicity and unashamed lack of frippery puts you in a state of mind where you feel just fine about pushing it a little hard when you feel the urge, because it's just not some precious thing.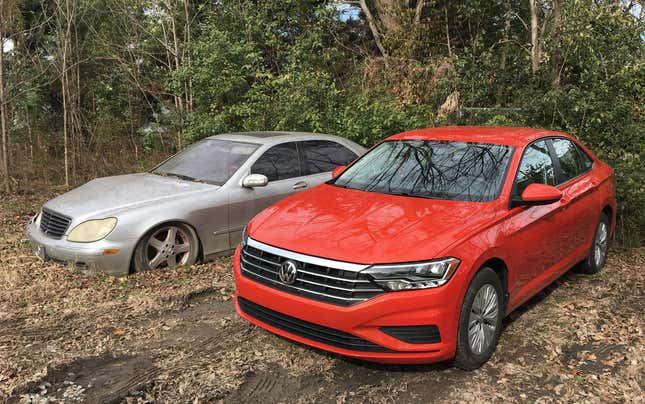 It's a car, and that's it. It's not a statement or a testimony to your possibly imagined formidable reputation as a driver or a bold challenge to the world around you. It's a motor and some chairs and a box for your crap at the back, but if you want to whip it around a turn nice and hard or lay some rubber at a stoplight, sure, it'll play along, because fun is fun.
After driving the base Jetta and the GLI, I could think of no really good reason to spend that extra $7,000 on the faster car. As the lady says, all those extras brought me no more joy.
Now, that's not to say spending more money is always wrong; it's where you spend that money. For example, if we consider a big chunk of money to most of us, $6,000, and then decide where it makes sense to spend that money, I think we can find a good example that explains it well:
The roughly $6,000 jump from a manual Nissan Versa to a Volkswagen Jetta, for example, is absolutely worth six large.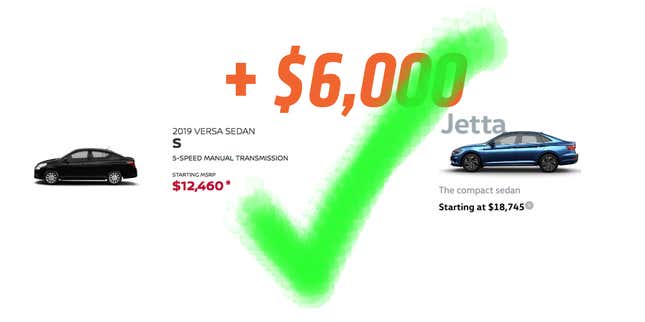 That's because they're both four-door manual sedans, but the Jetta is very roomy and useful and a surprising amount of fun to drive and the Versa makes you feel like maybe no one ever really loved you.
Now, if we look at the (really over) $6,000 jump between the manual base Jetta and the manual Jetta GLI, it's a very different story.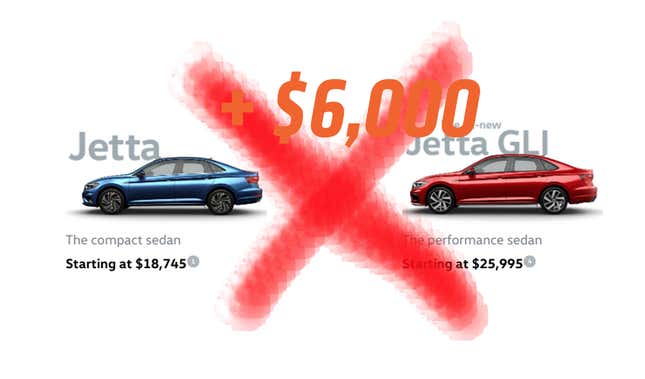 I just can't see a way that spending that money is going to make your life any better. It's nowhere near the jump between the Versa and the Jetta, and, as I think I've made clear, I found the cheaper car to simply be more fun.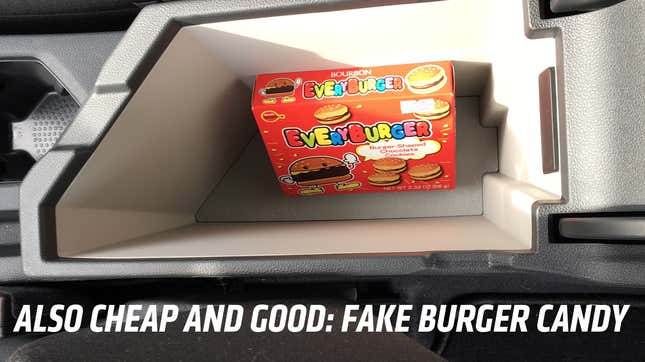 We've reviewed the current Jetta plenty here, in both GLI and the other configurations. The upshot of all of this is that I think if you're looking for a good, fun, usable, everyday, general-purpose sedan, I think it makes sense to give VW your money for one.
Just don't give them too much of your money, because you'll be happier with the base model and six grand in your pocket to spend on all sorts of other things. Maybe even other cars.