This is the car that's supposed to be driving Cadillac's future. This is the car that's supposed to be pointing the way for American luxury. This isn't supposed to be a competitor to the big German flagships, but it's getting there. This is the 2016 Cadillac CT6. This might be the return to big back-seat American cruising.
Most Cadillacs we've seen of the current-generation ATS and CTS have had a focus on the driver, with control dynamics lightyears ahead of any old-school Cadillac. But if you were worried about Cadillac losing its roots, about Cadillac forgetting what it means not to drive, but to be driven around, about Cadillac missing what it means to be a Cadillac, fear not. Because, like its Germanic rivals, it's bringing things back to the back seat.

The rear seats, along with the front seats, now recline and massage, along with the now industry-wide heating and cooling. But you can't just expect your passengers wafting in luxury to just sit there and, well, sit and waft. You need them entertained. So on the high-end models, the CT6 comes with HD screens that face the rear and recess into the front seats.
G/O Media may get a commission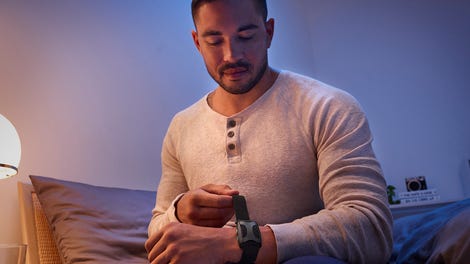 It's not quite as large as the Teutonic yachts, but it is about the same size as a standard wheelbase BMW 7-series. Which isn't too shabby.
As we learned earlier today, Cadillac CEO Johan de Nysschen convinced GM to bet a lot more than the farm on his turnaround of the company – $12 billion. And the CT6 is the first major product that he's unveiling on his watch, after the ATS- and CTS-V siblings. But the question that's burning on our minds is whether all of those billions are enough to fix the company's main problem, which is its image. Is it the staid, elderly Cadillac of the 1990s? Is it a heavy hitter that can take on Audi, BMW, Mercedes, and Lexus?
Consumers don't really seem to know.
But the CT6 is a huge effort into defusing all of those concerns, and it's already a step ahead of its smaller sibling, the CTS. It's got a 400-horsepower twin-turbo V6 with cylinder deactivation that shuts down to two cylinders. There's a start-stop system, and Caddy is promising the 2.0-liter turbo that we've already seen in the CTS and ATS, as well as an all-new naturally aspirated 3.6-liter V6.
And, being a Cadillac and all, it'll come with the option of a V8. This time, with twin-turbos as well.
The CT6 has a similar wheelbase as the 7 Series, but thanks to lots of aluminum, it weighs the same as a CTS, even with active rear-wheel steering.
The interior features best-in-class rear leg room and heated and cooled seats with massage in both the front and back. Bose is handling the audio, while a touchpad is used to control the new infotainment system.
More to follow, but it looks pretty good already.
---
Contact the author at ballaban@jalopnik.com.
Public PGP key
PGP fingerprint: 0D03 F37B 4C96 021E 4292 7B12 E080 0D0B 5968 F14E