Brabham's return to the track is, categorically, A Good Thing. It returns a legendary marque to where it belongs, and it means there's another uncompromisingly rapid car in the world. The BT62, Brabham's 700 horsepower track-only megacar, will set you back $morethanyoucanafford and is basically a racing car. But that's no surprise considering it's the brainchild of David Brabham—son of Formula One legend Sir Jack and Le Mans-winning racer in his own right.
(Full disclosure: Brabham wanted me to experience the new BT62 so bad the team invited me to ride shotgun with the company's owner up the famous Goodwood Festival of Speed hill climb, and peer out of the window. They also gave me a bottle of water because it was a bit hot out.)
The stunning Martini-liveried hypermeganutterbastardcar is mighty impressive to look at from afar, but get closer and you start to notice the finer details. The doors, for example, are tiny, thin, and wouldn't be out of place on an endurance racer. The interior is sparse save for only necessary controls to get the car moving as quickly as possible. If you want a GPS look elsewhere. They're not gilded or embossed with chinzy frippery, such as fancy touch screens, or that (kinda tacky—fight me) smoke effect carbon fiber you get on the back of a Huracan Performante, just there to perform their functions.
Their functions, unsurprisingly, are to push the BT62 around very, very quickly.

There's no air conditioning, for instance. Air conditioning doesn't help you go faster because it uses the motor to make hot air cold, and the motor needs to be firing 700 horse/horse equivalents towards the rear wheels. Sweat, on the other hand, does not use horse energy. In fact, once it's out of you it evaporates and makes you, and therefore the car, lighter. So the BT62 does without.
G/O Media may get a commission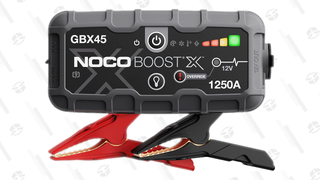 13% Off
Noco Boost X GBX75 Jump Starter
Brabham and I chatted before the run, which is good, as he's an easy going, down-to-earth guy. I'm always worried that pro racers will judge you for not having the desire to win at all the things, or for not being able to drive everything perfectly all the time. Brabham doesn't. More importantly he's built the kind of car someone who's won Le Mans would like to build—a hardcore track special for people who like that sort of thing.
Those who take the plunge and get themselves one will have to be trained to drive it, not just as an incentive to get some face time with Brabham himself, for he is your teacher, but because it's so hardcore that you need to learn how to handle it properly. It's the big school of the high end, and if you don't make the grade you could end up in trouble.
Because it's essentially a race car it needed to be nursed to the line. Rather than unnecessarily punish the highly strung, race tuned motor by turning it on and off repeatedly in short spaces of time, we pushed it to the queue while David steered it away from an insurance claim. Helmet in hand, I (along with the Brabham team) found a spot and pushed it onwards. Because it's so freaking light, it didn't feel all that much like hard work, or that may be because I was doing that "kinda pushing" thing that people do when they look like they want to help but are actually thinking about something else—in this case it was because I was about to sit in the big red awesome thing and go for a fast ride. I'm not afraid to admit I was a bit excited. Sorry, Brabham team. Once in place, I folded myself in to the cabin (literally in this case—the door aperture is super small and once I was leg/ass in I kinda fell in to the seat, was strapped in by one of the Brabham team to the point where movement was difficult, and the 700-HP V8 was fired up.
No sound deadening means you're bathed in glorious, high pitched, squealy noise, the car vibrates and pulses through every surface (of the car and your skin) gently while on tick over.
We chatted over the delightful din, not about the car or the event, but about how the day's other passengers had reacted. They had all made faces and laughed like loons, apparently.
As we were given the go ahead to launch the chat stopped and Brabham nailed the gas and off we flew.
The acceleration to Goodwood's first bend was savage, so much so that I was giggling like a child while struggling to keep air in my lungs. Brabham fired through the BT62's gears, the changes were instant, almost violent in their ferocity, and meant the BT62 could make more noise and go much, much faster.
Punting in to the bend the car changed direction quickly, with no lean and no signs of stress or discomfort. It was fast, frantic, and way quicker than anything you or I could buy from a dealer would ever be. Yet for Brabham, and his BT62, it seemed to be a Sunday drive out. No dramas, just moving as quickly as possible.

As we reached Goodwood House, a centerpiece to the Festival of Speed and where the hill run cars can put on a real show, Brabham gave it the beans and I was pushed hard in to my seat, still laughing. Cars like this are joyful lunacy. They're around to bring joy to the driver, but also joy to those around them with the ludicrous theatre they offer. A big red car with a giant wing screaming at the top of its lungs is a rare thing to see, but those who do, and who appreciate that sort of thing, absolutely adore it. The big house was a blur, as were the crowds and their camera lenses.
There's always a worry that low volume, super luxury supercars can feel a little… hand built; a little wobbly in all the wrong places at speed. I've driven cars built by men in sheds that boast high top speeds and higher price tags that have doors that won't close properly, or interior trim that vibrates when you're giving it the beans. This isn't the case in the BT62. Each turn felt solid, its braking capacity otherworldly, forcing my cheeks to try and peel from my face.
It was exciting, composed, and, in Brabham's hands at least, utterly incredible.
As we approached the infamous flint wall various parts of me puckered. The wall is big, imposing, and will win in a fight. To get the best times up the hill you need to get so close you can touch it. Brabham didn't even flinch.

The car was fast, sure, but it was barely stretching its legs. Goodwood's hill didn't appear to make it break a sweat, even if the lack of A/C made the car so warm my fingernails started to sweat (worth it).
When we got to the top of the hill, breathtaking run done, I asked Brabham what it was like to have his car out in the open at last. The car's launch was an emotional night for him, as is running the car bearing the Brabham name up the famous Goodwood hill climb. He explained that he puts himself in a different place to simply get the job done, as he did when he was racing, then processes it all later so as not to get lost in the excitement of it all. It may be a big moment, a significant one for the both Brabham the man and the company, but Brabham didn't let it overtake the fact he needed to get the job done.
Brabham did get a bit excited when he was filling in the forms to get the BT62 on the hill he wrote 'Brabham' as the car make: "and I was like… fuck that's cool."

Damn right it is.