We've heard rumblings lately that BMW is working on a new ultra-luxury 9-Series flagship sedan that could share a platform with the next Rolls-Royce Phantom. But turns out this concept from the Beijing Motor Show is actually a 7, not a 9.
This is the BMW Vision Luxury Concept. BMW says it "stands for a forward-looking fusion of exclusivity and innovation, for a driving experience that is at once emotional and exclusive." The best cars are ones with exclusive exclusivity, you know?
Though the initial speculation was that this car previewed the 9-Series, Autoweek reports BMW confirmed it's more of an indicator of what's to come from the 7-Series, due out next year.
To me it looks the product of a tequila-fueled sexy vacation weekend in Cabo starring a 7-Series, a 6-Series Gran Coupe and a Rolls. I really do mean that in a nice way, though. It's low, wide, sleek and handsome, and it looks extremely feasible as a production car. It also looks quite a bit like the BMW Pininfarina Gran Lusso Coupé, only with four doors, and that's not a bad thing at all.
G/O Media may get a commission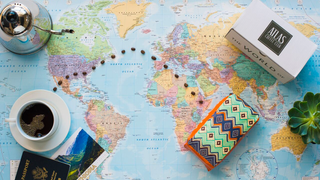 First Bag Free
Atlas Coffee Club - Free Coffee
Explore global coffee
With each bag, Atlas includes details on the coffee's tasting notes and a postcard about the region and its coffee history. And when you subscribe, you have options to tailor frequency, grind size, and roast preference of your beans, so you'll always be brewing the perfect cup.
The inside seems to be a very fine place to spend time as well, and that's true whether you're in the front seats or if you slide into the back seats via the rear-hinged doors. Back there, passengers can control various functions via a detachable tablet, and there's also a retractable tablet so you can enjoy "a very private ambiance" without having to talk to whoever is driving you around.
But if you choose to drive yourself, or if you're the guy who's been hired to drive it, then you can enjoy a high-tech heads up display above the steering wheel. It projects information onto the windshield, including what it selectively decides you need to know about at the time, like road hazards.
Passengers get their own display unit, and they can send information to the driver via swiping movements, which is once again useful for not having to talk to people. BMW says passengers can use this display to book opera tickets (I am not joking) via the BMW ConnectedDrive Luxury Concierge service in their display. Oh! And it has laser headlamps, too.
If this does prove to be the next 7-Series, as well as a preview of what to expect from future BMW designs, then good things are coming.
(This post was updated to reflect the news that the Vision Luxury Concept is a preview of the 7-Series, not the 9-Series. Which might still happen. I wonder what they're gonna do with that.)