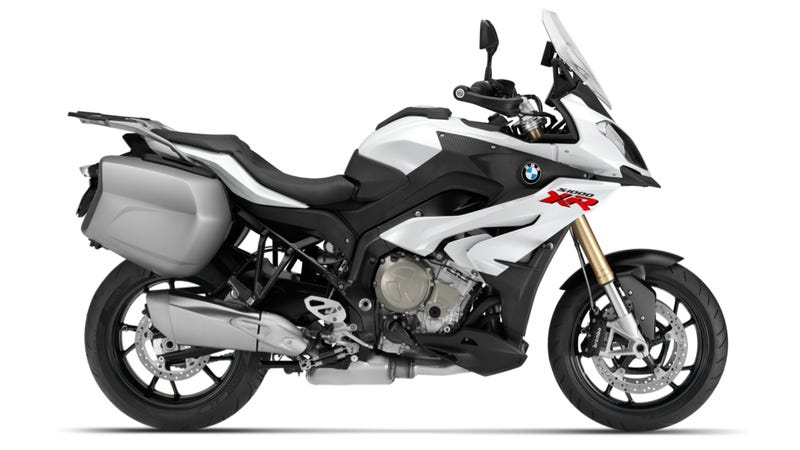 Take the performance of the 160 horsepower BMW S1000R, twist it for upright-riding, slap a windshield on the front, and you've basically got the new BMW S1000XR: a highly adjustable touring bike for hauling-ass on "all day."
BMW has been cranking out spectacular four-cylinder sport bikes like the batshit HP4, the S1000RR, and its 40-horsepower-tamer brother the S1000R. In spite of their insane outputs, those bikes are remarkably usable... as long as you can stand being slumped over the gas tank in an aggressive riding position.
The S1000XR takes the flavor of those bikes and tweaks it for greater comfort, while granting riders a huge range of adjustability in suspension and stability control to dial the intensity of the experience up-or-down as needed.
"ABS Pro" keeps the bike from locking brakes in a banked turn; saving somebody who might have gone into a corner a little too enthusiastically. A system called "Dynamic ESA (Electronic Suspension Adjustment)" lets riders select stiffness to switch between comfort for cruising or sharpness for sport riding.
The XR also features 20 to 30mm more suspension travel than its sportier counterparts. But despite BMW's "adventure sport" nomenclature on this bike it's not meant to go deeper into the woods than "rough sections of road."
The four-cylinder engine, derived from the one in the S1000R, is a load-bearing part of the aluminum-alloy perimeter frame (to save weight) and has, as BMW claims, 10,000 RPM of "usable rev range." Peak output is 160 horsepower at 11,000 RPM and 83 lb-ft at 9,250 RPM.
Images via BMW