1st Gear: No More Big Jeep?
Fiat Chrysler's strategy these days is to make as much money as it can off big trucks and big SUVs while gas is still cheap and worry about the future later. On that note, a big luxurious six-figure Land Rover-fighting Jeep Grand Wagoneer has long said to be in the cards. FCA even showed it off to dealers earlier this year to build hype.
But now that vehicle is said to be on hold. This rumor has been floating around the internet for a bit now, but Automotive News got confirmation from supplier sources, along with the next heavy duty Ram:
Sources told Automotive News that FCA's Ram brand will not redesign its current heavy-duty pickups onto its new DT pickup platform in 2018 but instead will keep the same body-in-white and refresh the existing DS-based model.

Meanwhile, the automaker has placed a hold on its development of the Jeep Grand Wagoneer luxury SUV, supplier sources say. The vehicle has been on Jeep's product plan since 2014 and was to boast three rows of seats and a six-figure price tag.
It is unknown why these actions on important products for FCA's two most profitable brands are taking place; FCA has refused to comment.
What happened? You'd think both of these are the right vehicles for the right time. But reporter Larry Vellequette speculates it's because FCA is facing a big cash crunch soon, especially after the hugely risky investment in Alfa Romeo, and producing both big vehicles would be very expensive up front. At the same time it would leave Ram with a slightly aging heavy duty truck lineup.
The automaker is in a financial race to erase nearly $7 billion in net debt that was on its books at the end of the third quarter. CEO Sergio Marchionne has said he plans to retire in 2018 and wants to leave the global automaker generating billions of dollars in free cash flow annually.

[...] But building the Grand Wagoneer at Warren would require the plant to be completely retooled from body-on-frame assembly to unibody assembly. That's a large added expense for an automaker already paying to retool two unibody assembly lines at Sterling Heights and in Toledo, Ohio, in 2017 to body-on-frame production.
G/O Media may get a commission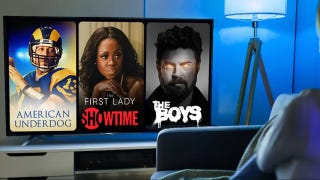 UNDER $1
99¢ Prime Video Channels
Is it just me or are things looking increasingly shaky at Fiat Chrysler?
2nd Gear: GM Inventories
Meanwhile over at General Motors, despite the automaker's strongest lineup ever and record sales figures, inventories are piling up. Will it resort to the old trick of incentives and fleet sales? Via Automotive News:
GM's inventory as of Dec. 1, 873,200 vehicles, is the highest of any month since February 2008, when it had four more brands to support and less-flexible union contracts that made it tougher to adjust production as consumer demand rose and fell.


"Incentives are elevated, residuals are declining, and rates are rising," Brian Johnson, an analyst with Barclays Capital, wrote in a Dec. 2 note to clients. "And while GM in particular may benefit in the months ahead from new product launches, it's important to recognize that GM's inventory is elevated at the moment, and it wouldn't surprise us if they need to announce another production cut — which could pressure the stock."
The good news for enthusiasts: now is the ideal time to get yourself a good deal on a Camaro, which is not selling especially well.
As of Dec. 1, GM had a 177-day supply of the Camaro and about 120 days' worth of the three other affected nameplates. Average for the industry was 73 days, more than the 60-day supply that executives and analysts say is ideal.

On those vehicles, "we have an oversupply — there's no question about it," said GM spokesman Jim Cain. "We're going to be living with high days supply of those vehicles until the shift change can work its way through the system."
3rd Gear: Trump's EPA Pick
The man President-elect Donald Trump has picked to run the Environmental Protection Agency, Scott Pruitt, could signal a huge shift in how the agency can even regulate emissions at all.
As Automotive News points out, his preference for "a patchwork of state-by-state rules" stands in contrast for automakers' desire for a national set of regulations, but Pruitt wants to put the power of regulating emissions—or not—in the hands of states.
"The EPA does not possess the authority under the Clean Air Act to do what it is seeking to accomplish in the so-called Clean Power Plan," Pruitt told a congressional panel in 2015. "The EPA believes states exist to implement the policies the administration sees fit, regardless of whether laws like the Clean Air Act permit such action."

He has also cast doubt on whether a consensus exists about climate change, and whether human behavior is an influence. In a Tulsa World op-ed he co-authored last May, Pruitt wrote that "scientists continue to disagree about the degree and extent of global warming and its connection to the actions of mankind. That debate should be encouraged — in classrooms, public forums, and the halls of Congress."
Pruitt has to be confirmed to take his post and those hearings could be quite contentious.
4th Gear: Ride-Sharing Motorcycles?
We can ride-share pools of cars with Zipcar and Car2Go, but where are the motorcycles? Honda wants to try that in Southeast Asia and has become a strategic investor in a company called Grab to do so. Via Bloomberg:
Grab's alliance with Honda is part of its expansion strategy for the region as it moves beyond traditional car-hailing, where it competes with Uber Technologies Inc.

Grab now offers a similar service with motorcycles where a driver will pick up passengers and give them rides, a business model pioneered in the region by Go-Jek. The deal also marks the Japanese automaker's first investment in a ride-hailing company.

Southeast Asia's largest ride-sharing app, with a valuation said to surpass $3 billion ($4.3 billion), now plans to roll out its GrabBike motorcycle-hailing service beyond the three markets in which it's currently available.

"Motorcycle is our fastest growing segment," Grab President Ming Maa said in an interview Monday. "It's a very important segment for us to continue growing."
This is a great idea! Minus all the potential crashing. But I'm eager to see how it performs!
5th Gear: Tech To Watch In 2017
We'll have more coming on this topic ourselves soon, but here's The Detroit Free Press on automotive technology we can expect in the coming year. Most interesting to me: the beginnings of real-world vehicle-to-vehicle (V2V) communications, which is a must-have for true autonomous cars.
Cadillac CTS sport sedans will offer a revolutionary system in 2017 that allows them to share information about driving conditions like weather, speed, sudden braking, accidents and more. It's the beginning of vehicle-to-vehicle (V2V) communication, a wi-fi-like technology that will eventually be standard on every new car.

"It increases drivers' awareness of what's beyond their line of sight," said Sam Abuelsamid, Navigant Research senior analyst.

It's also key to "platooning," which will allow packs of vehicles to drive close together at high speed without slowdowns or accidents.

Audi recently began selling several models with vehicle-to-infrastructure capability, which allows traffic lights to tell vehicles when they are about to turn, increasing safety and enabling stop-start systems to save maximum fuel. Las Vegas is the first American city where traffic lights communicate with cars, but others will follow.
Reverse: RIP Olds
Neutral: Is FCA In Trouble Or What?
What does this apparent cancellation of important products mean, if anything?