Georges Marciano had everything. The cofounder of Guess? Jeans enjoyed all the things that come with the glamorous life of high-margin clothing sales: a huge Beverly Hills Mansion and a bunch of supercars lining the driveway.
But Marciano's massive, gated home with 10 or more Ferraris and other luxury vehicles usually parked on the driveway — it was once a popular stop for open-topped vans full of tourists peering at the kind of opulence they'll never know — has lain fallow for two years. The house, seized in forced bankruptcy proceedings is up for sale for a cool $24.5 million.
The palatial home was just icing on the cake, and the openly displayed array of red and yellow prancing stallions were the cherry on top. Before he lost everything in a ruinous lawsuit, Marciano had houses all over the world, a Boeing 737, substantial art and rare coin collections, even a $16 million 84-karat diamond he purchased for his daughter, Chloe.
Marciano was an icon of the American dream. Growing up poor in France, he had dropped out of school to work in the garment industry. When he and his three brothers came to the U.S. in 1981 to start their own clothing line, Georges was already well on his way to showing that he had designs that were different than anything anyone else had to offer. He was able to convince the fashion world that worn out jeans sold new was the next hot thing. Plus, his name was "Georges," for fuck's sake.
His Guess? acid-washed jeans rocked the industry in the 80s, turning an article of clothing that had once been the provence of workmen and prisoners into flamboyant artistic creations that looked like they'd been worn through a hurricane of bleach. The Marcianos made millions, and Georges — who received an award from the Los Angeles Museum of Art as California's designer of the year in 1987 — sold his share of the company for $220 million.
G/O Media may get a commission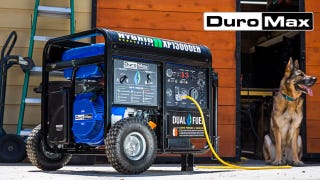 Black Friday Sale
DuroMax Generator Sale
Think about it. He didn't have much when he'd arrived 12 years earlier, and in '93 he was sitting on nearly quarter of a billion dollars. And he was determined to make his fortune grow. Marciano shifted his interests to real estate, where he also did well. He sold the Beverly Hills Bank of America tower in 2005 for a staggering $135 million.
But every fairy tale has its ending. Marciano's 2004 divorce from an 18-year marriage and his prescription drug abuse are among those chicken-and-egg scenarios to which we'll never have an answer. The Los Angeles Times reported that along with his design and business genius, philanthropy, and charm came a mercurial temperament. He was known to fly off the handle at the smell of someone's food or a crinkled $100 bill. He also reportedly spent as much as $3,000 per week on pills.
Eventually, the poor guy lost it, and became paranoid that employees had robbed him of $1.4 million over the years. When he sued more than 50 former au pairs in 2005, the results weren't what he had expected. An investigation was unable to cover any evidence proving Marciano's theory, and the women turned around and countersued him. He lost big, with the judge awarding $425,000 in damages to the plaintiffs. It was enough to ruin even Marciano, who skipped town and opened up shop in Montreal.
The 20,000 square foot home he lost resides in one of Beverly Hills' more coveted neighborhoods. It was built in 1927 by Robert D. Farquhar, and has been home to a number of unrecognizable Hollywood bigshots since then. L.A.'s Real Estalker describes its ridiculous opulence thusly:
Listing information shows the fairly well monumental mansion measures a massive but not-quite-mega 19,590 square feet with 7 bedrooms and 9 bathrooms. The master bedroom alone has a paneled sitting room (with fireplace and high gloss ebonized wood floors), over-sized bedroom, private study and his and her bathrooms. Other interior spaces include an entrance hall with high-gloss black and white checkerboard marble floor, a double-height foyer wrapped with a star-style staircase, formal living and dining rooms, paneled library, billiard/game room, a room for playing cards, family room, two kitchens and-natch-a screening room.
But it doesn't come with the Ferraris. Where those ended up is anyone's Guess? Hanging out in Canada hasn't sheltered Marciano from losing more of his vast wealth to the authorities, this time the Canadian ones. They're waiting to see what California does with him before they decide what to do with the spoils of bankruptcy. (Hat tip to doug-g!)
Photo credit: Virtual Globetrotter