Mounting a smartphone in a car shouldn't be complicated. It just needs to be sturdy, secure, and adjustable. The Ram X-Grip dominates on all those fronts, and does it with military-grade construction, an array of modular accessories, and a grip that accommodates damn near any smartphone on the market.
I've tried several smartphone mounts on road trips, around town, on motorcycles, and off road. The grips are generally made from cheap plastic and tend to accommodate only a small selection of phones. Add in arms and mounts that are either flimsy or non-adjustable, and what seemed like a relatively simple solution for keeping a phone accessible and secure was unobtainable.
Then I found the X-Grip.
G/O Media may get a commission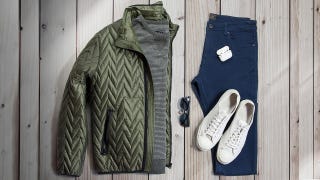 60% off
Jachs NY Fall Sale 60% Off
For around $34 you can get the Universal X-Grip Holder which comes in three parts: The suction cup, the arm, and the X-Grip phone mount.
The suction cup is a sizable 3.25-inches wide and uses a twist-and-lock mechanism to latch onto the windshield or any non-porous surface. It holds and it holds hard, although particularly cold temps could cause it to shrink and lose its grip.
The phone holder uses four spring-loaded arms to latch onto your device, with rubber tips securing it in place. That basic holder will accommodate phones up to 3.25 inches wide, so even your massive case or new, biggie-sized iPhone 6 Plus (3.06 inches) or Nexus 6 (3.15 inches) will slot in no problem. And it'll stay there. I've used the X-Grip in my car and on my motorcycle and it's never once moved out of place, even over some particularly nasty asphalt and dirt.
But the arms and the ball mount system is the secret sauce.
Twist the wing nut in the middle of the powder-coated aluminum arm and the two balls – one on the mount and the other on the suction cup – come out. That means that you can swap the holder from mount to mount (one on your car, another on your bike, another on your boat, another in your plane, and even one on your golf bag, seriously), and you don't have to shell out the cash for a new holder. It's all modular, so you can just grab it, mount it, and go.
That modularity extends beyond the different mounting mechanisms to a variety of devices, with Ram offering different grips to accommodate everything from phones to phablets to 7-, 10-, and 12-inch tablets.
Ram likes to tout that its mounts are used by police, the military, first responders, and fire personnel, and based on my experience, I'm not surprised. It also backs up everything it makes with a lifetime warranty.
I've only found two issues with the X-Grip. First, it requires two hands to slip in your phone. And second, the placement of the rubber-tipped arms sometimes depresses the volume or screen lock buttons. But that's generally an easy fix. Move the device up or down a bit, something I do instinctively after pulling my phone in and out a few thousands times, and you're set.
While the infinite modularity and customization of the X-Grip is fantastic, what it does best is what it's designed to do: hold your phone exactly where you want it and never let go.
Arkon has been making the fan favorite Megagrip for a while, and it's a solid budget option brought down by its cheap plastic, rattly internal bits, and lack of flexibility. It does have a strong suction cup and comes with a range of accessories, including a finicky set of clips to mount it to the air vents – but good luck getting them off.
The Aduro U-Grip was another contender, but it maxes out at with 5.5-inch screens, lacks flexibility, and despite a solid clamping mechanism, there's nothing holding up the bottom of the device, which had it occasionally slipping down during testing. The U-Grip is easily the most pricey of the bunch at $49.95 and it looks the part, but you can find it on Amazon for considerably less, for a reason.
If you don't want to have something suctioned to your windshield or glued to your dash, I've heard good things about the Airframe Plus ($29.95). It mounts in an air vent and can accommodate phones with cases or screens as big as six inches. iOttie ($24.99) also seems to be gaining some popularity with solid construction and a beefy suction cup.