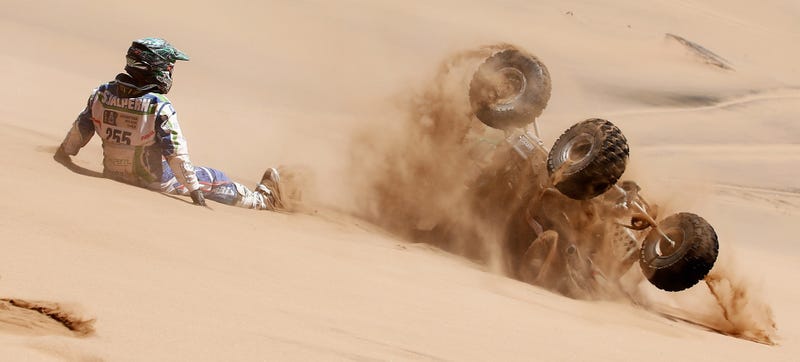 Truck Yeah
The trucks are good!
The Dakar Rally is at full speed with some crazy machines fighting the sand with us chasing them, and here are the shots that will take you in the middle of the action.
The Dakar is the world's toughest race and this year's event is no different, with one tragedy on its bill already with motorcyclist Michal Hernik's death on Tuesday.
Wednesday, the fourh day of the race between Chilecito, Argentina to Copiapo, Chile turned out to be a better day, as Getty photographer Dean Mouhtaropoulos' stunning gallery demonstrates:

[#500 Andrey Karginov, Andrey Mokeev and Igor Leonov of Russia for Team Kamaz Master]

[#502 Eduard Nikolaev, Evgeny Yakovlev and Ruslan Akhmadeev of Russia with team Kamaz Master]

[#333 Pierre Lachaume and jean Brucy of France for MD Rallye in the Optimus MD3]

[#23 Gerard Farres Guell of Spain for Gas Gas pont Grup Seguros Dakar team on the EC450 Rally GasGas]

[#310 Vladimir Vasilyev and Konstantin Zhiltsov of Russia driving for G-Energy Mini ALL4 Racing]

[#329 Aidyn Rakhimbayev of Kazakhstan and Anton Nikolaev of Russia for Astana X-Raid Mini team]

[#315 Ten Brinke Bernhard of the Netherlands and Tom Colsoul of Belgium for Toyota Overdrive Hiluz]

[#309 Christian Lavielle and Pascal Maimon of France driving for Overdrive Toyota Hilux]

[#309 Christian Lavielle and Pascal Maimon of France driving for Overdrive Toyota Hilux]

[#309 Christian Lavielle and Pascal Maimon of France driving for Overdrive Toyota Hilux]

[#314 Erik Van Loon and Wouter Rosegaar of the Netherlands driving for XDakar ALL4 racing Mini]

[#320 Ronan Chabot et Gilles Pillot of France for Toy Motors SMG]

[#302 Stephane Peterhansel and Jean-Paul Cottret of France for Team Peugeot Total]

[#109 Jorge Lacunza of Argentina for Lacunza rally Team 450 Rally Replica KTM]

[#109 Jorge Lacunza of Argentina for Lacunza rally Team 450 Rally Replica KTM]

[The helicopter folllows the action during day 4 of the Dakar Rallly on January 7, 2015 between Chilecito in Argentina to Copiapo, Chile.]

[#303 Giniel De Villiers of South Africa and Dirk Von Zitzewitz of Germany for Toyota Imperial Team South Africa in the Pick Up Hilux]

[#251 Rafal Sonik of Poland for Sonik Team YFM700R Raptor Yamaha]

[#69 Hugo Payen of France for Team Marc Dorcel on the 450 YZF Yamaha ]

[#24 Jean De Azevedo of Brazil riding for Honda South America CRF450 Rally]

[#16 Daniel Gouet of Chile for Honda South America CRF450 Rally]

[#19 Alessandro Botturi of Italy riding for Yamaha factory Racing Team Yamalub]

[#500 Andrey Karginov, Andrey Mokeev and Igor Leonov of Russia for Team Kamaz Master]
All images: Dean Mouhtaropoulos via Getty Images Sport