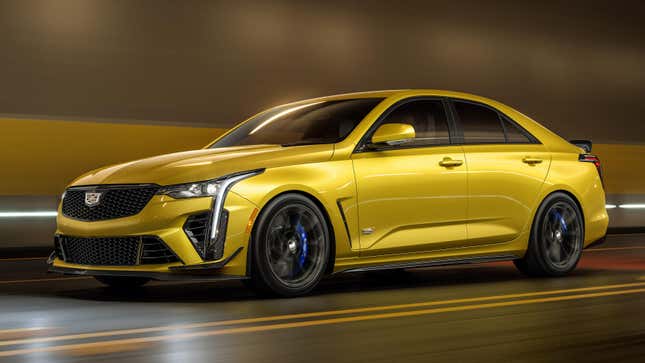 Since I drove them back in 2021, I've spent a lot of time configuring Cadillac CT5-V Blackwings and CT4-V Blackwings on the Cadillac site. After the limited production "Dark Emerald Frost" cars sold out, I vacillated between "Rift Metallic," and "Electric Blue," but never really found a color I was 100% sold on. 2023 brought "Maverick Noir Frost" and a handful of other options, but I really wanted to see something like BMWs "Thundernight Metallic."

The 2023 Ford F-150 Raptor R Is Here
For 2024, a new crop of colors has emerged, and while none of them are purple, and more than half of them are kind of greyscale, there is now a yellow option, "Cyber Yellow Metallic" pictured above on the CT4-V Blackwing. (Yes, I know it's a miracle that these exist at all and it's probably necessary to concentrate on colors that people will actually buy.)
It reminds me of another good BMW color, Phoenix Yellow but with a little more pop, and more importantly, it aligns with my overall theory of automotive paint, which boils down to "cars with a normal form factor get wilder colors, and supercars and hypercars should be beige." I probably wouldn't do a yellow Ferrari, but a yellow sports sedan from an American manufacturer? Yes, I believe that makes sense.
And while the CT5-V BW looks incredible in say, "Summit White" (below), I'd have to do my part to fight the greyscaling of the American automotive palette.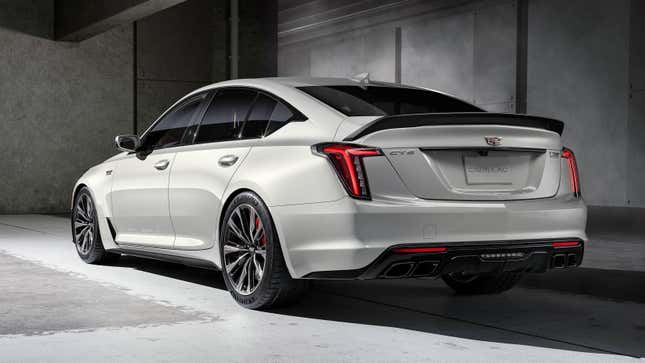 Check out the rest of the new options on the Cadillac site and tell me I'm wrong.