There are three key selling points for the Bentley Bentayga: Expensive stuff at the back, more expensive stuff at the front and the most expensive grill this side of a Rolls-Royce Phantom. Let's break them down.

It might have the stupidest name of them all, but the Bentley Bentayga is also supposed to be the most luxurious SUV the world has ever seen. Since bigger is better, I went to Bentley to poke around, disguising myself as a potential customer. They didn't suspect a thing.
Reason 1 for buying a Bentley Bentayga: A boot that's already full of expensive objects. The original Range Rover had a split tailgate you could sit on? Huh! Check this out, buddy!
Look at that: LOOK AT THAT. It's full of champagne and fancy silverware that probably costs more than your house.
Here's a close up of the opulence:
G/O Media may get a commission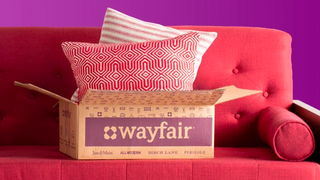 Big deals
Wayfair Surplus Sale
You have to be in the right income tax bracket just to look in there.
Reason 2 for buying a Bentley Bentayga: A Breitling clock with diamonds on the dash that puts any Maserati dash clock to shame.
Did you say Rolls-Royce has nice clocks too? Please...The Bentley has DIAMONDS! Eight of them!

Reason 3 for buying a Bentley Bentayga: Dat grill. The holiest of grills. The grill that you would like to be minced by if you were a bird that just got hit by an SUV traveling at 187 mph.

The shiny piece of metal that's only shiny if you want it to be. But you will want it to be.

ENHANCE!
CHANGE COLOR AND ENHANCE!
MORE ZOOM YOU PEASANT!
WHY ARE WE ON THIS PLANET?
AND FOR THAT!
I WANT TO TOUCH IT!
That will be $229,100 without the diamonds, cheers!
For your money, you'll also get:
- Lightweight materials
- Heavy leathers
- A movie theatre
Still unconvinced? Maybe this is more your thing:
Photos credit Máté Petrány, Bentley, Rolls-Royce
Contact the author at mate@jalopnik.com.