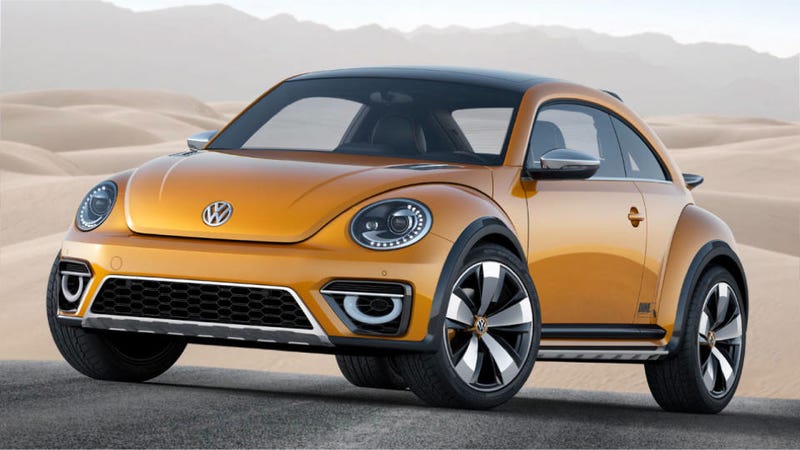 The first pictures of the Volkswagen Beetle Dune Concept are here, and it's that Baja Bug-esque softroader you always dreamed of, maybe. The rumors on the street though are that this new Dune might actually be headed to the showroom, so you may be looking at the new face of California cruising.
Our friends over at Road & Track were the first ones to get all the info on the new Dune, and it certainly looks like, well, a Dune.
Resembling in both design and color the last Beetle Dune concept of 14 (yes, fourteen, you're old now) years ago, the Dune looks like it can tackle the muddiest of slightly muddy roads, which is quite befitting for a Beetle-based buggy. Alliteration, yay.
Reinforcing the rumors of production is the fact that Volkswagen put a real license plate on this concept, which is unusual for concepts you never intend to actually put in the hands of real people, and the fact that Volkswagen seems to have released so much information about the car.
It's not the normal stuff about concepts, either, like it was inspired by magical demons of the indigenous people of the Atacama desert or anything like that. We're talking boring things, that you wouldn't normally show off if that wasn't the point of the concept, like the fact that it gets 23 miles per gallon in the city and 29 on the highway, or that it gets from 0-60 miles an hour in seven and a half seconds. It's roof structure is also supposedly production-ready, like you'd ever need that.
The Dune concept is powered by VW's 208-horse turbocharged 2.0-liter engine, with a DSG gearbox. To make sure it can actually go sort-of offroad, it's also got an electronic differential. But it's still front-wheel drive, so boo.
We'll see if it actually does make production. If it does, the first thing I'm doing is lopping the fenders off.
Because Baja Bug.
Photo credit: Volkswagen