Buried in a Bloomberg story quoting a bunch of steam about how Bugatti may possibly one day consider making a "more affordable" (in the context of the ultra wealthy), potentially electric daily-driver model, there was this line: "The average Bugatti customer has 42 cars at home." I find this fascinating and see the need to call attention to it.

The average car count of Bugatti customers in the story was attributed to a spokesperson for the company, who also said two of them are usually other Bugattis.
More than half of the 250 models of the $3-million, 1,500-horsepower Bugatti Chiron were bought sight unseen, the story said, which is a completely normal and rational thing to do.

From the story:
There is room to expand, even with the generous business that million-dollar cars such as the Chiron and Divo already provide. The average Bugatti customer has 42 cars at home, according to a Bugatti spokeswoman; often two of them are Bugattis. More than half of the 250 Chirons made were purchased sight unseen—an astounding figure, considering the astronomical price tag.
In North America and Europe, billionaire populations are growing by 17 percent and 18 percent respectively, according to Knight Frank's 2019 Wealth Report. Asia will be home to 1,003 billionaires by 2023, a 27 percent increase from 2018 and more than a third of the world's total of 2,696 billionaires. Since 2009, sales of automobiles costing more than $180,000 has quadrupled, according to IHS Markit.
G/O Media may get a commission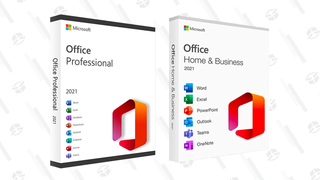 89% off
Microsoft Office Professional 2021 Lifetime License
Then there are the rest of us, sitting at our 9-to-5 jobs and trying to mentally tally whether we have 42 toy cars at home. Probably not, even counting the cereal-box diecasts with stickers that started peeling after two months.
But, if there's any solace dripping on us poors from the supercar world like dew on a leaf when there's no source of water in sight, it's that as of five years ago, Lamborghini Aventador owners had five cars—a goal we can all aspire to reach, if they all cost $400 apiece and last ran approximately two decades ago.