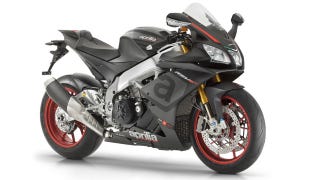 Aprilia just snagged both the rider and manufacturer titles at World Superbike, its sixth win in seven years, so it's treating itself – and us – to something nice. Meet the RSV4 RR, its most track-focused, engineering-intensive bike to date.
Using the standard – and thoroughly excellent – RSV4 as its base, Aprilia redesigned all the internals of the 65-degree, 999cc V4 to reduce friction and improve efficiency. There's titanium valves, lighter connecting rods, as well as a new exhaust. Combined with a revised air box, upgraded injectors, updated electronics, and individual servos for each throttle body, the RR is putting out 201 horsepower – 16 more than the previous RR – at a screaming 13,000 RPM, with 85 pound-feet of torque peaking at 10,500 revs.
New gear ratios are fitted inside the transmission, while the swingarm grows by 14mm to keep wheelies in check. Aprilia also revised the exterior – not that you could tell – with a new front fairing design for more wind protection, revised mirrors, and a reworked trio of headlights. Overall, it sheds around 3 pounds from the standard RSV4.
The RR gets Bosch's Race ABS system as standard, and owners can upgrade to the race pack with forged aluminum wheels and Öhlins suspension front and rear. Sales start early next year, although Aprilia isn't taking about price just yet.