The bizarre saga of NASCAR driver Kurt Busch and Patricia Driscoll has become even more perplexing.

Kurt Busch was suspended from NASCAR in February of 2015 following accusations from his ex-girlfriend, Patricia Driscoll, that he had strangled her and smashed her head into a wall multiple times. Busch wasn't charged for domestic assault and was later reinstated by NASCAR—but not before he claimed Driscoll was a CIA agent.
Driscoll has now been charged for stealing from the Armed Forces Foundation, a military charity she served for as executive director, according to ESPN. She's been indicted on seven federal charges.
From ESPN:
The indictment alleges Driscoll falsely categorized and caused others to falsely categorize expenses in the foundation's books and records as being for veterans and their families, "when in fact they were for her own private benefit." She is also accused of concealing from the foundation's accountants money she took from the charity, such as foundation funds being spent on office space in a building that she co-owned.
Driscoll was part of "a scheme" to allegedly use "forged documents, false accounting entries, inflated donation amounts, and false statements in order to convince donors to give money to the AFF, thereby enriching herself," according to the indictment.

G/O Media may get a commission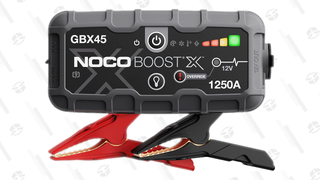 13% Off
Noco Boost X GBX75 Jump Starter
The joint investigation with the FBI and IRS began in 2015 following a report by ESPN's Outside the Lines highlighting multiple questionable practices by Driscoll during her twelve years as executive director of the charity, which are outlined in detail here.
The report claimed Driscoll used charity finances for bankrolling her personal business, a $15,000 check from the charity or Driscoll's personal legal fees and even some vacations, and evidence of tax fraud valued in the hundreds of thousands of dollars.
The Armed Forces Foundation's mission is to support service members, veterans and their families, and the indictment alleges that Driscoll disguised her scheme as falsely categorized expenses recorded as being for those veterans and their families.
ESPN reports she is expected to surrender to a plea on Wednesday.