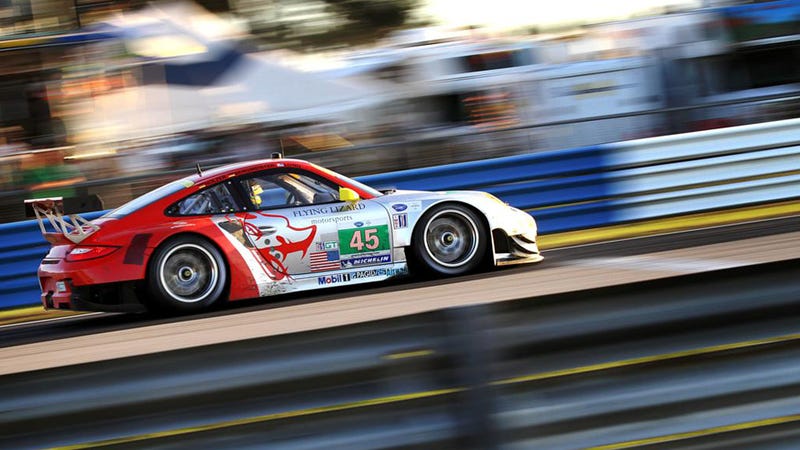 The 60th 12 Hours of Sebring this year saw an intense GT race. Our friends at MotorSportMedia were there to bring you photos from the race.
Click through the gallery to see the best shots from Sebring, courtesy of photographer Trevor Andrusko.
Here's how Andrusko described the 12 Hours:
Sebring is a race that never disappoints. This year was no different, even after the complete withdrawal of the Peugeot prototype racing program, which essentially gave the Audi team a guaranteed win in P1. The racing was close, traffic was thick, and the GT class battles were intense even up the very end.
To see the race in pictures, click through the gallery.
Photo Credit: Trevor Andrusko/MotorSportMedia
Photo Credit: Trevor Andrusko/MotorSportMedia

Photo Credit: Trevor Andrusko/MotorSportMedia

Photo Credit: Trevor Andrusko/MotorSportMedia

Photo Credit: Trevor Andrusko/MotorSportMedia

Photo Credit: Trevor Andrusko/MotorSportMedia

Photo Credit: Trevor Andrusko/MotorSportMedia

Photo Credit: Trevor Andrusko/MotorSportMedia

Photo Credit: Trevor Andrusko/MotorSportMedia

Photo Credit: Trevor Andrusko/MotorSportMedia

Photo Credit: Trevor Andrusko/MotorSportMedia

Photo Credit: Trevor Andrusko/MotorSportMedia

Photo Credit: Trevor Andrusko/MotorSportMedia

Photo Credit: Trevor Andrusko/MotorSportMedia

Photo Credit: Trevor Andrusko/MotorSportMedia

Photo Credit: Trevor Andrusko/MotorSportMedia

Photo Credit: Trevor Andrusko/MotorSportMedia

Photo Credit: Trevor Andrusko/MotorSportMedia

Photo Credit: Trevor Andrusko/MotorSportMedia

Photo Credit: Trevor Andrusko/MotorSportMedia

Photo Credit: Trevor Andrusko/MotorSportMedia

Photo Credit: Trevor Andrusko/MotorSportMedia

Photo Credit: Trevor Andrusko/MotorSportMedia

Photo Credit: Trevor Andrusko/MotorSportMedia

Photo Credit: Trevor Andrusko/MotorSportMedia