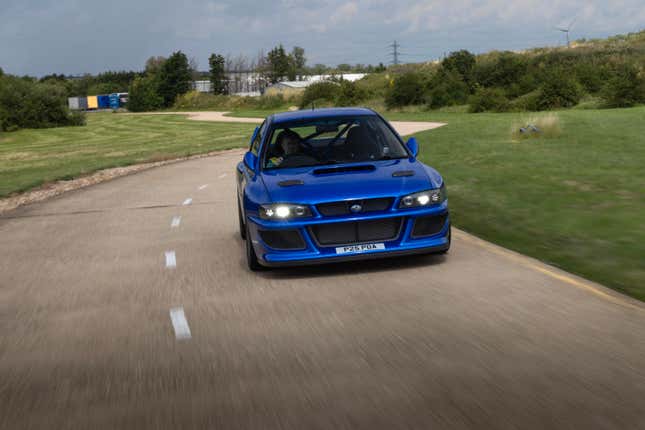 The Subaru Impreza has to be one of the most commonly tuned cars of the last few decades. If you're reading this, I'd bet you personally know someone who has an Impreza 2.5RS, WRX or WRX STI making 400 to 800HP. You've probably driven one, or been in one, or at least seen one on the freeway belching black exhaust.
Honda's Motocompacto Is The Ultra Portable E-Scooter That Can Fit Just About Anywhere
I just got back from England where I drove a GC8 Impreza (which Subaru built between 1992 and 1999) with just under 450 HP. Prodrive built it, they call it the P25 and getting one would cost you around $600k, to start—provided that they weren't already sold out, which they are. So what's the difference between a $600k GC8 Impreza and the one that's sitting in my barn right now?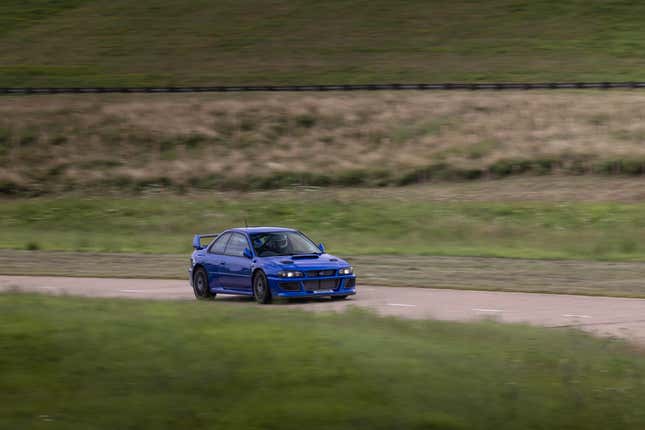 Well, first of all, the P25 was built by Prodrive, the company that is probably most responsible for your interest in Subaru, after Subaru. And before Polyphony Digital. In the 1990s and early 2000s Prodrive was the English Racing shop that helped Subaru go from a maker of semi-goofy, lovable little cars to a maker of semi-goofy, lovable little cars and world-beating rally cars.
Together, the two firms won six WRC championships—three driver's and three manufacturer's. Subaru's success in rally helped build the brand and threw off road-going, turbocharged, all-wheel drive performance versions of the Legacy and then Impreza. Today, the most sought-after of those is the 1998 Subaru Impreza 22B STI, built to celebrate 40 years of Subaru and three WRC manufacturer's titles. There were only 424 of those built, in part to homologate the rally car, and they're now trading hands in the low six-figure range. This likely prompted Prodrive, long since out of the Subaru stage rally business to think, "Huh. We could make something like that."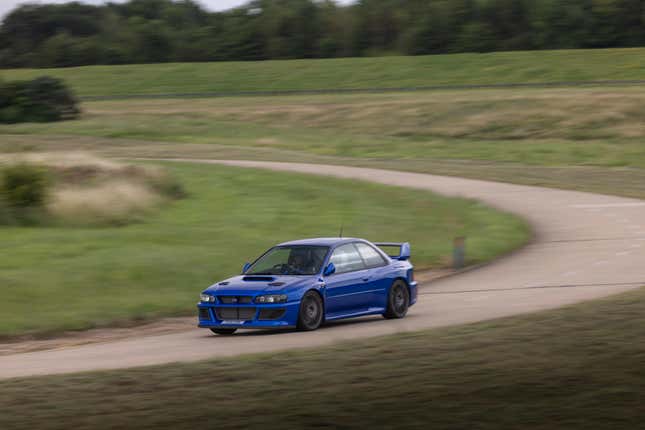 So, now you have 25 Prodrive P25s, which Prodrive designed to exceed the performance of not just the 22B, but the actual WRC car that inspired the 22B — the car that you buy a 22B to pretend you're driving.
Paying Prodrive to take time away from its main business of building racecars and running race teams to get a GC8 shell to that level of performance with daily-driver/weekend car reliability is expensive, but I'm here to tell you, it's worth it.
There are a lot of really good restomod Porsche 911s out there, with Singer being thought of as the pinnacle as far as price, refinement, quality and desirability go. If you put an early Singer on a lift and look up, you'll see a lot of aftermarket Porsche parts that just about any air-cooled Porsche nerd would recognize. They had incredible interiors, wonderful engines, excruciating attention to detail, a brand/look, etc. But what you were actually paying for was lots of hours of development to make the whole thing work.
I can remember early-Jalopnik contributor Davey G. Johnson telling me that the first Singer he drove felt like a $90,000 car in the best way possible. Because Singers cost a lot more than that, it could be read as an insult, but what he actually meant was that it didn't feel like a tuned version of an old car. It felt like a car that a real OEM had spent OEM-levels of development time and money on, dialing in the hundreds of component parts, finishes and systems so that everything felt not just good or fun, but coherent and considered — like a car that Audi might charge around a hundred grand for. That's essentially what you're getting here, but with a lot more edge.
The edges are intentional, and the whole package is pretty refined for what it is. But, because it's a Subaru and not a 911, some of the custom details—LED headlights, taillights, don't land as satisfyingly as they could. The Prodrive units are beautifully made and seem to work well, but there are too many bad aftermarket kits out there to venture too far afield from the more "OEM" look we saw on the P25 concept that debuted at Goodwood last year. (I believe that car became the car pictured here.) It's a matter of context, not execution, and yes, a matter of personal preference.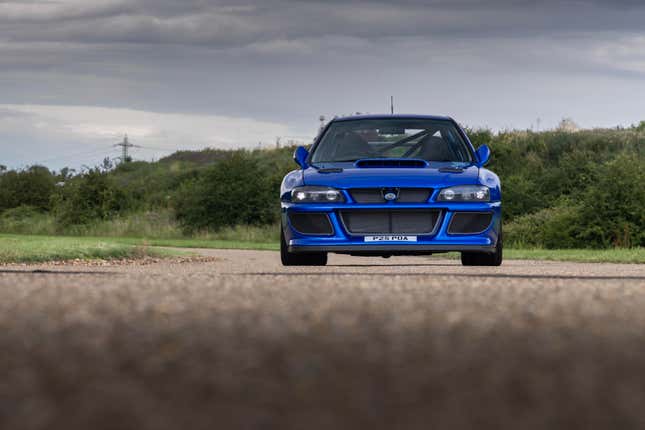 The paintwork on the largely carbon bodywork is very good, and durable enough to withstand me putting a wheel in the gravel on my track drive (which the Prodrive folks were thrilled about). The color, which is not World Rally Blue, was mixed specifically for this car and is perfect, though Prodrive lets customers name their preferred code for both the body and the Prodrive wheels. The roof skin, trunk lid, mirrors, hood, rear wing and fenders are all carbon.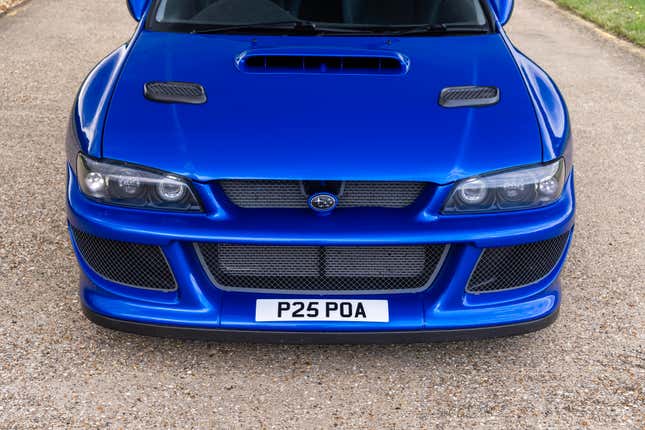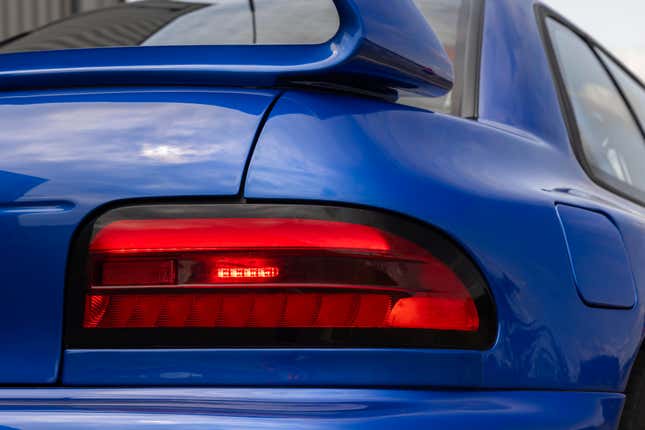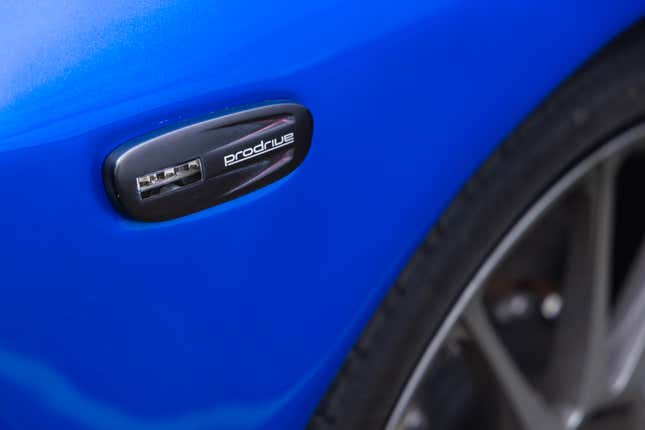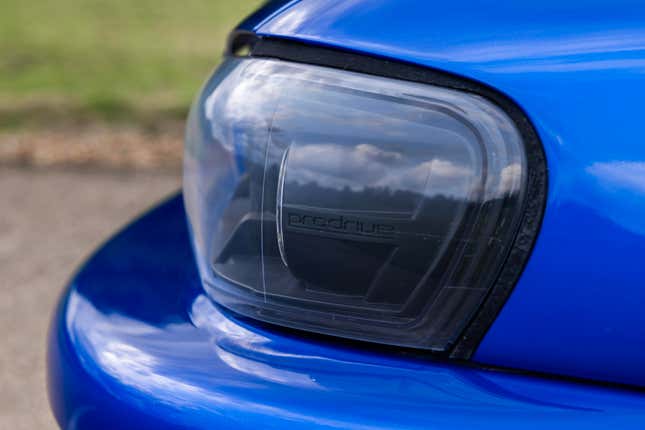 The interior isn't exactly luxurious—this is still an old Impreza— but it's very nice, all carbon fiber and faux suede with a reimagined center console and digital gauge cluster. Owners picked from 25 interior colors and had the option of a standard seat, reclining carbon seat or a fixed racing type seat. You could option a digital readout for the passenger and a foot rest with a little horn button for your friend who wants to play co-driver. The toggle switch on the right in the photo below activates full-power mode, which is funny because you already thought you were in full-power mode.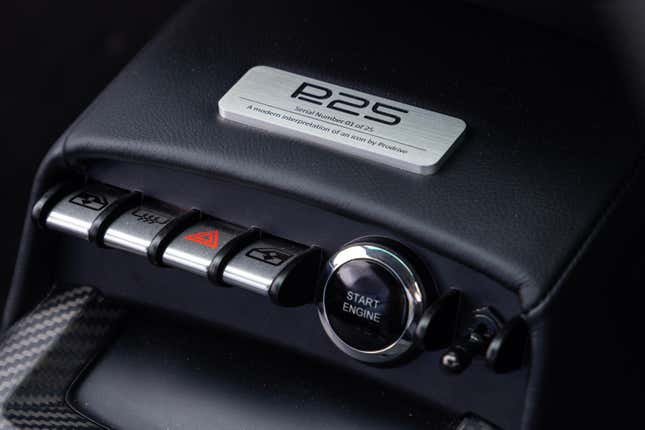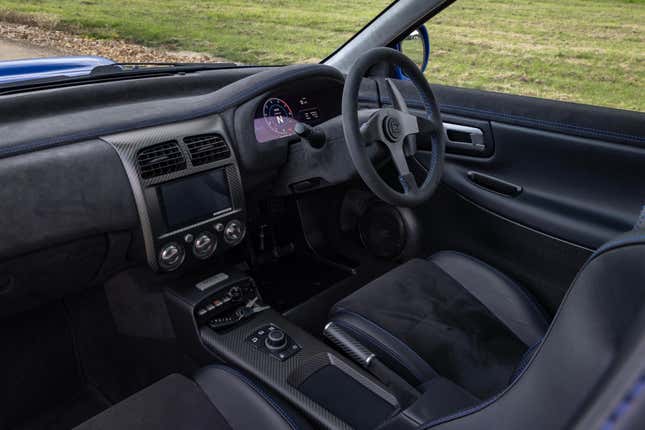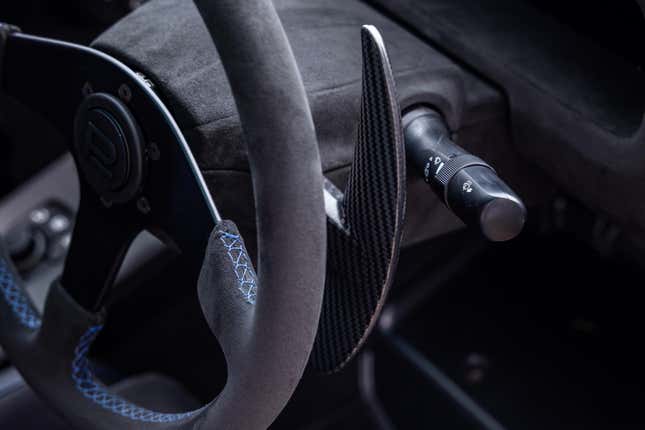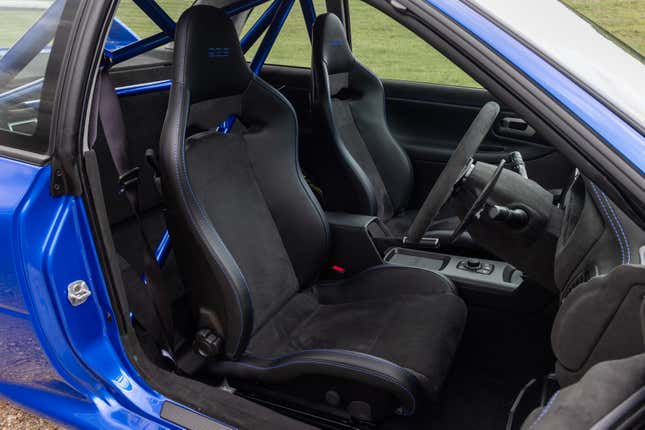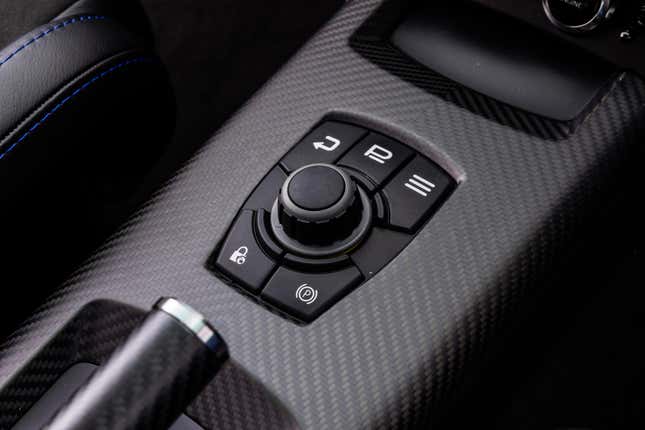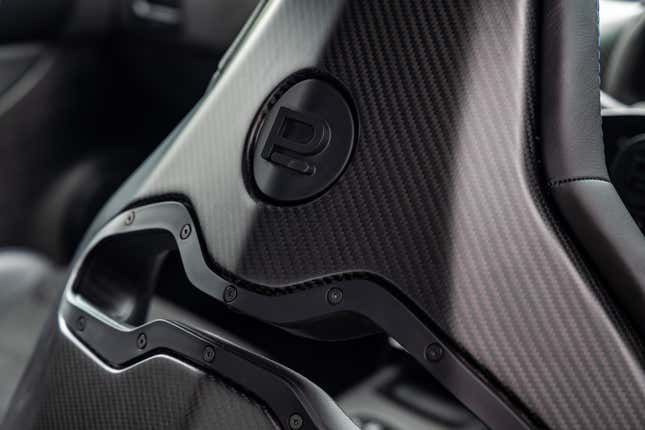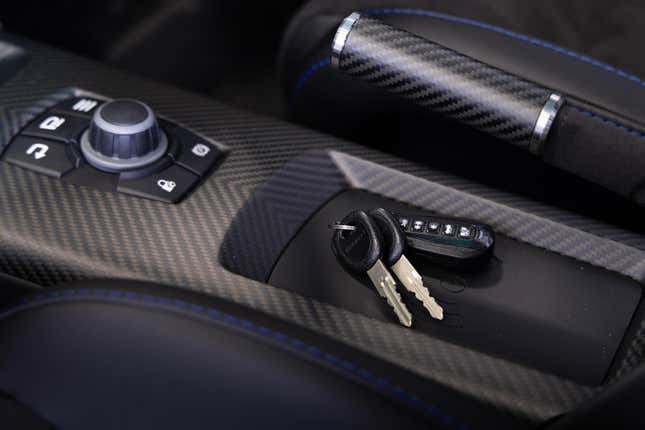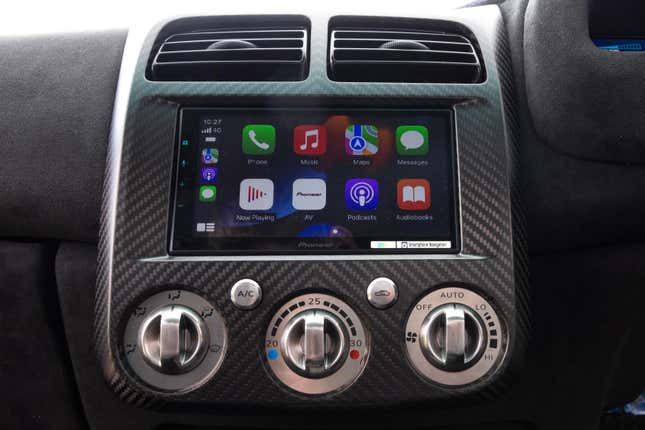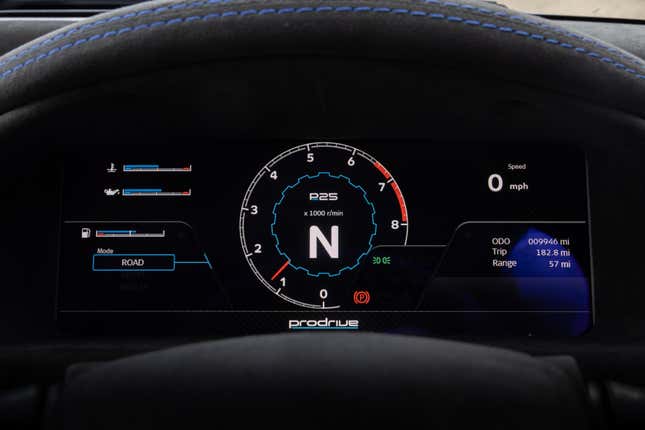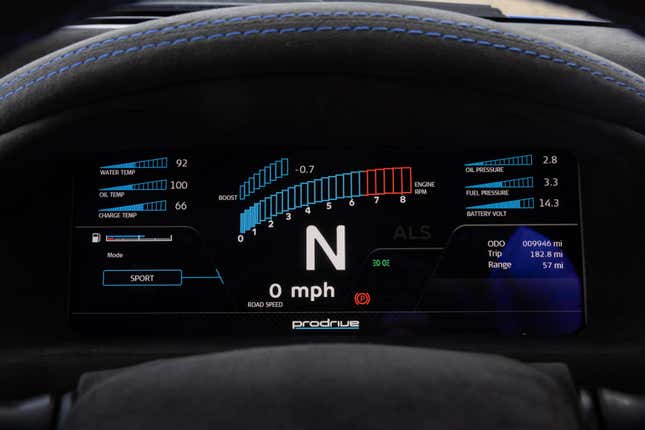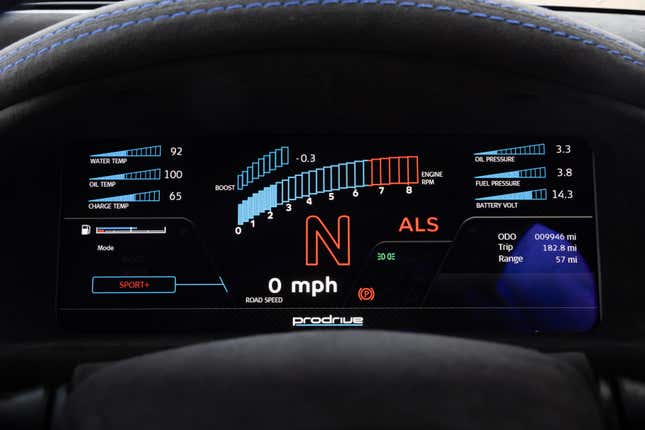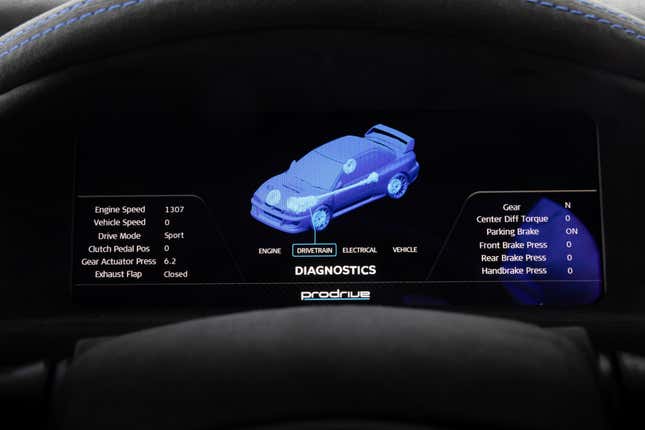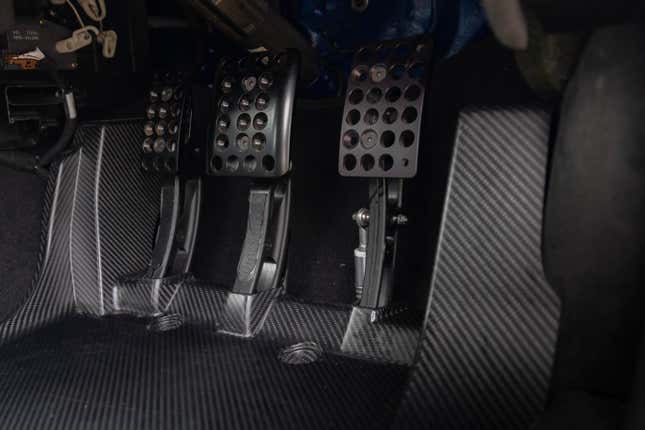 The motor is an EJ25, like you'd find in a last-generation STi, but heavily modified by Prodrive. The result is 444 HP, which doesn't seem massively impressive until you consider that this motor is capable of reliably delivering sprints to 60 in under three seconds. That's possible because the whole car only weighs around 2500 lbs or about the same as a ND Miata RF.
When it comes to the P25's driving experience, the weight is the number that matters. The car is just so eager to accelerate, turn, rotate and stop. The steering is quick and light, the large AP Racing brakes are incredibly strong and will pin you all the way to the harness.
In my hands, it delivered the weight-transfer sensation you get from an old car thanks to the compliant suspension, with the acceleration, grip and braking of a modern hypercar. It's impossible to imagine a modern, AWD car behaving this way and frankly, I don't know how you'd get the weight down anyway. It's pure magic.
We drove on a rough, narrow little track at the UK's Millbrook testing facility. The P25's specially tuned and fully adjustable Bilstein suspension delivered massive control and perfect damping. This is where the development money has gone, and it's really what you're paying for. You can throw the best, most exotic or expensive aftermarket parts in the world at your personal Subaru, but there really is no substitute for spending countless hours at a track with real engineers and development drivers.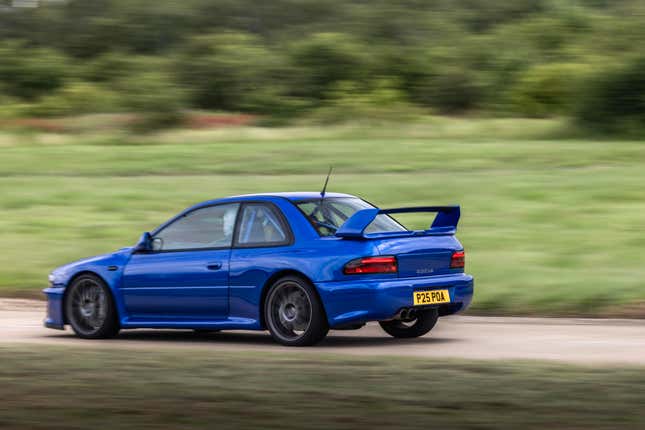 The performance road car transmission hierarchy is as follows: 1. Conventional Manual. 2. Sequential 3. Multi-clutch 4. Conventional Automatic 5. CVT. While the 22B came with a conventional manual, the 25B comes with a single-paddle, clutched, 6-speed automated manual sequential gearbox built by Prodrive.
Personally, I would prefer a conventional manual, but I'd be lying if I said the sequential wasn't fun to operate, especially when you select 1st in a crowd, and everyone looks because it sounds like the transmission internals were just forcibly ejected from their case. It also has an electronic active center diff that always seems to be sending power to exactly where you want it. It will also disconnect the rear end when you hit the hydraulic handbrake.
I have no doubt that some readers will be unmoved by the above, and it's absolutely fine to believe that you could build a faster Subaru for less. However, I'd need some real convincing to believe you could build one that's better.
Ultimately though, it doesn't matter. Twenty-five P25s have been made, and 25 have been sold, all to people who very likely didn't have to think twice about spending more than half a million dollars on a Subaru. In the long term, the real-deal 22B will probably be a better investment, even if it's not as good to drive. Hopefully, the P25s see a lot of track time in the interim.