If you plan—as we all do, really—to spend $150,000 on a huge, gadget-laden, ultra-powerful, luxurious German sedan, you may think your best choice is the Mercedes-AMG S63. And that is a good choice! But over at BMW there's a far more subtle but equally compelling alternative you may not have considered. Here's why you should give the 2018 Alpina B7 some thought.
(Full Disclosure: We asked the folks at BMW if they had an Alpina B7 in their fleet, and they said "Hell yeah we do" and gave us one for a week with a full tank of gas.)
Alpina's an independent tuner company that's been around for five decades, specializing in BMWs. It works closely with BMW itself in production and through its sales channels, but it puts its own unique spin on things to make the cars, generally speaking, more luxurious and have more torque. The M cars are for track day shenanigans; Alpinas are for triple-digit cruising in extreme comfort.
Only Alpina models are sold in America. One of them is this, the B7—the tuner's take on the 7 Series. That's an impressive machine in and of itself, but Alpina's tweaks make it a legit competitor to the S63 AMG, even if it does things very differently.
G/O Media may get a commission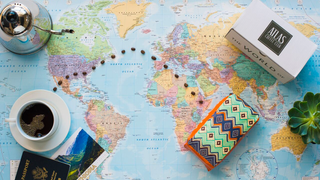 First Bag Free
Atlas Coffee Club - Free Coffee
Explore global coffee
With each bag, Atlas includes details on the coffee's tasting notes and a postcard about the region and its coffee history. And when you subscribe, you have options to tailor frequency, grind size, and roast preference of your beans, so you'll always be brewing the perfect cup.
Here's what to know.
1. Unique Alpina Touches
The B7 is actually in the middle of the 7 Series range, above the 740i and 750i but below the V12-powered M760i. But! There's tons of stuff here that drives home how special these cars are, like the Alpina badges and emblems inside, 20-spoke wheels, the leather steering wheel finished in blue and green stitching and the blue digital gauge cluster—all Alpina staples.
My tester didn't have the famous stripes, though. What a shame.
2. Power
Alpina's engineers use BMW's heavy-hitting 4.4-liter twin-turbo V8 as a base and then, by hand, add unique pistons, turbochargers, intake and exhaust and more to boost power to 600 horsepower and 590 lb-ft of torque. A nice improvement over the standard 444 HP, but I don't remember ever thinking that engine was slow, either.
3. Good Smells
This is a feature on the non-Alpina 7 Series too, and it's great. The car has fragrances it can waft through the cabin at the touch of a button, giving it the small of a high-end hotel room. You have two to choose from!
4. Gesture Volume Control

Another non-Alpina feature, but it's such a great party trick I have to show it off here. If you want to raise or lower the stereo volume, you of course could push a button somewhere—or you could wave your finger in a circular motion and that'll do it instead. It's fun! You'll have so much fun doing it.
5. Opulent Backseat
But even with 600 HP under the hood, the best place to be in the B7 is probably in the back seat, which is huge and covered in soft leather and plush carpeting. It's one of the best back seats this side of a Rolls-Royce.
Expect a full review soon.
Correction: Initially I said the B7 is the only Alpina sold in the U.S., but I forgot the B6 Gran Coupe. The story has been corrected.