Jason Torchinsky
Since that troubled young storm Sandy turned New York and much of the Northeast into a sort of filthy Venice, many of you are realizing the Achilles' heel of your cars: they're not boats.
That's not the case with EVERY car, though. There've been a number of serious attempts to make viable amphibious cars. Here's the five best, and if you have one of these now and live in the Northeast, this is sort of the day you've been waiting for to really show everyone that laughed at you. Have at it.
1. Volkswagen Schwimmwagen: This is by far the most produced amphibious car, and in many ways, one of the best. Yes, it has pretty odious origins for use by the bad guys in Indiana Jones movies, but the car's design itself is impressive.
Designed by Ferdinand Porsche and based on early VW Type I (Beetle, Kubelwagen) mechanicals, the Schwimmwagen is essentially a big steel tub with a Beetle engine at the rear, big tires mounted on hubs with reduction gears, 4WD in 1st gear, and a little drop-down propeller that connects right to the crankshaft. In the water, the front wheels act like rudders, and the whole thing makes a surprisingly capable boat.
G/O Media may get a commission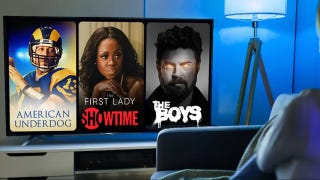 UNDER $1
99¢ Prime Video Channels
I've read that when the Allies captured these, they'd have some fun tearing down a pier at 30 mph or so and bellyflopping in the water. Which sounds awesome. What probably didn't sound as awesome was what the people in the back seats heard, with the intake snorkel and muffler inches behind their heads.
Still, one of these would be pretty handy right about now.
2. Amphicar: Very likely the classiest of all amphibious vehicles, the pretty little Amphicar was German, but felt very British, down to it's Triumph engine mounted at the rear. It wasn't a particularily good car or boat, but it wasn't exactly awful at either, so it generally did its job, and of the 4000 or so produced, 700 or so are still around, and I suspect every one of those is quite well-loved.
President Johnson owned one of these, and, like Allied soldiers in the Schwimmwagen, used to like to scare the crap out of guests by driving full-tilt into lakes.
Amphicars also seemed to inspire some pretty good quotes. A writer for Time, Dan Neil, called it "A vehicle that promised to revolutinize drowning." An owner described its performance as "the fastest car on water and the fastest boat on the road."
3. Gibbs Aquada: As much fun as the first two amphibians are, they're both pretty damn slow, really. If you need to be somewhere in a hurry, and that somewhere is separated from you by both water and land, then get yourself an Aquada, pal. They're not cheap— close to $300 grand — but they were designed to be quick on solids and liquids from the start.
It's got a 3-seat layout, with the driver center, like a few other exotics, and for propulsion it ignores slow old propellers in favor of a jetski-like water jet system, powered by a 175 HP V6. In water, the wheels fold up like the future DeLorean in Back to the Future. It'll do up to about 35 MPH on water, which is no joke if you're being towed behind one on some water skis.
Richard Branson even set the English Channel crossing record in one of these, shaving over four hours off the old time for a record run of 1:40:06. And, it looks like a Miata designed by frogs.
4. DUKW: During WWII, the Allies sure weren't going to let the Germans have all the fun with cars you can drive into lakes— we had our big Duck. "Duck" was the nickname given to the GM and partners-created DUKW (a complex GMC acronym that's code for the car being a 1942 model, utility, with front driven wheels and rear powered axles). Like all good American cars, the Duck was much bigger and a bit more powerful than her European counterparts.
The Ducks were modifications of the "Duce" trucks used all over the place, and on top of that three-axled chassis rode a simple, angular, corrugated boat-like body. Over 20,000 of these were built, and after the war many got pressed into tourism duties. The Duck could do 50 MPH on land and a more gradual 6.5 MPH in water.
The Ducks had a powerful bilge pump to allow it to stay afloat even if punctured by holes up to 2" in diameter. And here's a piece of trivia: the Duck was the first car to have an internally-regulated tire pressure system!
If GM isn't considering this basic design for the successor to the Aztek, they're fools.
5. Herzog Conte: Made in 1979, the Conte is unusual for amphibious cars in that it could be purchased as an enclosed vehicle, for those wanting more of a miniature, drivable yacht experience as opposed to roadable speedboat.
The Conte used lots of bits from the Euro-spec Ford Granada, including lighting equipment and the Cologne 2.3 L V6 making about 135 HP. The boatcar used two separately controllable propellers, which provided the car great maneuverability in the water.
It was shown at the 1979 Frankfurt Motor Show, but sadly never made it to production. Looking at the pictures, that's too bad, since it looks like a water-capable version of the Family Truckster.