A massive steel worm with a bright patina of yellow paint covering its blade-edged face started its journey through Manhattan's Upper East Side on May 14th, 2010, chewing up 60 linear feet of earth each day. 17 months later, the Tunnel Boring Machine (TBM), stripped of its paint, has emerged — but now, instead of a giant piece of construction equipment, to people on the UES, it's the realization of a promise made more than 80 years ago.
Since 1929, the 2nd Avenue Subway's been on the to-do list for New York City planners when they tore down the elevated trains serving the neighborhoods where the subway was intended to go. But the train never arrived, a victim of the Great Depression, World War II, and other events that caused the Metropolitan Transit Authority (MTA) to shift its attention.
So when the TBM started its journey last year at 96th street it's understandable why the main theme was it's "For real this time" and not "OMG giant machine."
And oh what a machine it is.
The TBM, somewhat ironically named "Adi" after the two-year-old granddaughter of MTA Capital Construction President Michael Horodniceanu, is no small tot. Quite the opposite, the 450-ton monster is 450-feet long with a head 22-feet in diameter that weighs 250 tons on its own.
The TBM works much like you'd imagine it would at first glance.
G/O Media may get a commission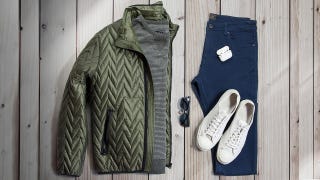 60% off
Jachs NY Fall Sale 60% Off
The cutting head spins around while numerous blades chew rock up. Simple. Just humongous. The resulting soil-and-rock mixture is then dropped into a bucket and transported behind the machine.
Since entering service 17 months ago, Adi's eaten up and spewed out a total of 7,789 linear feet of earth building two tunnels, finally breaking through the Lexington Avenue-63rd Street station on September 22, 2011.
With this phase of the construction completed, workers will go back in to fortify the walls, dig the ventilation shafts, and build the rest of the infrastructure needed to make a December 2016 completion date.
Photo Credit: Ben Yankee, MTAPhotos/Patrick Cashin