America was built on speed. Hot, nasty, badass speed. (Other countries do it too, we've heard.) But sometimes the speed brings us some truly unexpected moments. To say that it was hard to narrow this list down to a top 30 was an understatement. However, that's just what we've done: here are the 30 craziest, least expected, wildest, most baffling and/or most wonderful racing moments of 2015.
---
Normally, purpose-built racing prototypes claim the top honors at professional endurance races. This year's Petit Le Mans was so wet that a GT car took the overall win instead. While the race was ended early because of the treacherous conditions, this is still an impressive feat.

---
G/O Media may get a commission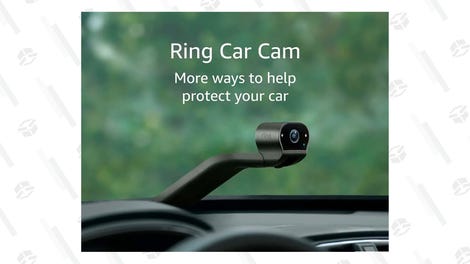 Pick a crash, any crash. With so many incidents in one highlight reel, we can hardly believe this race was real.

---
A literal fire was lit under the butt of NASCAR Xfinity Series race winner Austin Dillon during the pre-race festivities at Charlotte Motor Speedway.

---
Not even getting rear-ended early in the race can keep Juan Pablo Montoya from winning.

---
I'm not sure what's the bigger surprise: the Lotus Formula One crew member getting whacked in the balls, or the fact that he's able to get up and man the jack afterwards. This guy earned that ice pack afterwards.

---
Clipping a curb at any speed on two wheels is a butt-puckering moment. Clipping one during the Isle of Man TT is on a whole different plane of Code Brown.
---
Fluffy Bunny wasn't the only surprise on television during Lone Star Le Mans weekend. Continental Tire Sports Car Challenge racer Liam Dwyer was simply done with clothes after being lifted out of his car, so that's how he spoke to Fox Sports' Brian Till on-air.

---
Even Royal Australian Navy demonstrations are dangerous down under. A Navy helicopter flew too close to pit lane, blowing up a metal wall that hit V8 Supercars driver James Courtney in the ribs at Sydney Motorsports Park.

---
We saw several incidents this year where a race car hits a crew member but it's usually with the nose of the car. Rarely, however, does a crew member get taken out with the side of someone's race car.

---
Derrike Cope's hauler hosted quite a few uninvited guests at this year's NASCAR Xfinity Axalta Faster. Tougher. Brighter. 200: Africanized swarms of bees. NOPE.
---
Steering wheels: who needs 'em? Just grab the hub and keep going.

---
I don't think this buggy got the memo that finish line banners in motorsport aren't supposed to be run through like a ribbon at the end of a marathon.

---
It's one thing to enter a front-wheel-drive car in a local time attack event, but it's another thing entirely to take a front-wheel-drive-biased car to the most grueling endurance race in the world. This year, Nissan raced its GT-R LM Nismo at the 24 Hours of Le Mans.
While the car wasn't competitive and the team ultimately withdrew from most of the World Endurance Championship season to try to get it sorted, it's still insane that Nissan tried it in the first place—and will try to race it again this year, with any luck.

---
A rabbit brought a NASCAR Camping World Truck Series race to a halt this year as officials proved that they aren't exactly Elmer Fudd.

---
Stadium Super Trucks could fill up its own list of insane moments all by itself, but these trucks just defy sense and reason in the most hilarious way possible. Here's a prime example: Sheldon Creed's truck flipped on its roof coming out of a jump, flipped back on to its wheels, and rolled across the finish. Now that's how you take a checkered flag.

---
Of all the drivers to hit a poor, innocent wayward possum during the Rolex 24 at Daytona, it was Magnus Racing's vegan driver, Andy Lally. Naturally, the team vowed to avenge the untimely death of "Ballast of Possum" all season long.

---
Normally, people who sneak onto an active Formula One track are pretty quick about it in the interest of not getting impaled by a nosecone. This guy was just out for a relaxing evening stroll.

---
It's about time: the World Endurance Championship finally canned the idea of having scantily-clad women standing around as decoration before their events. It's outdated, it's cheesy and we'd rather see young enthusiasts get the chance to hang out among the cars instead, anyway.
---
Here's something you don't expect on a live rally stage: a tractor driving into your path.

---
Clearly, Eldora Speedway has more despicable enemies out there than dumb Major League Baseball execs.

---
Even with all the drama surrounding Valentino Rossi and Marc Márquez at the end of the MotoGP season, those two had nothing on this bizarre on-track spat between Moto3 riders Romano Fenati and Niklas Ajo.
---
Kyle Busch won his first ever Sprint Cup championship after breaking his leg early this year and having to sit out 11 races of the Sprint Cup season. While many fans are still scratching their heads as to how that happened, Busch simply owned the last half of the season.

---
There was no shortage of drama between Mercedes Formula One teammates Nico Rosberg and Lewis Hamilton this year. Needless to say, Rosberg didn't like Hamilton tossing him the second place hat after Hamilton had pushed him out of the lead at the first corner of the track.

---
Perhaps a tall catch fence may have come in handy here.

---
Land on your wheels? Shiny-side up? No big deal. Keep going.

---
Talk about David versus Goliath. This Class 1 buggy whacked into the Vest Racing trophy truck just right to send the bigger racer airborne at the Mint 400. Who knew that a little buggy would be capable of causing such carnage?
---
How did Moto3 rider Niklas Ajo not crash here? How?

---
Bless you, Internet. When Ferrari Formula One team sponsor UPS made a photo mosaic of their logo featuring fans' Facebook photos in the background, someone naturally had Dick Butt (which is a doodle of exactly what it sounds like) as their photo. Dick Butt then took a glorious ride aboard the Ferrari SF15-T.
---
I'm still not sure how this entire crowd was able to flee from this car, but I'm glad they were, regardless.

---
Macau's Circuito de Guia never fails to disappoint. Here's Robb Holland miraculously working his way through an epic code brown situation where cars are skidding and crashing all around him during the Macau Grand Prix TCR International race.
What will next year bring in motorsports? More madness and mayhem—that's a given.
---
Contact the author at stef.schrader@jalopnik.com.