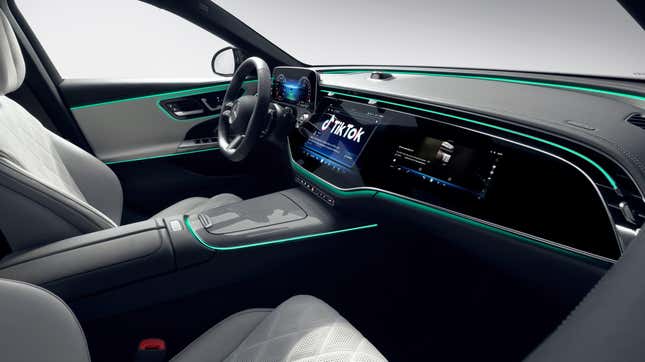 Mercedes has a new E-Class coming. While the luxury brand has yet to show us what its new luxury sedan is going to look like, Mercedes has released details and images of what the interior of the upcoming sedan will look like. Get ready for a luxury sedan with an interior that will have an "immersive entertainment experience."
Visualizing Sound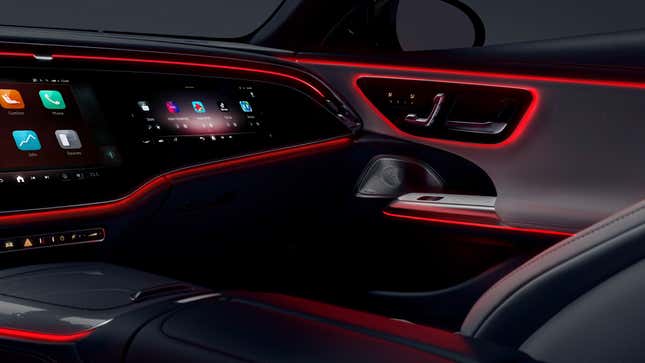 Mercedes is going for a full-on sensory experience with the E-Class and its new sound system. Music lovers will be able to see, hear and feel their music. A new Active Ambient Lighting System with Sound Visualization combined with an available Dolby Atmos technology will pulse a light strip of the interior ambient lighting to the beat of whatever music is playing. Those wanting to actually feel their music will be able to do so with a Burmester 4D surround sound system with 17 speakers that use sound resonating transducers to let passengers feel the bass of the music.

Faster, Smarter Tech
Mercedes has gone with new processing power in the E-Class infotainment system to speed things up with more software than actual hardware. There's now a single processor for system functions, while all interior screens and the MBUX system run off of a central computer. There's also 5G capability for faster OTA (over-the-air) updates for vehicle systems.

The big news is the eventual goal of an onboard AI to automate certain simple vehicle functions. Mercedes calls these AI-enabled functions "routines". Owners will be able to set the AI to enable these "routines" using different templates. Using an example from Mercedes: "Switch on the seat heating and set the ambient lighting to warm orange if the interior temperature is below 50 degrees."

Attention To Detail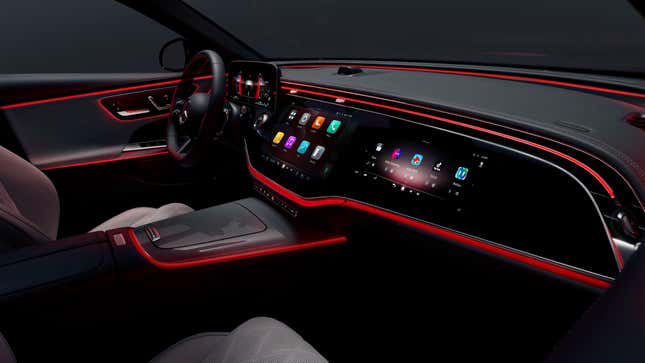 Mercedes describes the interior of the new E-Class in three terms: sporty, high quality, and digital. From the tri-screen dash -reminiscent of the dash seen on the EQ line of EVs - to arcs and panels that look free-floating, it's a blending of tech and analog design themes. Mercedes is even letting drivers customize the UI to their liking. Drivers can choose between two display styles (classic or sporty) and three modes (navigation, service, and assistance) that will display the information they need to see the most.

In typical Mercedes fashion, buyers will have a number of different interior colors and trim to choose from. They even threw in the Piano Lacquer Flowing Lines trim from the S-Class as an option.
Interior Entertainment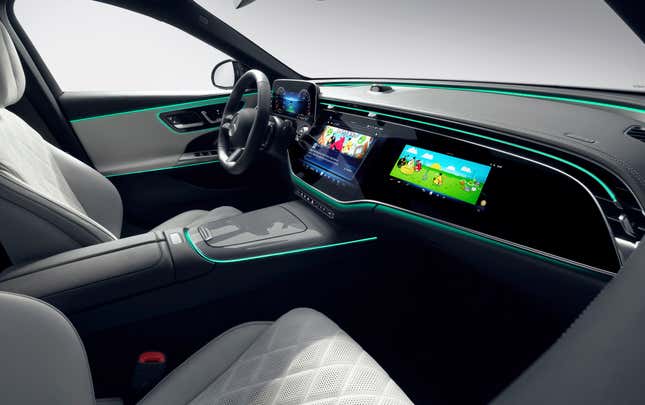 Mercedes has made sure that passengers in the new E-Class will be able to keep themselves entertained. In-car apps should keep passengers busy. Someone wanting to play games will be able to play Angry Birds through the MBUX system; passengers that are social media savvy will be able to scroll through Tik Tok with the system. In a move that should make waves with those that work in their vehicles, a new dash-mounted camera will allow users to make Zoom calls, and Cisco Webex cloud-based collaboration solutions can help them work on projects with coworkers while a built-in Vivaldi web browser will let them pull up any other information they may need. At its most basic level though, the camera will allow users to take selfies if that's your thing. There's also an entertainment portal called ZYNC that offers video streaming content, news, sports, and more.

Mercedes should release more details of the 2024 E-Class, namely how it looks, closer to it hitting dealerships later this year.