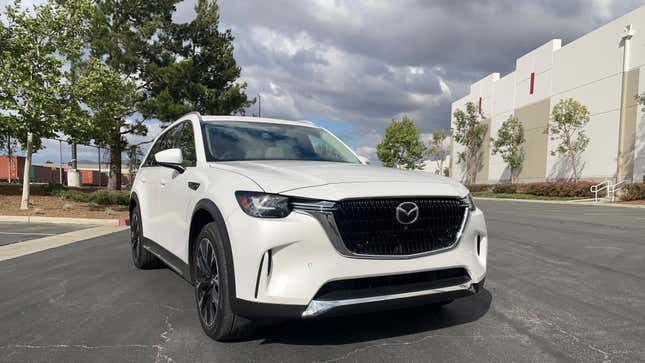 With the launch of the CX-90 SUV, Mazda has officially gone premium. Over nearly 30 years, the brand has made several attempts to court luxury car buyers, even launching full-on premium brands like Eunos, ɛ̃fini and didn't-quite-happen Amati.
2024 Nissan Z NISMO | Jalopnik Reviews
In more recent years, models like the Mazda3, Mazda6 and CX-5 impressed with fancy designs both inside and out, while still carrying mainstream price tags. Now, the CX-90 takes aim at rivals like Acura, Lexus and even Mercedes-Benz as one of Mazda's most well-executed products yet.
Disclaimer: Mazda forgot to invite me to the debut drive of the CX-90. So to make up for it they gave me one for a week as soon as one came available.

The CX-90 Is All New From The Ground Up
Everything about the CX-90 is new. Mazda designed a new platform with a longitudinal engine layout and a rear-biased all-wheel-drive system. Two new engines were developed, as well: a 3.3-liter turbocharged I6 and a 2.5-liter I4 plug-in hybrid, which is what I tested.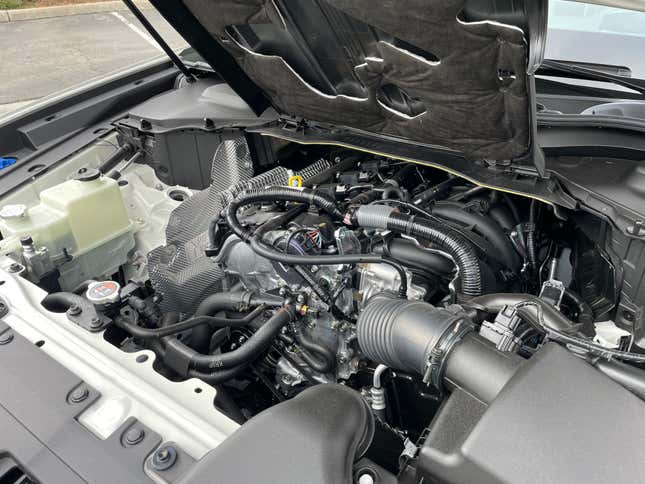 Mazda calls this new PHEV setup e-Skyactiv-G, and it's the same powertrain you'll find in the CX-60 crossover sold abroad. It combines a 2.5-liter I4 with a 17.8-kilowatt-hour battery, electric motor and 8-speed automatic transmission. The gas engine on its own makes 189 hp with premium fuel (or 185 hp without), and the electric motor puts out 173 hp. Together, total system output comes in at 319 hp and 369 lb-ft of torque, which makes for a pretty quick seven-seat crossover.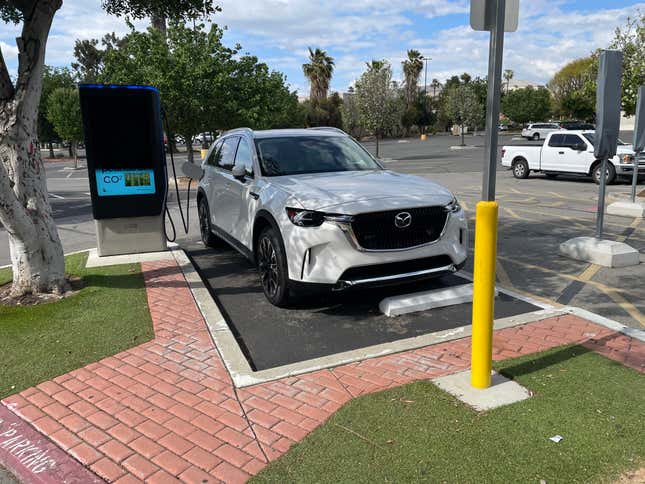 Mazda says CX-90 plug-in hybrid buyers can expect 26 miles of electric driving range when the SUV is fully charged. Using a Level 2 charger, the battery should fully charge in 1 hour and 30 minutes. Unfortunately, I only came close to those estimates, seeing 22 miles of range in real-world driving. My charging time was a bit longer, as well, with the CX-90 taking 2 hours and 10 minutes to fully juice up at a ChargePoint Level 2 public charger.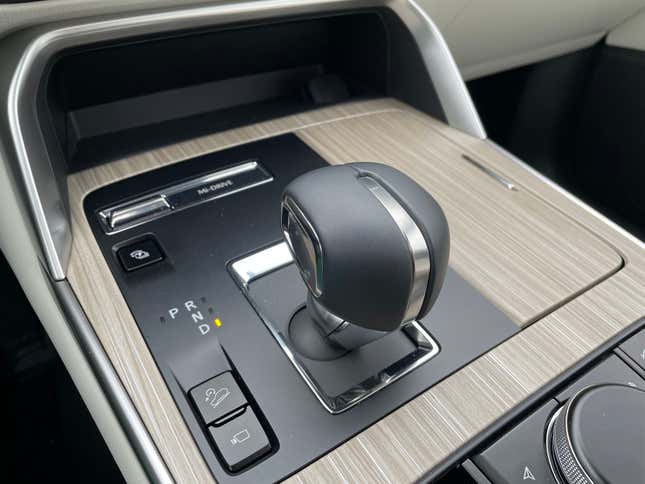 Using the CX-90's electric power is easy. You can switch between EV, Normal, Sport and Off-Road modes (Mazda calls this Mi-Drive), and in the EV setting, the electric power delivery is smooth. Regenerative braking works really well here, too, and you can easily gain 2 to 3 miles of range while driving around town. The CX-90 has a programmable threshold for the regen system, so you can have almost-one-pedal driving if you want. There's also a Charge mode, where the I4 engine will recharge the battery while driving.

Once the battery is depleted, the CX-90 automatically switches to a hybrid drive setting. This leaves enough juice in the battery to let the CX-90 electrically drive slowly through parking lots, and provides enough oomph to assist with acceleration. The switch from EV to hybrid mode is smooth — most of the time, anyway. There were a few times where the system got confused over whether or not it should start the engine or continue in a fully electric mode.

With its four-wheel independent suspension, the CX-90's ride is as smooth as any luxury sedan. Bumps and road imperfections are nicely absorbed with hardly any body shudder. At the same time, the CX-90 is also really nice to drive when you feel like hustling. The crossover has Mazda's Kinematic Posture Control that first made its debut on the Miata, which senses high G forces while cornering and applies braking force to the inner rear wheel, pulling that corner of the vehicle down and minimizing body roll. It works really well; the CX-90 is the most planted crossover I've ever driven. When you're behind the wheel you feel as if you're piloting something half its size.

Premium Details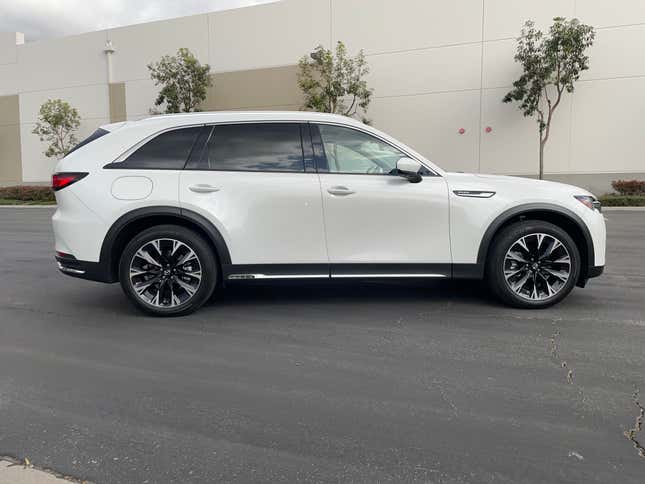 Beyond being nice to drive, the CX-90 looks like a premium crossover. Viewed from the side it has almost a wagon-like profile, with Mazda designers sculpting the sides to play off the reflections and shadows of natural light. Chrome trim is used tastefully, from the lower rocker panels to the front grille surround.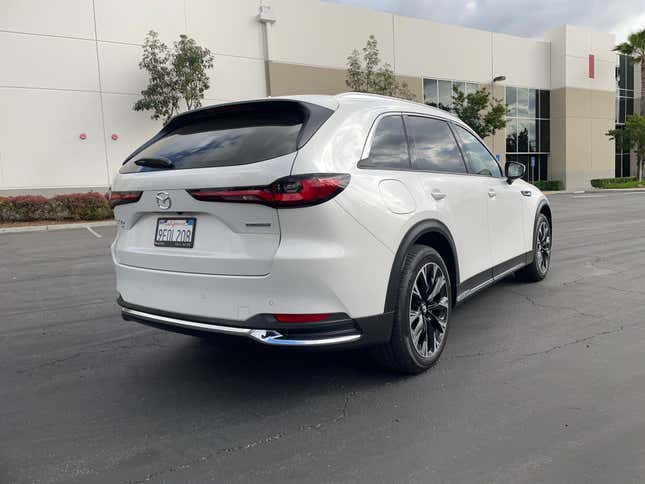 Around back, the taillights meet on the rear hatch, which has an unfortunate looking scoliosis-like hump. Thankfully, Mazda's designers at least went for hidden exhaust outlets instead of fake ones.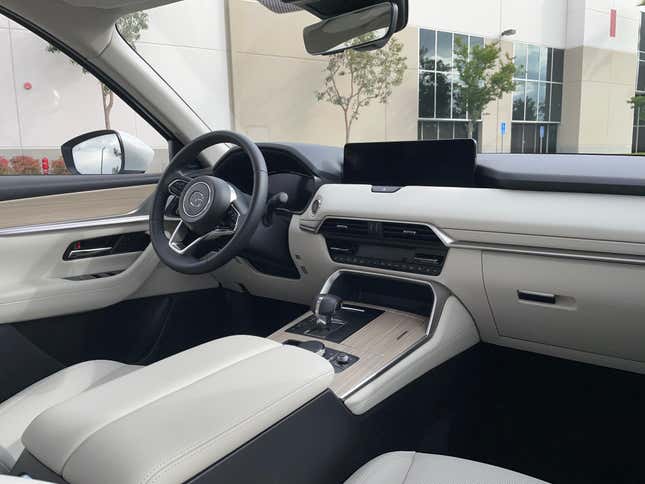 Stepping inside, you're greeted with one of the best-looking interiors on the market right now. You can tell Mazda's designers really took their time with the details. The upper dash on my tester is covered in soft leather with nice contrast stitching. The Nappa leather seats have nice brown cloth stripes down the middle, and the bright-colored wood trim is blended with metal streaks.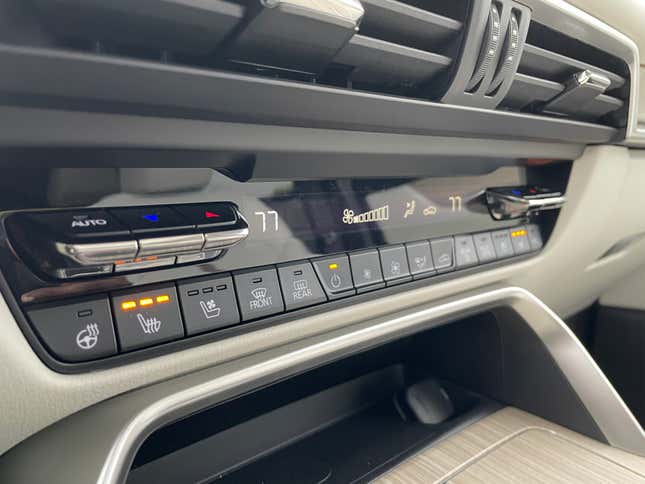 The infotainment system is managed by a rotary dial on the console, and there are physical buttons and switches for the climate control. Of course, all the usual tech is here: a 12.3-inch center display, full suite of driver-assistance systems, Bose premium audio, heated seats for the first two rows, USB charging ports for all three rows, Apple CarPlay and Android Auto.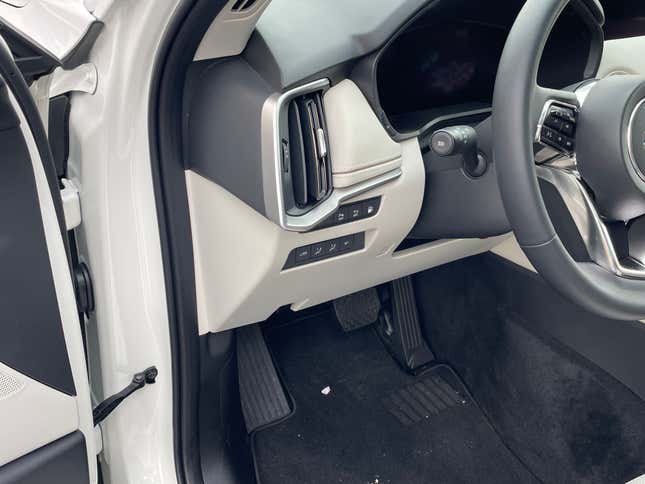 The interior is not without a couple weird features, though. The most glaring is the design of the air vents, which blend in flush with the doors and jut out from the dash when the doors are open. If you're tall like me and need to lift your leg to get in the car, you may hit your knee on the vent like I did. Twice.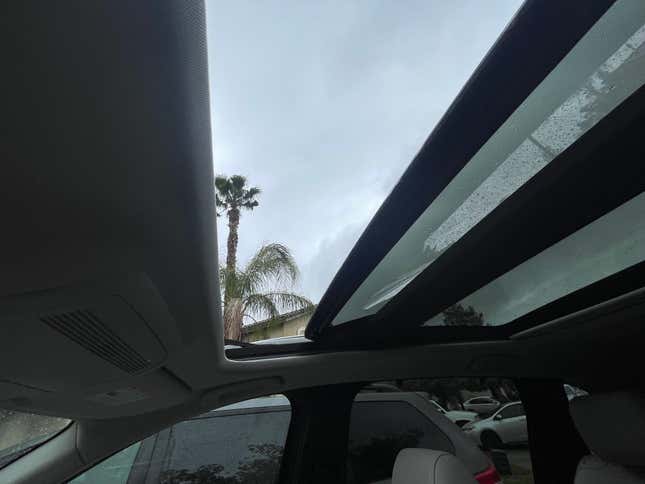 The sunroof is strange, as well, as it only opens half-way.

The CX-90 has family-hauling duties down pat. Second-row room is ample with almost 40 inches of legroom. The third row is predictably tight with 30.4 inches of legroom, but with second-row seats that slide far enough forward for entry it's easy to get in and out of. The rear doors also open almost 90 degrees, making it easy to get in or load large items.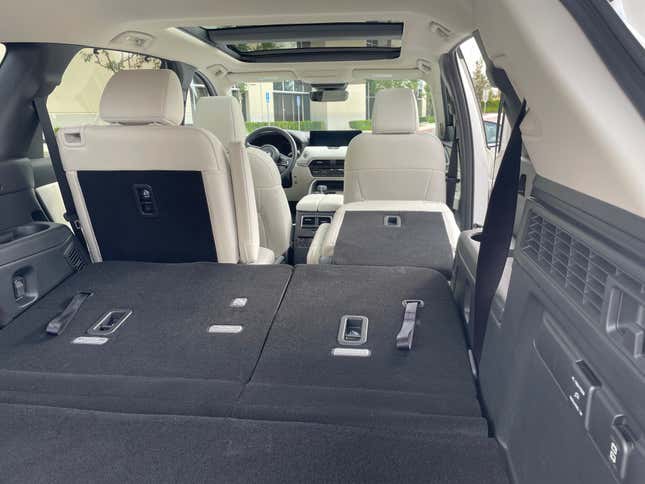 Cargo volume is decent, as well, especially with the third row up. There's 15 cubic feet of space with the rear seats up, increasing to 40 cubic feet with the third row flat. With both rows down, there's 74.2 cubic feet of space, more than enough for things like bikes or a TV.

Summary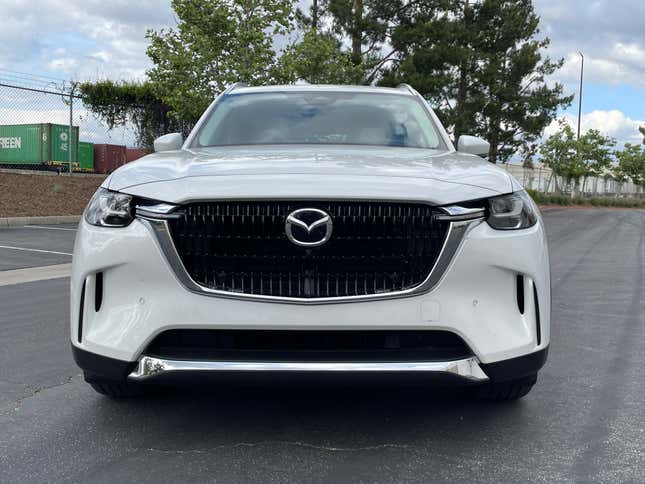 What Mazda has done with the CX-90 is extremely impressive. It builds on how great of a family crossover the CX-9 was and bolsters that with premium amenities and great overall fit and finish.

The tricky part will be convincing would-be Audi, BMW or Mercedes-Benz customers to buy a Mazda instead. The CX-90 isn't cheap, and the pricing it commands is uncharted waters for Mazda. The CX-90 PHEV starts at $48,820 including $1,395 for destination; the top-of-the-line Premium Plus trim I had starts at $58,325. No matter how good it is, that's a lot of coin for a Mazda. But from behind the wheel, the CX-90 feels worth every penny and then some.

2024 Mazda CX-90 PHEV Premium Plus AWD Specs
Engine type
Gas/Electric I-4
Transmission/Drive
Automatic w/OD