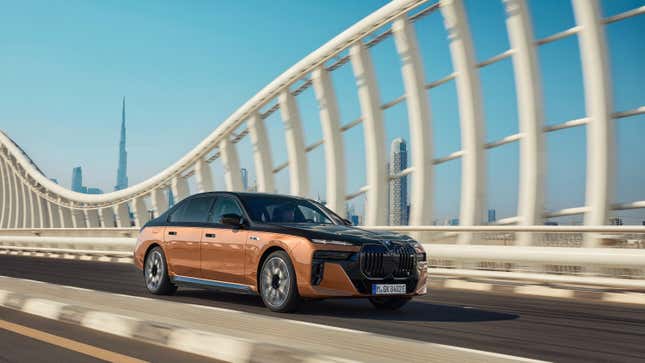 The BMW i7 is not only one of the coolest luxury EVs on sale today, but it's got one of the best interiors in the business, and now, according to an announcement made by BMW on Monday, it's earned itself some performance chops, too, with the introduction of the 2024 BMW i7 M70 xDrive.
What Car Should You Buy: An SUV With Some Horsepower Dammit
As usual, that name is a veritable cornucopia of alphanumerics, but what it means is that this particular electric luxobarge comes packing a not-insubstantial 650 hp and up to 811 lb-ft of torque, which BMW claims is good for a 0-60 sprint of just 3.5 seconds. Is it Tesla Plaid or Lucid Air Grand Touring Performance quick? No, but it's also not exactly slow either.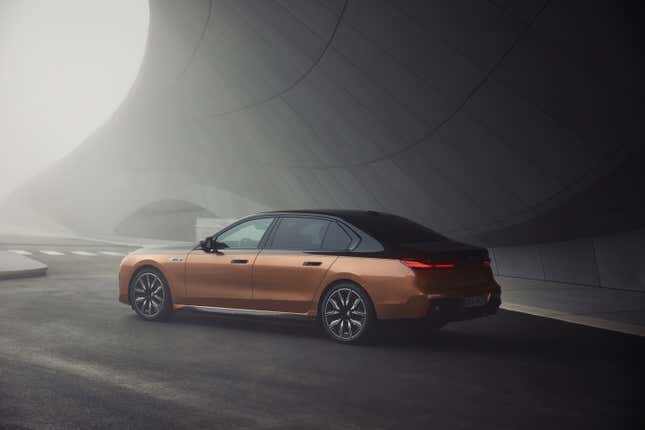 The downside of having a big, powerful luxury EV is that unless you pack a crap ton of batteries into it, the range isn't going to be stellar, and that's the case here. Preliminary range estimates from the EPA peg the i7 M70's range at just 295 miles. Is it terrible? No. Is it plenty for 99 percent of people 99 percent of the time? Probably. Is it going to give some potential buyers pause? You bet your ass it is.

BMW claims that the rear drive unit in the M70 xDrive has a remarkable 25.5-percent increase in power density over the unit found in the i7 xDrive60 and that this is currently the most powerful electric motor in BMW's arsenal. The increase in efficiency comes from a six-phase motor design with dual inverters. Most EV motors are three-phase, so doubling the number of phases in the motor's windings allows for more oomph. That oomph is handy because the M70 xDrive features launch control.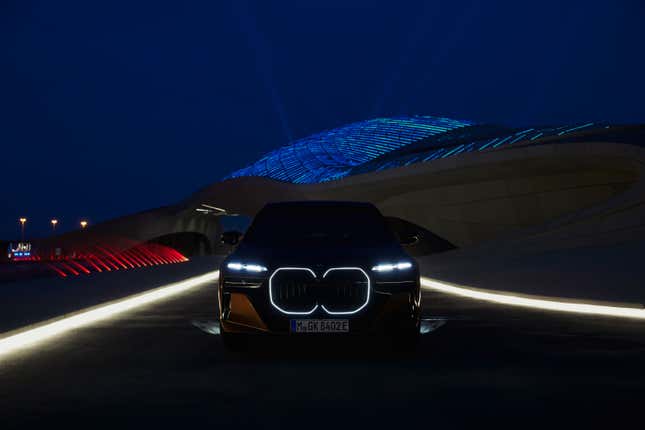 Other notable features include the latest and greatest version of BMW's iDrive infotainment system, aka iDrive 8.5. This brings, among other things, navigation with charging-optimized route guidance as well as a new menu structure within iDrive. The new menus work with a function called Quick Select, which BMW says will make navigating the system easier.

Lastly, BMW is offering the M70 xDrive in a bunch of new BMW Individual paint schemes, including some "Frozen" matte finishes. The launch color scheme for this car is one of the BMW Individual options, and frankly, it rules. BMW calls it "BMW Individual Liquid Copper metallic for the lower section of the body and Saphire Black metallic for the upper section," and it's how we'd have ours.
BMW is making the official global debut of the i7 M70 xDrive at the Shanghai auto show, with plans for it to enter production in the second half of 2023. Pricing will be released closer to that on-sale date, but expect it to be a heaping helping more than the $120,295 starting price of the xDrive60 version and, because this bad boy is built in Germany, don't expect federal tax subsidies either.