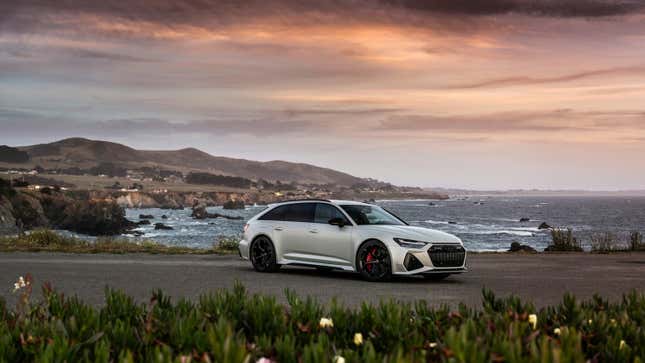 It's no secret that I freaking love Audi's RS 6 Avant. Even apart from all the typical Jalopnik fast station wagon internet nerd stuff, it's a wildly competent car that knows exactly what it is and what it's for and then executes on that almost flawlessly. I say almost because, in truth, the car was previously a little numb and didn't make enough great noises. But now Audi has a Performance version of the RS 6 Avant (and RS 7), and it rights all of the regular model's wrongs.
Full Disclosure: Audi wanted me to drive the new RS 6 and RS 7 Performance models so badly that it flew me from Burbank (queen of all airports) to SFO and then drove me to gorgeous St Helena where it put me up in a lovely hotel for a night before turning me loose on the roads of wine country.
Don't be fooled by thinking that the 30-hp power bump is the most important thing going on here. It's barely noticeable. The real magic comes in the form of "emotionality," as Audi puts it. This is accomplished by removing sound deadening (almost 45 lbs of it!), making the differences between the drive modes more extreme, adding considerably better tires and tweaking the center differential to be both lighter and more aggressive. It's a slightly more raw car than the non-Performance version, and it's the slightly part that's key.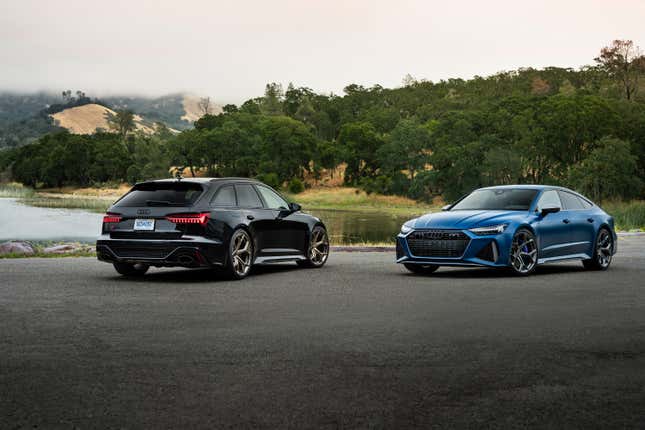 At the end of the day, while the RS 6 (and, by extension, the RS 7) is an RS product and among Audi's hardest-core performance offerings, it's not a track weapon. Audi knows this and understands the fast wagon's appeal. That's why despite all these other changes, it didn't make any changes to the suspension tuning, for example. The car can still navigate a tightly curved road without heaving itself all over the place, as I found out recently during Audi's launch in California's Napa Valley. However, it's still supremely comfortable when you're just driving around. The wagon's appeal is universal utility, and the RS 6 Avant Performance has it in spades.

So, back to that 30-hp bump. This increase in power to 621 hp makes the powerplant in the RS 6 and RS 7 Performance the most powerful purely internal combustion engine Audi has ever put in a road car. The eggheads in Neckarsulm managed this increase by not only tweaking software and turning up the boost but also by fitting larger turbochargers to the 4.0-liter V8. The result is a slightly more performative engine that's as much of a sweetheart as it ever was. Audi claims a 3.3-second 0-60 time for the Performance twins with a top speed of 155 mph (because Germany) or 174 mph if you get the limited "Bronze Edition."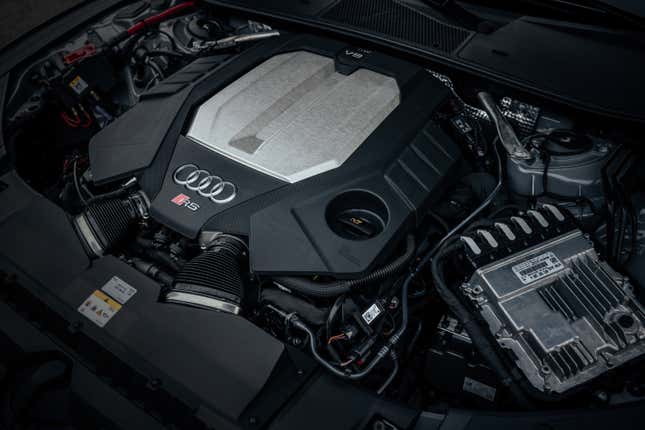 The car's already excellent gearbox shifts quicker and slightly harder thanks to additional tuning, and when paired with a more aggressive and lighter center Torsen differential, it makes for an overall much sharper car, which is good because, in a world where we're going to lose the brilliant E63 wagon, we need something that's going to fill its ridiculous, angry shoes. The RS 6 Performance fits the bill and may be an even better car overall.

Like the standard car, the Performance is available with two suspension options. You can have the standard air suspension, which rides beautifully and offers height adjustment, or you can have the more performance-focused Audi Dynamic Ride Control. In case you didn't know, Audi's DRC uses a central reservoir to allow linked shocks to influence each other. As I said before, the tuning for the suspension has been unchanged, and while both are excellent choices for daily use, I think I'd end up going with the air suspension purely for comfort, especially with LA's crappy, potholed roads.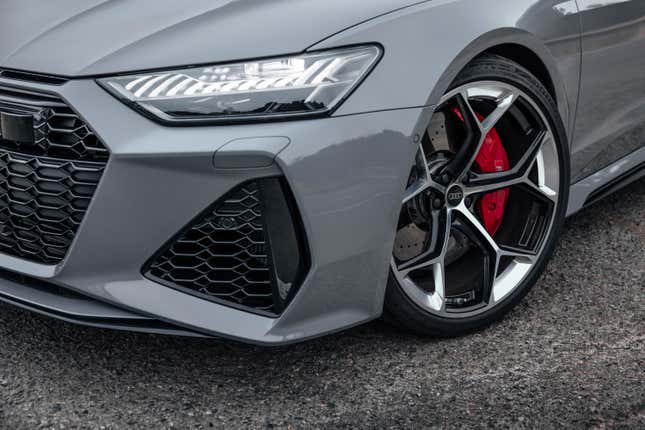 While the engineers didn't change the suspension bits, they moved to a more aggressive tire with the Continental SportContact 7. This tire promises more dry grip without a penalty in wet grip as well as reduced road noise and increased comfort. If you look at one of those spider graphs, the old tire's performance characteristics fit neatly inside the new one. The tires are paired with new lightweight 22-inch wheels, and while "lightweight" and "22-inch wheels" seem like mutually exclusive terms, Audi managed to pull a total of 11 lbs out of each corner of the car. That's bananas. The wheels themselves are works of art with about as much profiling, pocketing and spindly spoke design as is possible to fit on a wheel that has to support a nearly 5,000-lb wagon. Somehow, Audi even managed to make them look awesome, especially on the RS 6. They don't look bad on the RS 7, but I'm a wagon nerd and not sorry about it.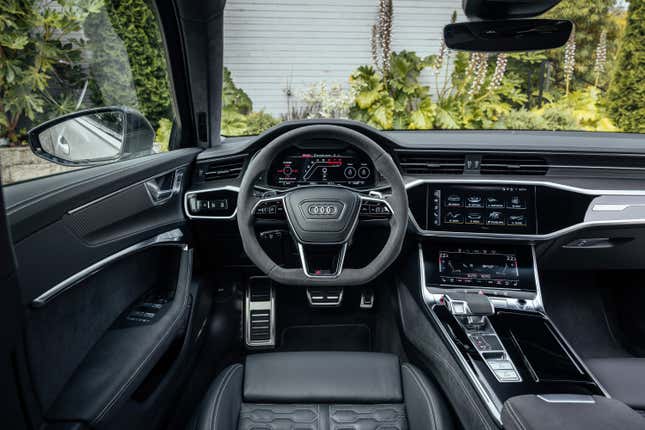 From an interior and exterior design perspective, there is not an overabundance of changes from standard to Performance. There is a new Mercato blue interior accent color option in addition to the previously available red and silver. There are more carbon accent options inside and out, and that's pretty much it. Frankly, this is fine because it doesn't need fixing if it isn't broken. That's also true of driver aids, safety tech and infotainment; nothing's new here.

There's no way around the fact that $126,895 is a lot for a wagon, and $128,895 is even more for a less-practical coupe-sedan-thing, but the experience of driving and living with them makes a pretty compelling case for itself. With the RS 6 Performance in particular, it's very much a case of "If I could, I would," and I bet you would too.