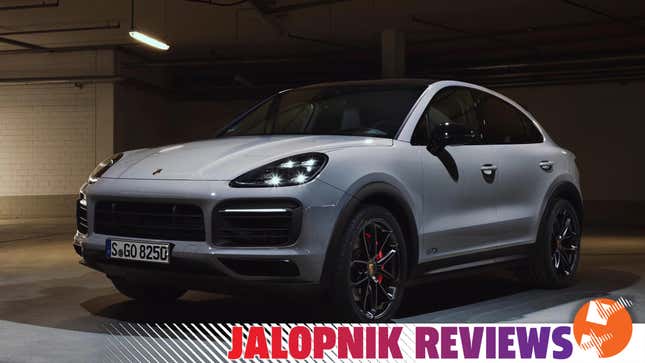 "So, this is the new Cayenne?" my dad asked, skeptically, walking around the SUV in his driveway. I brought the new Cayenne GTS Coupe over because I wanted him to check it out, but more than that, I wanted to convince him that Porsche's SUVs are every bit as appealing as its sports cars.

(Full disclosure: Porsche lent me a Cayenne Coupe for a week. While I lived with it I really wanted to see if it would win over my dad, who hasn't been a fan of modern Porsche SUVs.) 

My dad is a Porsche die-hard, a branded hat and glove wearer. He's someone who cleans his cars with a cloth when he stops and goes to the Porsche Experience Center in Los Angeles for track time. After going through a number of phases that saw him own everything from a Mitsubishi Eclipse to a Mercedes-Benz 190E to a Ford Mustang GT, he came into Porsche ownership over 20 years ago, purchasing a first-generation Boxster on a whim.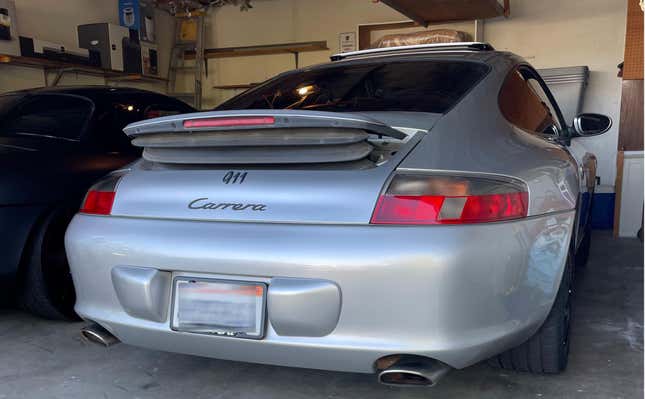 At the time, the Boxster was cheap, and an easily accessible way to get into the Porsche brand. He also planned to tune it, and has since added mods like aftermarket headers. He still owns that Boxster to this day, and also welcomed a 996 Carrera into his fleet.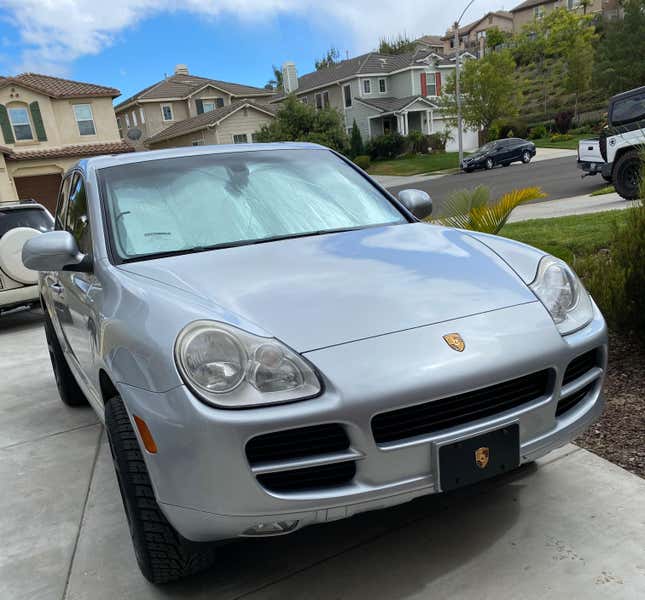 Dad's third Porsche was less of a desire and more of a necessity. In the mid-2000s, when he needed space for the family, he bought a Cayenne S. And even then, he was on the fence about this SUV. Sure, the 4.5-liter V8 was a gem and the SUV handled well for what it was. But to owners like him, the Cayenne was the antithesis of what a Porsche was supposed to be, and that view hadn't changed as the years went on. This made me curious to get his take on the current Cayenne – especially the Coupe.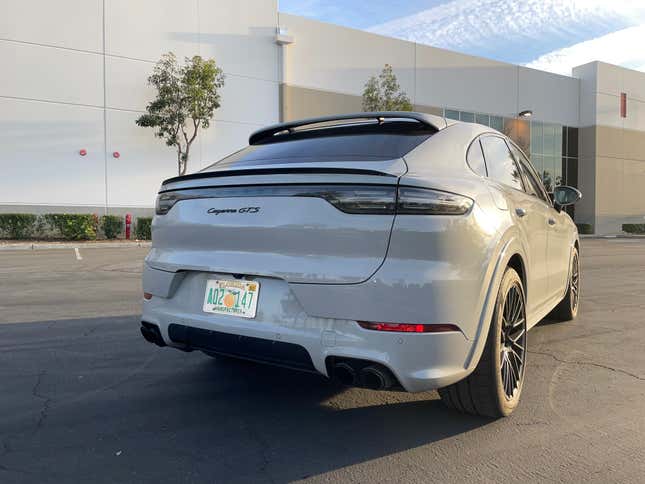 "Wait, what's going on back here?" he asked, moving to the back. "Are all Cayennes rounded off in the back like this now?" I spent the next few minutes explaining that there's both a regular Cayenne and a Cayenne Coupe, even though the differences between the two are minor.

"So they call it a coupe because of its roofline, even though it's clearly not a coupe?"

"It's best not to think about it," I said. "It looks good, drives well, and sounds even better."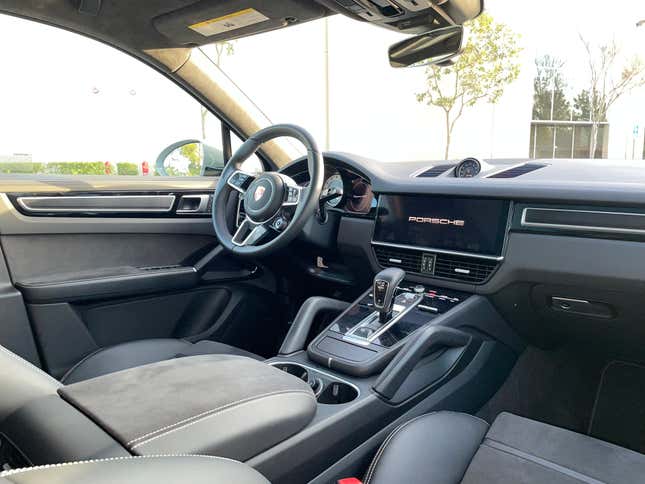 Climbing into the Cayenne, my dad's unsure, slightly disapproving look hadn't changed. I asked if he had noticed how there wasn't a single, physical button on the center console. "Too much tech," he scoffed. "All this stuff does is drive a wedge between the car and the driver, and become a pricey headache to fix down the line." He may have a point there.

"But tech has made cars more comfortable and cooler to drive," I argued. I started the Cayenne, and its 4.0-liter twin-turbo V8 came to life. The robust, muscle car-like startup softened my dad a bit. He warmed up even more as I showed him the different drive mode customizations. "See? Tech isn't so bad."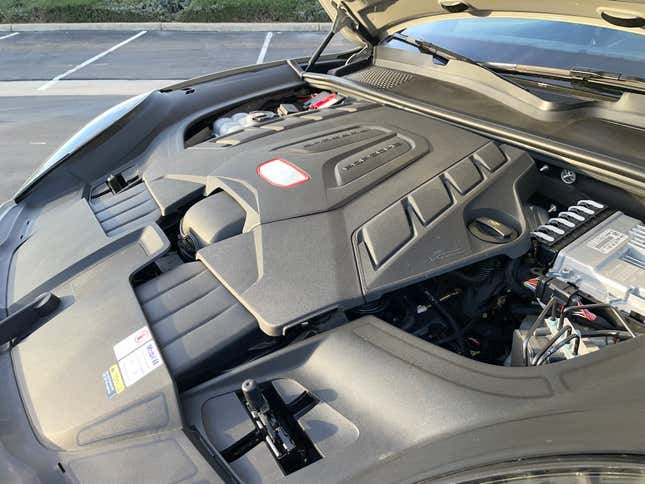 With 453 hp, 457 lb-ft of torque and a Porsche-estimated 0-to-60-mph time of 4.2 seconds, the Cayenne GTS Coupe hustles like a vehicle half its size.

"Okay, it's fast, but does it drive like a Porsche?" my dad asks. Once again, his attitude changed quickly once we hit a local canyon road.
The Cayenne is as driver-focused as any other Porsche sports car. This is a 5,014-pound SUV that handles beautifully. Porsche's adaptive suspension and torque-vectoring system both help to give the Cayenne Coupe wondrous handling.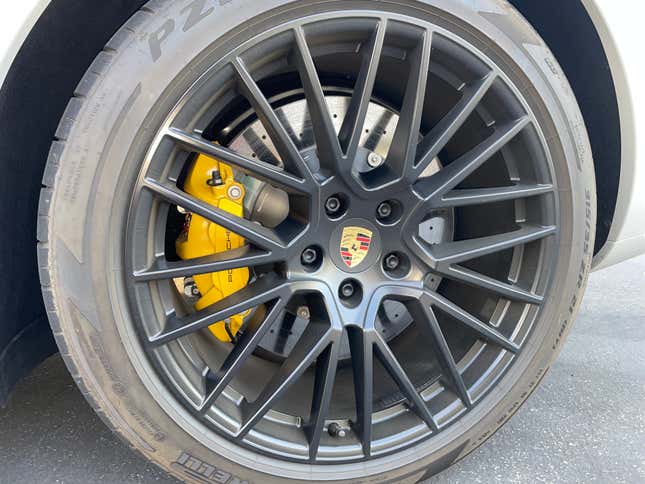 And when you need to bring all that weight and power down from speed, carbon-ceramic brakes – a $9,080 option on my test car – stop the show quickly, with excellent stability.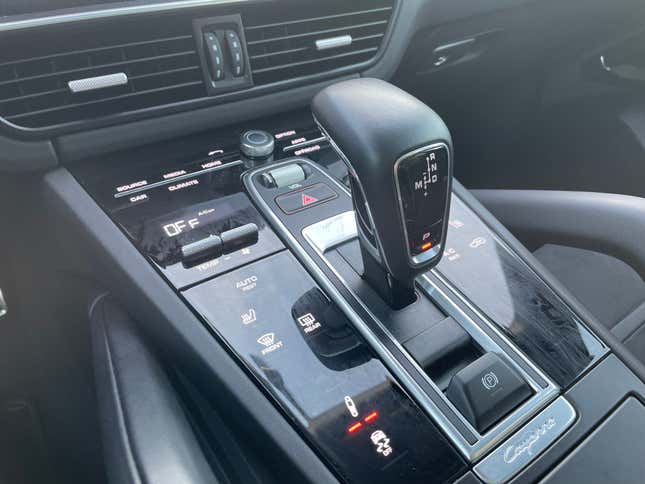 The V8's brute force is aided by a quick-shifting eight-speed automatic transmission. Throw it in manual mode and the transmission holds gears properly – all the way up to redline – complemented by pops and burbles from the sport exhaust. Even from the passenger seat, my dad said he could tell the Cayenne was great to drive.

At the end of our long drive in the Cayenne GTS, my dad had changed his tune. "Amazing. Absolutely amazing," he said with a smile.

He's right. The Cayenne GTS is really something. I think that speaks to how good Porsche is overall. As my dad put it, owning and driving a Porsche is an experience you look forward to every day. And that's definitely something you could do in the Cayenne GTS.

2023 Porsche Cayenne GTS Coupe AWD Specs
Engine type
Twin Turbo Premium Unleaded V-8
Transmission/Drive
Automatic w/OD