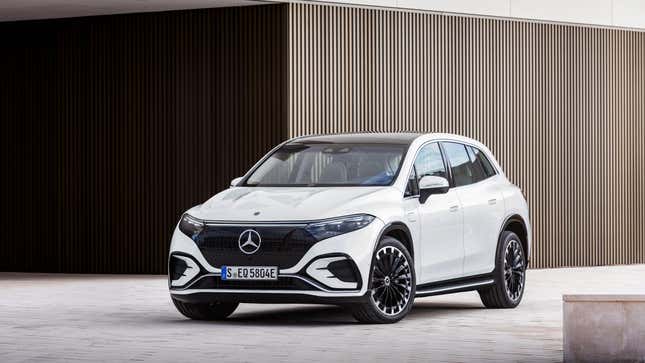 Mercedes has finally released pricing and feature details of its next EQ EV, the U.S.-built EQS SUV. Including a $1,150 destination charge, the EQS will start at $105,550. You didn't think it would be cheap, did you?

The EQS SUV range is split between three different models and four trims. You can choose base EQS 450+ SUV, EQS 450 4Matic, and EQS 580 4Matic. Each can be had in either Premium, Exclusive or top-of-the-line Pinnacle trims. Pricing for the EQS SUV ranges from $105,550 to $133,350 for a top-of-the-line EQS 580 SUV Pinnacle.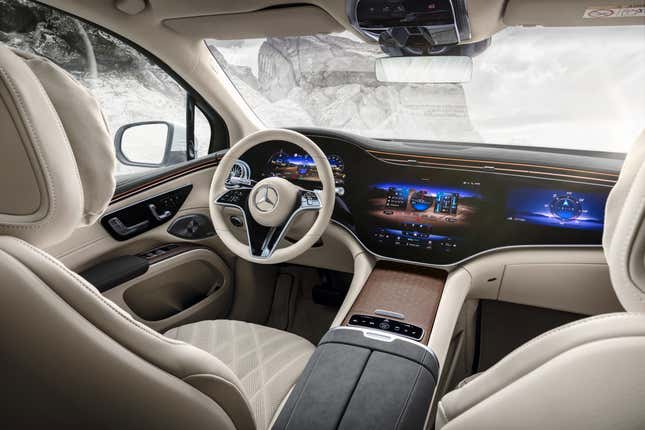 Mercedes says the base EQS 450+ has a "generous amount of standard equipment." I mean, of course it should. For a six-figure starting price, the base car should come loaded — and it does.
EVs have been all about screens, especially Mercedes and its EQ models, and the EQS doesn't disappoint. There's a huge 12.8-inch touch screen in the base 450+ while the 580 gets 56 inches of curved touchscreen that covers the dash like other top trim EQ models. There's also a standard panoramic roof, up to 10 degrees of rear-wheel steering, and a suite of driver safety aids.

Moving up to the Exclusive trims gets you features like rapid heating seats, a heads-up display, multi-contour front seats with massage, and quad-zone climate control. That's in addition to the features on the Premium trim.
Moving to the Pinnacle trim gets you all the features of the previous trims plus things like a second-row seating package which I assume to be some sort of luxury seating package, wireless phone charging in the second-row armrest, and a rear tablet that runs Mercedes' MBUX system.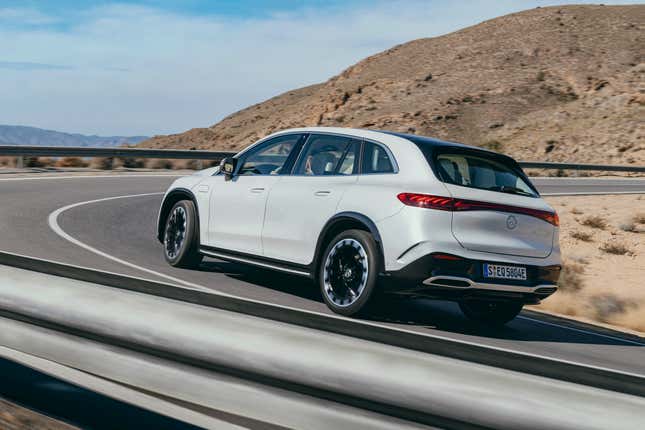 While all those features are cool, the important stuff is the power and range. Mercedes isn't giving exact power figures yet, but the company says to expect up to 536 horsepower. EPA figures for the EQS SUV peg the 450+ at 305 miles of range and 285 miles for both the 450 and 580 4Matic. Buyers will also receive free 30 minute fast charging sessions at Electrify America charging stations for an unlimited about of times for the first two years.

If this all sounds appealing to you won't have to wait long for it to hit dealers. The 2023 EQS SUV arrives at dealers in the fall.