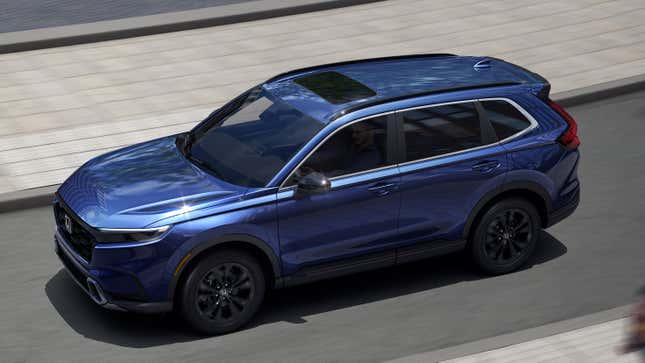 The Honda CR-V is, in the States at least, one of Honda's cash cows and its best-selling car here for five years running. It seems that, for the new, sixth-generation CR-V that is the 2023 model year, Honda wants a little more cash out of it.
2023 Honda CR-V: The New Look
That's because Honda released pricing for the 2023 CR-V on Tuesday and I regret to inform you that the LX trim, the current CR-V's cheapest — starting at $26,800 — is no more. Instead the CR-V's least expensive trim is now the EX, a two-wheel-drive car that starts at $31,110, or $4,310 more, though "only" $1,800 more than what the 2022 CR-V EX starts at. I put only in quotes there because $1,800 is still a pretty hefty price increase for a new model year, even if that new model year represents a new generation car.
Here all the prices via Honda, as well as fuel mileage ratings: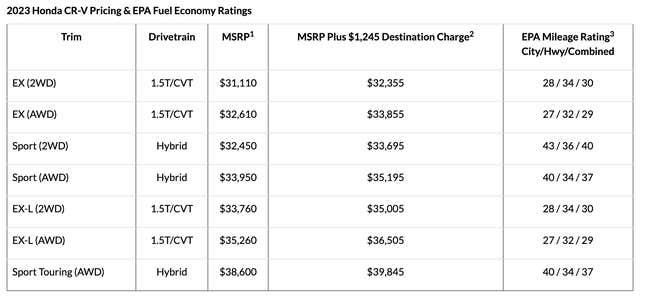 I will say that Honda should be lauded here for not trying to hide the destination charge, and even doing the math for you, though destination charges as a concept remain one of the biggest bullshit things about the automotive industry.
At any rate, the EX versions of the car have a 1.5-liter 4-cylinder that makes 190 horsepower, according to Honda, while the hybrid Sport versions have a 2.0-liter 4-cylinder and a combined output of 204 hp. Honda also says that the 2023 is slightly bigger and longer than the outgoing fifth-generation, and some have even referred to the 2023 CR-V as "better-looking." Though let's be honest, the buyers of this car will not be thinking about these things much, instead they'll be merely trying to replace their current compact crossover.
The big news for CR-V, instead, won't be this sixth-generation but whenever Honda bothers to make an all-electric CR-V. Then we'd be talking.