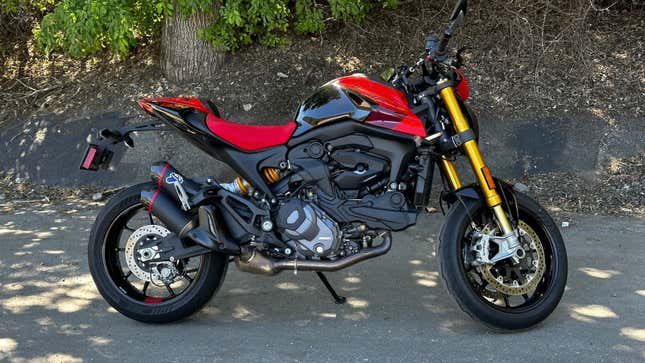 Ducati's Monster is awesome. It's pretty much always been awesome, too, since it was introduced back in the early 1990s. Since that time, it's been iterated on and improved, embiggened and made more powerful, but it was always a pretty traditional Ducati. With the introduction of the current-generation Monster for the 2022 model year, a lot of that changed, mostly for the better, and now with the introduction of a new spicier variant, the Monster SP, things get better still.
Where previously, basically every Ducati had a steel trellis frame, this new Monster had a spar-style frame. Where they had metal rear subframes, this one used a glass fiber-reinforced polymer rear subframe. It was clear that Ducati was serious about the Monster going on a diet, and the result was a bike that tipped the scales at an almost impossible 366 pounds. Light weight is good, but Ducati also seemed to cheap out a little on components which removed some of the sharpness that should have been present. The Monster SP fixes this.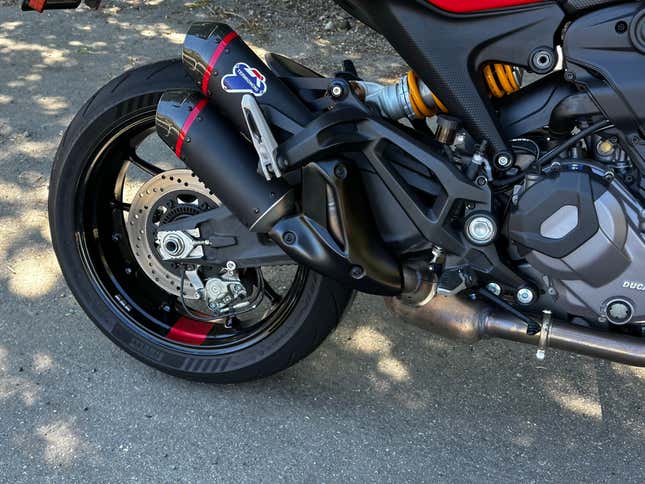 The powertrain of the Monster SP is identical to the standard Monster. It's a 937cc water-cooled L-twin engine with desmodromic valves, and it puts out a very healthy 111 horsepower, but now it breathes out through a set of Termingoni-sourced carbon fiber mufflers, and while it definitely sounds better, it still doesn't sound as good as the Monsters of days past. The six-speed sequential transmission is likewise still the same, which means it likes a good kick to get between gears and comes standard with an up-and-down quickshifter.

The chassis of the Monster benefits the most from the move to SP spec. That largely comes down to Ducati's decision to fit the bike with fully adjustable Ohlins suspension. The standard bike's fork and shock were just ok, but the Ohlins is not only more comfortable but offers huge amounts of customization and looks dope as hell. This is reason enough to shell out for the SP, but of course, Ducati doesn't leave things there.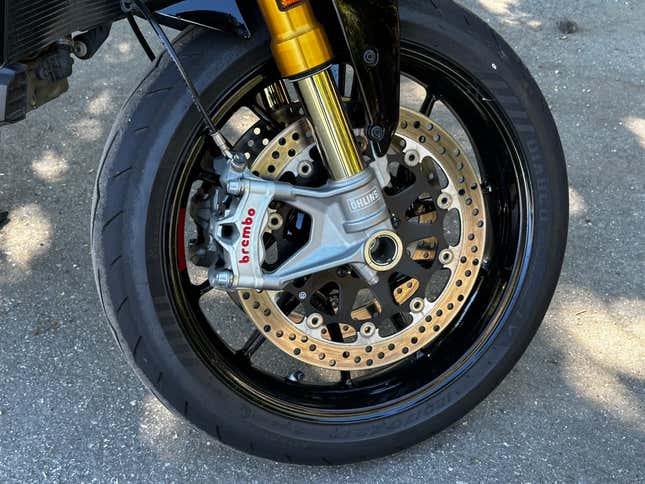 The bike also gets a pair of very handsome and extremely effective Brembo Stylema calipers up front, along with Brembo radial master cylinders for both brake and hydraulic clutch. I'm not usually a huge fan of hydraulic clutches on bikes, but this one offers plenty of feel and is much easier to slip. The brakes are excellent and also offer tons of feel at the lever.

The Monster still comes with Ducati's Safety Pack Plus, which means it gets lean-sensitive anti-lock brakes and traction control too. It's also got goodies like wheelie control, launch control, and tons of granularity in the settings for all of these features. This allows you to dial in your ride to full goldilocks-spec with minimal effort.
What all this awesomeness translates to on the road is a bike that is extremely willing to do whatever you ask it to. The front end feels sharp and leans into corners with almost no effort. The bike feels considerably more alive than the standard Monster, too, thanks to the much-improved damping offered by the Ohlins. This is the bike that the standard Monster should have been all along, frankly.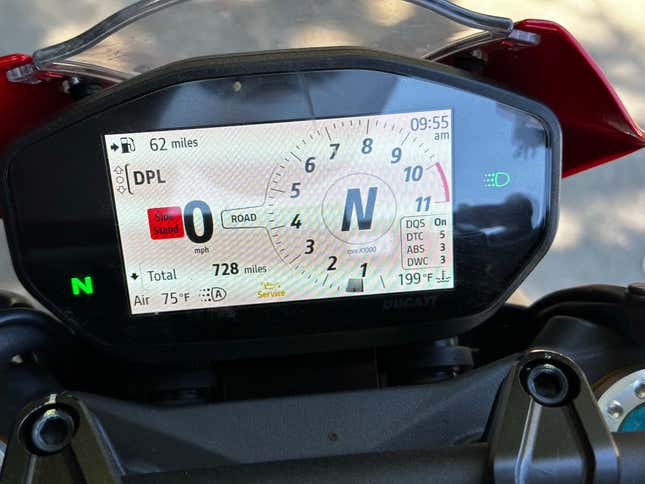 Of course, the upgrade doesn't come cheap. At $15,595 before any taxes or dealer fees, it represents a $2,600 bump over the now-base Monster Plus. Is it worth that? That's honestly hard to say. Everything on the Monster SP looks and feels super high quality and beautifully made, and there's a case there to be made to justify that price tag.

The problem here is that where once the Italians were leaps and bounds ahead of everyone else in this category, now we live in a world where the Yamaha XSR900 exists. That bike offers a more engaging drivetrain producing more power, with many of the same rider aid features and arguably better looks than the Duc, and does it for under $12,000. KTM's 890 Duke R makes a similar case for itself with a price just shy of $13,000.
Ducati's Monster SP is a technically brilliant bike with one hell of a pedigree, and while I seriously doubt that anyone who buys one will regret the purchase, it's no longer the same standout performer or classically Italian emotion-factory that it once was, and that's kind of a bummer.